Nosh: Beer, steak, and pie... at the same time!
It's an old joke that the only thing the British are worse at than cooking is winning revolutionary wars, but given England's recent culinary explosion Americans might finally have to admit that, actually, the only thing the British are better at than cooking, is losing revolutionary wars. Here to prove it with traditional English-fare like savory pies, and fish & chips, is mobile food operation Nosh.
Exhibit A is one of Nosh's aforementioned pies; this one's made w/ Chuck steak, rosemary, local ale, and an "all butter crust" that probably has at least a little flour in it too.
Next up is a massive meatloaf sandwich that starts with a mix of pork and beef on the grill...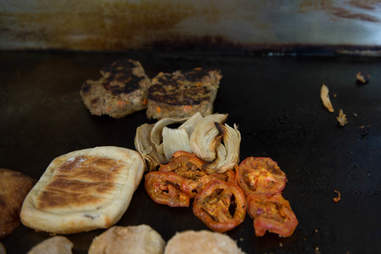 ... that gets topped w/ sweet roasted tomatoes & onions and put on a toasted Macrina potato roll.
Here's what it'll look like right before you stuff the whole thing in your mouth.
Additional English-ness comes in the form of fried confit rabbit w/ braised red cabbage, Granny Smiths, potato frites, and a tendency to go haring off whenever General Washington's around.
The fish & chips start with a whole fillet dipped in a Hilliard's beer batter.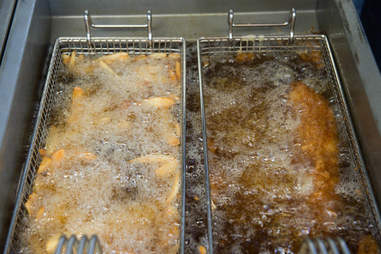 Here's the fish in its unnatural, but far more delicious, habitat, getting fried alongside the "chips" that go with it.
Finally, it's served with some mushy peas on paper printed to look like an old broadsheet, which is probably filled with stories about how sweet the battle of Yorktown is going to go for the Red Coats.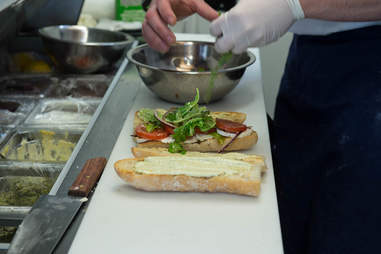 Non-English eats include a Caprese sandwich w/ hand-pulled mozzarella, basil aioli, arugula piled on a toasted baguette.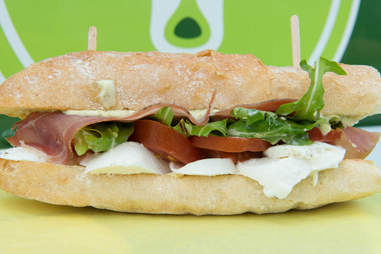 Once they add prosciutto, this thing's ready to eat. Not quite ready to eat are some other creative dishes they're thinking of adding to the menu, like bone marrow, a foie gras milkshake, and egg & bacon ice cream.
Wash your... um, nosh down with a raspberry & mint Arnold Palmer, which is appropriate 'cause, if there's one thing the American inventor of this sweet tea/lemonade concoction is good at winning, it's back-to-back British Open Championships.