The 50 Best Things to Eat and Drink at Pike Place Market
f11photo/Shutterstock
f11photo/Shutterstock
The Pike Place Market is a nine-acre historic district with hundreds of farmers, craftspeople, small businesses, and, of course, restaurants. The centenarian market is the oldest continually operating farmers market in the country and one of the most popular tourist attractions in the city. But, for locals and visitors alike, the food options can be overwhelming. In the words of old AM/PM commercials: there is just too much good stuff. But before we find you freaking out because you can't make a decision, clinging to Rachel the Pig and sobbing uncontrollably, we've done the hard work to bring you the 50 best things to eat and drink at the Pike Place Market.
Curry beef hom bow
Mee Sum Pastry
When Mee Sum first opened and named their stuffed pastry creations, Seattle could barely tell its dim sum from its chow mien. Now, there are plenty of places to get Chinese food that tastes like what you'll get in China, but only one where you'll find these hybrid Chinese-American sweet, crispy-topped, fluffy rolls filled with savory curry beef.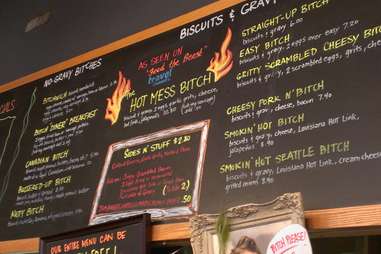 Hot Mess Bitch
Biscuit Bitch in Caffe Lieto
Biscuit Bitch, formerly a late-night stand, now a trio of restaurants -- this one inside a coffee shop -- doesn't give a damn what you think. That's why they'll mash up their Southern-style biscuits with whatever they damn well feel like. In this case, the biscuit and gravy comes with eggs and garlic grits, smothered in cheese, a Louisiana hot link, and jalapeños.
Cinnamon roll
Cinnamon Works
"Hot specialty breads," reads the sign over this stall, which might be the biggest understatement ever. Really, what you'll find here is every cinnamon roll you'll ever need: plain, frosted, wheat, raisin, vegan, whatever. With actual copious amounts of cinnamon.
Donuts
Daily Dozen Doughnut Co.
Since one of the main quality factors in a mini-donut -- such as those produced here -- is how quickly they go from fryer to mouth, these might actually be the perfect donut. Barely seconds will pass between when they're plucked off the machine, thrust into a bag, and well on their way to burning your mouth.
The MacGregor
Honest Biscuits
A breakfast sandwich that's all but an ode to the Market's purveyors: Honest's biscuit piled with Bavarian Meats bacon, Beecher's cheese, and caramelized onions.
Pain au chocolat
Le Panier
Eyeing the overwhelming selection of baked goods at this "Very French Bakery," it can be a hard decision to pick just one (we couldn't, see next item). But this is perhaps the best of the sweet items: excellent French chocolate, wrapped up and baked in a buttery pastry.
Feuilleté Provençale
Le Panier
Because we couldn't pick just one, and neither can you: the best of the savory treats here is the puff pastry tart spread with creamy tomato sauce, cheese, and herbs. Sort of like a tiny, very fancy, and flaky pizza.
Cheddar cheese and garlic roll piroshky
Piroshky Piroshky
Russian pastries are known for none of the light and flaky features of French ones. You don't come here for crumbling croissants: but these piroshky are here to play. They come weighed down like the indulgent comfort foods that they are, with cheese, potatoes, beef, and cabbage. This one, swirled like a cinnamon roll, is a perfect one with which to start.
Pike Place Special Reserve
Starbucks
For all practical purposes, this is just another Starbucks. It was not -- contrary to popular belief -- the first or original location. It is the oldest still-operating one, and it does have a retro logo on the sign. But the one thing that sets it apart (aside from the line) is that it's one of the only places to try the Pike Place Special Reserve, one of the company's best-loved beans.
The Walrus
The Crumpet Shop
For 40 years, this little shop has churned out the traditional English treat, and the only thing better than getting to repeatedly say the word 'crumpet' is biting into a fresh, hot, organic one topped with ricotta cheese, walnuts, and honey.
The reuben
Three Girls Bakery
The menu frames the meatloaf as the sandwich to get, but those in the know go for the reuben, which allows their specialty breads -- the caraway or black rye -- to shine (it is, after all, a bakery), as they envelop corned beef, Swiss cheese, sauerkraut, and Thousand Island dressing.
Bratwurst meal
Bavarian Meats
A lunchtime trip to Germany, courtesy of this little meat shop and their lunch counter. The simple bratwurst meal -- sausage, sauerkraut, potatoes, and mustard -- is as German as it gets, but also shows off what this place does best: cook good meat.
Croque Madame
Café Campagne
This little courtyard bistro prides itself on being the "heart of France in the heart of Seattle," so let's get right to heartier matters: this sandwich is what all others aspire to be. The baked sandwich comes on house-made bread, with Parisian ham and Comtè cheese. But this alone is only a Croque Monsieur. To upgrade to a Croque Madame adds a fried egg on top, allowing runny yolk to seep through the bread onto crispy ham edges and melty cheese.
Chinese Crêpe
Country Dough
Anyone who's ever needed a quick breakfast on the streets of Beijing is familiar with the jian bing, or as this Market hole-in-the-wall calls it, the Chinese Crêpe. Made to order by pouring batter onto a hot griddle, it comes layered with egg, wrapped around a Chinese donut, layered with hoisin sauce and fermented bean curd, and sprinkled with green onion and cilantro.
Porchetta sandwich
Dot's Butcher & Deli
Miles James is something of a meat-legend in Seattle, so it only makes sense he landed in such a legendary spot. He's at his best when his chef instincts get a chance to marry with the butcher shop mentality, as in the porchetta sandwich. Pure Country pork loin and belly, spiraled, roasted, and crispy-skinned, comes sliced with an herby aioli and a bright cabbage slaw for a messy, meaty, wonderful sandwich.
Amaro
Il Bistro
When the owners of Il Bistro branched out to a second shop in Bothell, they named it Amaro Bistro -- only appropriate given the reputation of their Market location. With more than a dozen varieties of the Italian herbal liqueur and a cozy, romantic setting in which to drink it, this is the perfect spot to sip a digestif when you're done eating the other 49 things on this list.
Tinned pulpo
JarrBar
Who says canned food can't be great? Not the Spanish who inspired this spot... and definitely not Bryan Jarr, chef of JarrBar, who will open a tin of tender olive oil-marinated octopus for you and serve it with the usual slate of lemon, good salt, and Espelette pepper, plus a bit of house-made aioli.
Salade Verte
Le Pichet
In the canon of great salads of the world, this might be the greatest. Though it's simple -- Bibb lettuce with a mustard and hazelnut vinaigrette -- it's flavorful, crunchy, and balanced, and with enough baguette and butter (which there always is here), it can be an entire lunch.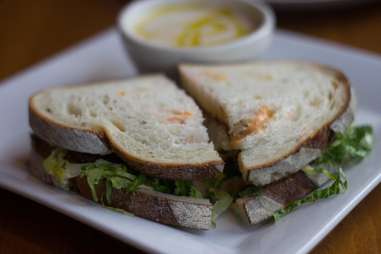 Catfish sandwich
Matt's in the Market
There are few restaurant views more iconic than the one out the window of Matt's toward the Public Market sign and the water behind it. But the one down to your plate here is nearly as good, if you're looking at the pan-fried cornmeal crusted catfish sandwich. Built on soft potato bread, the crunch of this sandwich comes from the solid cornmeal fry, and the flavor from a bit of sambal mayonnaise.
Barrel-aged Boulevardier
Radiator Whiskey
Brown whiskeys and wood are the signature styles of this Market bar, and those come together in its finest drink. Aged in-house and served from the giant barrel façade at the bar, time in the barrel mellows and mixes this combination of bourbon, sweet vermouth, and bitter amaro, resulting in a smooth, round cocktail made for pairing with the bar's signature meats. Speaking of which...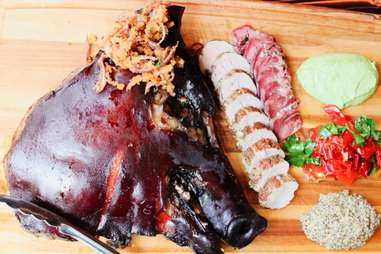 Smoked half pig head
Radiator Whiskey
You'll need to order it ahead. You'll need to bring a few friends. You can't be scared of food with a face. But you'll be rewarded with not only the tender, fatty cheek meat, but also crispy fried ear, braised tongue, and roasted loin, along with necessary condiments for consuming it all: Mama Lil's peppers, aioli, and mustard.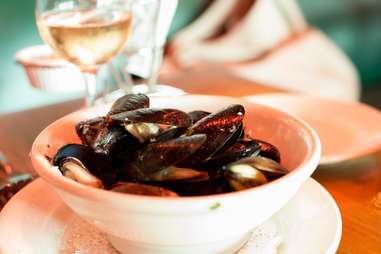 Moules frites
Maximilien
If you're on the deck, you'll smell the same salt air as that in which your mussels grew, just a little ways out on the Sound in Penn Cove. At lunch, the mussels and fries come together, at happy hour, separately. But they're made to go together: the briny, buttery, wine-laced broth with the plump mussels and thick, crisp fries flecked with salt.
Spinach Börek
Turkish Delight
With a non-descript storefront and often empty shelves in the cases, this is the kind of local secret you rarely stumble upon in such a tourist attraction: under a thousand crispy layers of filo pastry hides a hearty serving of feta cheese and spinach.
Pickle brine shots
Britt's Pickles
As you walk among the Market stalls, you'll see samples handed out from all the vendors -- a free buffet of tiny bites. But the best one is at Britt's, where a carafe full of salty, slightly sour pickle brine sits, distributing free pickle brine shots to those who dare -- which should be everyone.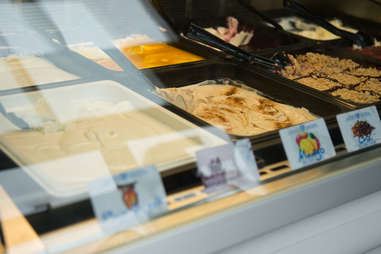 Passion fruit yogurt
Ellenos
It's Greek yogurt, made by an Australian family, in an American city. But where it comes from isn't as important as what it is: the best yogurt you've ever tasted. Displayed like gelato behind a glass case, it's thick as sour cream and rich as ice cream, but as healthful as yogurt (because... it is yogurt).
Omakase
Sushi Kashiba
Sitting at Shiro Kashiba's sushi bar, eating the fish, piece by piece, that he passes over the bar, is something of a religious experience for seafood fanatics. The godfather of Seattle's sushi scene, Kashiba brings in the best fish from around the world, prepares it immaculately, and serves it, now, in the best setting in the city.
Soft-serve float
Rachel's Ginger Beer
The sharp, spicy bite of local farmers market darling Rachel's Ginger Beer is at its best when mellowed with the creaminess of soft-serve ice cream. Pick from the original or fruit flavors -- depending on the season or the day, blood orange, pink guava, or white peach -- to design your own, even adding rum or whiskey, if you want (you do want).
Galaxy 'SMaSH' pale ale
Old Stove Brewing Co.
Big tables, open space, and great beer: Old Stove has everything you need to get your people watching on. And the beer? It's great. The Galaxy Smash is creamy and delightfully refreshing, full of citrusy hop smells and juicy fruit flavors.
Alderwood smoked salmon
Pure Food Fish Market
Were you looking for the most cliché, stereotypical purchase in the Market? Here it is. Thankfully, it earned its fame for good reason: the flaky king salmon stays moist and the rich, smoky flavor haunts you, daring you to just try to stop eating it straight from the bag.
Raw oysters
Jack's Fish Spot
Year-round, day-in and day-out, Pacific Northwest oysters are the plumpest and most flavorful. Which means anytime is a good time to sidle up to the counter of this fishmonger's stand and ask them to shuck you a half-dozen (or more). Literally, any time. Like, now. Go.
Halibut sandwich
Market Grill
As unassuming as the name might imply, this is just a couple stools at a counter where you can watch as your fish cooks up on the grill. But, like so much, the simplicity is deceptive and the sandwiches, with perfectly cooked, spice-rubbed fresh fish, lettuce, tomatoes, and grilled sweet onions, are as messy as they are delicious (and you'll need a lot of napkins).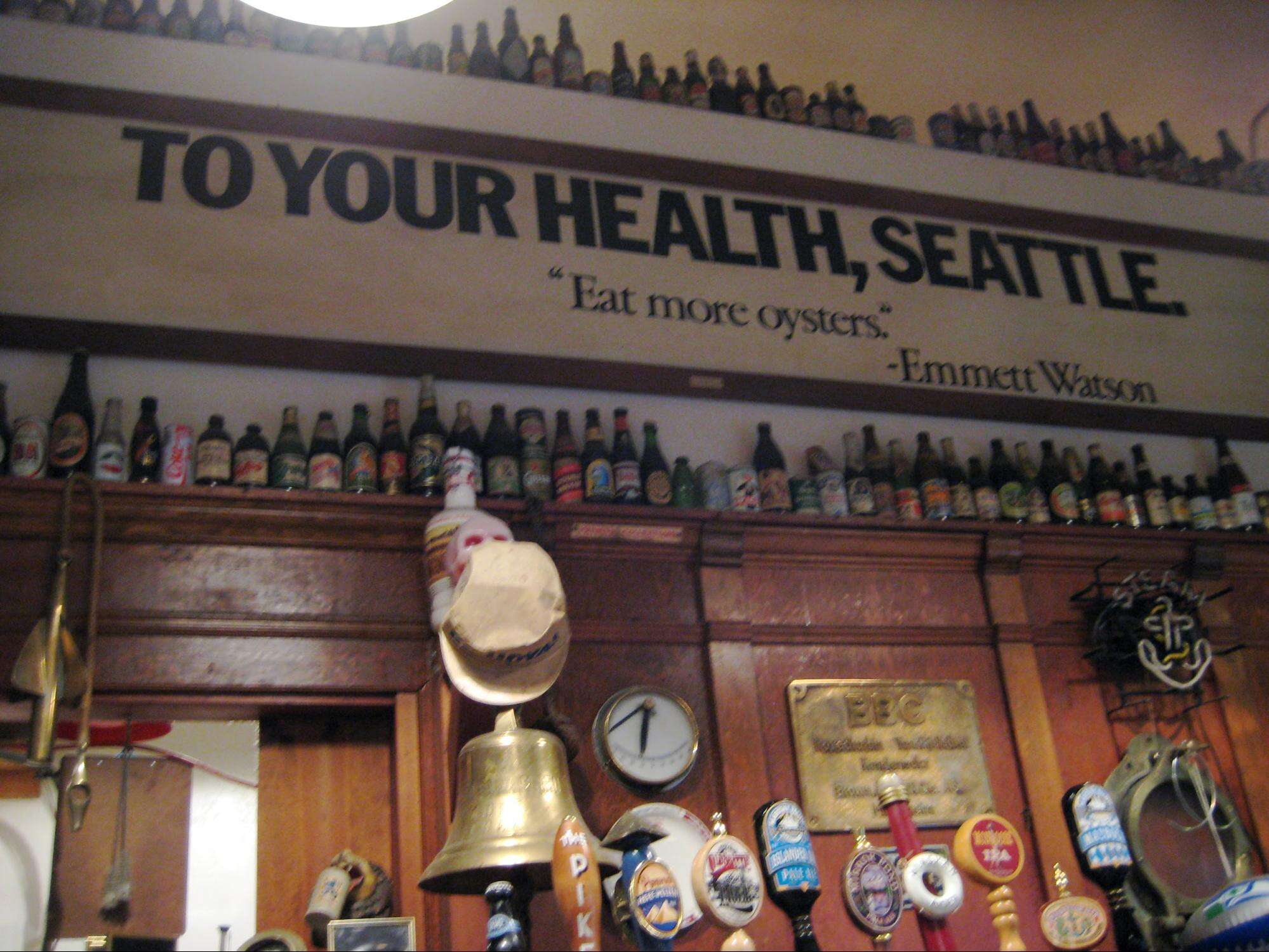 Fried oysters and chips
Emmett Watson's Oyster Bar
Started by legendary Seattle newspaper columnist and "Lesser Seattle" founder, this tiny lunch counter serves up the kind of Seattle pride and classic food that would make the founder proud. The menu still comes hand-written on a paper bag, and the thing to get is still the oysters, in any form. But fried -- and with a side of French fries -- allows the eater to dip them in the old-school tartar sauce.
Brewery tour
The Pike Brewing Company
A stalwart of both the Market and the Seattle beer scene, the Pike Pub and its accompanying brewery are must-stops on Market strolls. By taking the tour, you'll get to taste a few samples, while also learning about beer brewing and seeing a whole 'nother side of the market.
New England clam chowder
Pike Place Chowder
Forget the name, this chowder belongs in the Northwest. It has (deservedly) won awards from around the country for its meaty bacon bits, briny Northwest clams, and slow-simmered creaminess.
Chicken gizzards
Chicken Valley
This otherwise average fried chicken stand shines when it comes to gizzards. Perhaps because they're nearly always fried-fresh, perhaps because they (like us) have a love for the crisp coating over the slightly chewy inner bits of these innards, perhaps because for those that know gizzards are the greatest, fried chicken offers a self-fulfilling prophecy.
Grilled cheese sandwich
Beecher's Handmade Cheese
There are a lot of grilled cheese sandwiches in the world: some strive to be the greatest, others the fanciest. Beecher's is neither of those, but rather the most like a grilled cheese should be. It is, in other words, the quintessential grilled cheese: toasted crisp on the outside, infinitely melty on this inside, with just enough flavor from the creamy Just Jack and nutty Flagship cheeses, and (of course) cut diagonally.
Daily soup
Michou World Class Deli
It's hard to pick just one -- and they change daily -- but there is also no way to go wrong: Michou's rotating variety of soups seem to be flawless, from Moroccan chicken to roasted garlic tomato. Made fresh, hearty enough to be a meal, and full of flavor, these are what other soups wish they could be.
Potato leek soup with truffle oil
La Buona Tavola
If you're only going to have two things on the menu, you better do one of them well -- and they do. The smooth-as-silk potato soup gets just the right light touch of truffle oil to add flavor without overwhelming, which is a difficult task.
The Last Word
Zig Zag
Though Murray Stenson, the bartender that brought fame to both this drink and bar has long since moved on, the hillside watering hole hasn't lost any of its luster, and still does a stellar rendition of this mix of gin, lime juice, maraschino liqueur, and green Chartreuse. The dark bar still shows off with sharp, smart cocktails -- and this is still the star.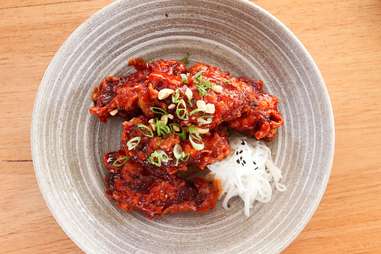 Korean fried chicken wings
Chan
As is fitting for a place billing itself as Seattle's only Korean Gastropub, the star dish here is a bar classic -- chicken wings. But don't come looking for Buffalo sauce: these double-fried darlings come glazed in chili caramel and flecked with peanuts, garlic, and scallions for a hot and sweet burn.
Chili beef
Oriental Mart
This is food seasoned by the warmth and welcome of the people who serve it: a Filipino grandma and her assorted grandchildren. Each day they turn out a variety of meat dishes, served with rice and pancit bihon (rice noodles) and a fair amount of sass. The chili beef is straightforward and sweet, and tastes like comfort food, even if it's your first bite.
Salsas
The Mexican Grocery
It doesn't really matter what you order -- though the tamales and breakfast burrito are always good -- because the real star comes with every order: the salsas. The salsa verde is sharp and the pico de gallo is fresh, and really all you need is something over which to pour them.
Pimm's Cup
White Horse Trading Company
This is not the place to come if you're claustrophobic or OCD. It's not the place to come if you like things clean, bright, or easy. Or if your expectation of a Pimm's Cup is the traditional Wimbledon sort. But if you like quirky weird spaces that might be an eccentric Brit's clubhouse, then come here and order their version of a Pimm's Cup (a deep, dark style of the drink), it will be exactly what you weren't expecting.
Linguine Alle Vongole
The Pink Door
Seattle's shellfish strikes again, this time coming out Italian-style from this fun spot (with a killer deck). Backed up with pancetta, garlic, and chilies, the sauce is light with white wine and briny thanks to the clams.
Tacos al pastor
Los Agaves
There are not many places in Seattle to watch the trompo (vertical rotisserie) spin as your al pastor cooks, but this Market stand does Mexican food much like you'd find it in Mexico. You'll smell this stand before you get there and it smells like walking through a Mexican market, with masa cooking on the griddle and the meaty al pastor spinning.
Sausage Plate
Uli's Bierstube
Uli's sausages have long been a Market favorite. Customers would snack at the counter, eat them in meals at other local restaurants, and take them home. Now that Uli's has its own new restaurant, you can plop right down with a liter or two of beer and dig in. Pick any two to four sausages from their selection and they'll come with cabbage and sauerkraut. The bratwurst is a good place to start, but the hot Italian is also a star.
Cinnamon-orange tea
MarketSpice
Though most of the store is about spices (and it's a spice store worth exploring), it's not a cool fall or winter day without stopping in for a few sips of the signature cinnamon-orange tea -- sweet, warm, and intriguingly spiced.
Nachos
El Borracho
Nachos can often be ranked by the number of different kinds of cheese involved, so these ones score a four: a strong showing. The giant pile of holy mess also comes with all the usual fixin's: guacamole, refried beans, crema, jalapeños, and pico de gallo. And yes, you can add your choice of meat (or, as the case could be, non-meat Soyrizo).
Pistachio gelato
Bottega Italiana
Something about pistachio's buttery style of nuttiness makes it the perfect flavor of gelato, and this Market shop nails the classic: salty, earthy, creamy, and beautifully light green.
Salteña
Copacabana
Grab a pisco sour and one of these juicy Bolivian-style empanadas and get yourself to the Copacabana's sun-drenched deck. A gem that's been hiding in plain sight for 50 years, this Bolivian restaurant is a Market treasure that shouldn't be overlooked.
Sign up here for our daily Seattle email and be the first to get all the food/drink/fun in town.
Naomi Tomky is a freelance food and travel writer who does the difficult work of eating all these things (and more) so that you don't miss out. Follow her edible adventures on Twitter @Gastrognome and on Instagram @the_gastrognome.