For years, going to Pioneer Square meant going to some trashy nightclub, or to... um, jail, but now, thanks to Tinello (and places like Rain Shadow Meats, Il Corvo, etc.), going to Pioneer Square means some sweet daytime eats from the guy behind the former Rialto Pasta Bar in Fremont.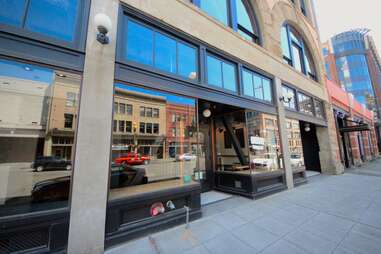 Behind these doors, Tinello's serving up a rotating selection of pastas, antipasti, and sandwiches cooked up by one of the dudes behind sandwich purveyor Homegrown, which, presumably, everyone's pretty high on.
This dish of white beans & rapini makes up for the fact that it has two different vegetables in its name by coming with a shton of pancetta.
Pastas include a smoked salmon ravioli in pesto creme sauce and their signature spaghetti & meatballs called Rudy's Red... probably 'cause Dr. Huxtable won't stop wearing those horrible sweaters around her friends.
Like the rest of the menu, Tinello's sandwiches are "peasant-style" affairs, which, contrary to what you'd expect, don't involve shepherdesses (or their sheep); instead, there's just Italian sausage, rapini & melted cheese.
This spare, industrial, lunchtime destination won't compete with P-Square's classic destinations (The J&M, King County Jail, etc.), but they do expect to offer... um, supper and a full hooch line-up, sometime soon.