They say you need something old and new, and they're right... even if they are talking about something gross (weddings), and we're talking about the most delicious things to eat right now in an old neighborhood that's newly happening again: Pioneer Square.
The Fists of Fury
Salumi may be the 'hoods most famous sandwich destination, but deli/bar Delicatus is the most sublime thanks to ridiculous (and ridiculously good) fist meals like this pulled pork/ sliced peppers/ carrots/ cucumbers/ shaved cabbage/ cilantro/ wasabi aioli number topped w/ tobiko caviar.
Hot Italian Sausage Sandwich
Tinello's sandwiches are "peasant-style" affairs, which, contrary to what you'd expect, don't involve shepherdesses (or their sheep); instead, there's just Italian sausage, rapini & melted cheese.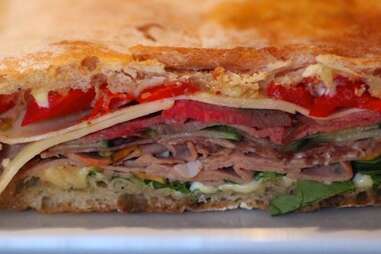 Pressed Porchetta
Rain and shadows are things everyone in Seattle are used to. One thing you'll never get used to: How good the sandwiches -- like this slow roasted pork loin/ pork belly/ crispy pork skin/ sauce verte number -- are at the city's sweetest butcher, Rain Shadow Meats.
Handmade Pasta
Il Corvo means "the crow" in Italian, but you won't eat like a bird once you see their small daily pasta menu, which rotates between 30 seasonally appropriate varieties, including the farfalle w/ spicy coppa, sugar snaps, Parmesan & a light butter sauce.
The Chuletón de Buey
One of two new P-Square spots from the dude behind The Corson Building, Sitka & Spruce, etc. Bar Sajor specializes in wood-fired eats like this giant rib-steak that's meant for two... if by "two" you mean... um, one.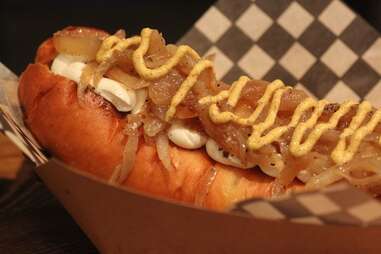 A Seattle Dog
Invented in Pioneer Square back in the '80s, this amazing NW classic... waitforit!... marries the hot dog to cream cheese & caramelized onion, and is always hilarious to share with out-of-town friends.