Po Dog's entry in the Search for the Most America-est Hot Dog needs your vote!
Po Dog's Laura Olsen makes wonton-wrapped, deep-fried, mac & cheese-topped, and otherwise badass hot dogs every single day, so what'd the restaurantrix who's also behind Grim's, Auto Battery, and Anchors Down do when we asked her to help celebrate this great nation's birthday by creating the most patriotic sausage to ever grace a bun? In honor of the first Europeans to discover America, she turned a giant smoked sausage into a freakin' Viking ship with sails made out of bacon! Don't believe it? Check out the pics below... then check out the other dogs created by some of the nation's top chefs and vote for the best one (Laura's, obviously) in Thrillist's Search for the Most America-est Hot Dog.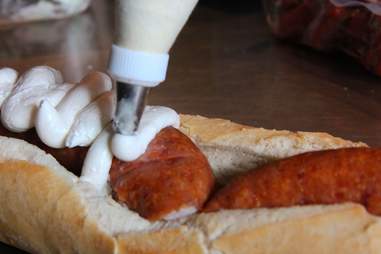 Things start with a giant smoked sausage that's stuffed into a baguette hull and then topped with waves(!) of cream cheese.
Then come the sails (complete with crow's nest), and oars, which're made with french fries and Lit'l Smokies, aka all your high school friends for the six months after Friday came out.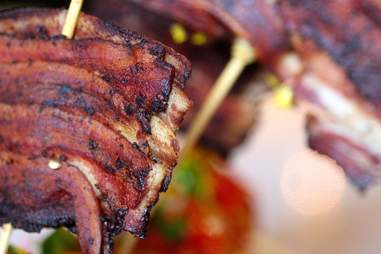 And, yes, those sails are two layers of bacon stuck together with their own fat.
Laura adds some red, white, and... um, green via tomatoes, onions, and relish, all the way up to the chicken strip serving as the prow.
The finishing touches start with jalapeños...
... next comes the mustard...
... and finally, what all the other patriotic hot dogs created for Thrillist will be playing, once they see this bad boy: ketchup.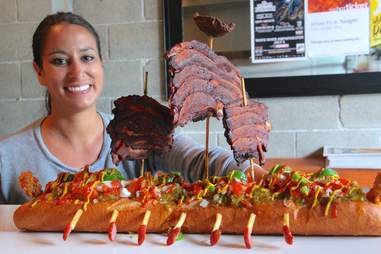 This Viking ship is now ready to be pillaged by you and some friends, or -- because the only thing that's definitely more American than the hot dog is being really, really fat -- by just you.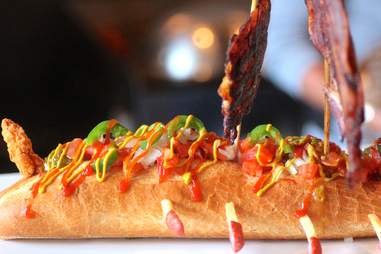 Seriously, this glorious food ship be sinkin'... your diet plans, and the chances of some other dog winning Thrillist's Search for the Most America-est Hot Dog ever. So go check out those other dogs here, then vote for this masterpiece.