Some seriously sweet artisanal pizzas prepped by a Cafe Lago vet, and a sizable list of badass craft/Euro-style brews, means there aren't many better casual-eats destinations than Lower Queen Anne's The Masonry... provided, of course, you don't come in looking for Freemasonry. Nic Cage already tried that move... twice.
What Mr. Cage should've tried is something from their small, but super-good, list of wood-fired dough discs.
Options include classics like this house-made sausage on tomato sauce w/ Fontina & shallots...
... and a garlic-/ olive oil-/ Taleggio-/ thyme-topped number w/ enough mushrooms on it to easily get Mario to level 7-1 without the Warp Whistle.
They also do seasonal pies like a squash, spiced ricotta, arugula, and red onion joint called the Patty Pan Squash... despite the fact that Patty is much more well-known for her cake.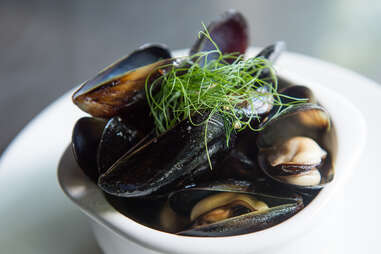 A small selection of non-pizza offerings includes bi-valves in beer -- more specifically, a Weltenburger Hefe-Weissbier, which means... um, something in German, presumably.
The tender beef and slightly spicy sauce make these meatballs just (Ivan) Reit, man.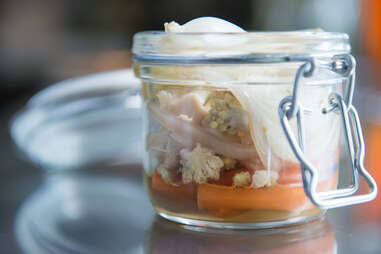 And their pickled vegetables come in... waitforit... a mason jar.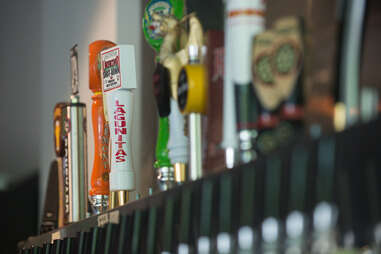 Finally, to wash all of that down, there's a sweet selection of local and international brews...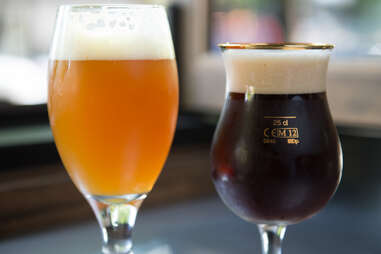 ... including some seriously un-pronounceable suds like an Omnipollo Nebuchadnezzar, and a Rodenbach Grand Cru -- a sour, brown Flemish ale that tastes like you sound when trying to say its name: funky, but in a good way.
All together, the beer list boasts around 35 different bottles, some of which they've turned into lighting because, as Nic Cage knows by now, one man's trash is another man's (National) Treasure.