The best thing about Thanksgiving is the four day weekend. Well, that or maybe getting to watch football all day. But the 2nd (or is it 3rd?) best thing is definitely sharing a big meal with family and friends. The worst thing? Having to cook said meal. Well, that or maybe having to listen to your cousin Tevin tell you about his flat earth theory. 
That's why we've assembled a list of hotel restaurants, dive bars, old Seattle favorites and more that'll be open on Thanksgiving and happy to serve you everything from a traditional turkey dinner with all the fixings, to three cheese lasagna, or a spicy pad thai. Dig in!
Recommended Video
Debatable: Is Shake Shack Really Fast Food?!?
Pike Place Market
This classic French bistro in Pike Place Market boasts serious views of Elliot Bay and a six course menu on the big day, more than any place else on our list. Start with an amuse bouche of salmon caviar, and move on to things like like squash bisque, roasted pheasant, and pumpkin flan, plus an optional wine pairing. There will also be live accordion music. Do with that what you will.
Cost: $85; Make a prepaid reservation online
Fremont
A charming trattoria, complete with a tree growing in the middle of their sun-dappled dining room, Agrodolce is serving a family style prix-fixe meal featuring italian takes on Thanksgiving flavors including squash cavatelli, turkey breast involtini, caramelized brussels sprouts, and a pumpkin cannoli.
Cost: $75; reserve online
Capitol Hill
This riotously colored tiki bar doesn't do anything halfway, which is why you can expect a full on Thanksgiving meal with a slightly tropical twist -- Northwest turkey with rosemary gravy, mushroom stuffing, mashed potatoes, green beans, candied yams, a Hawaiian sweet roll, and pumpkin pie -- followed by something even more embarrassing than the political opinions your cousin Tevin insists on sharing every year: Karaoke. 
Cost: $28; Walk-in only.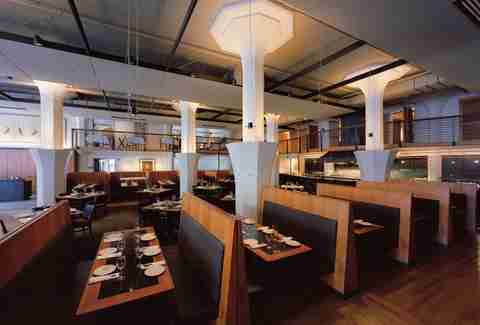 Downtown
Wild Ginger has been a Seattle favorite for 30 years, so it's sticking to what works and offering its usual Asian-inspired menu on the big day, but in addition to classics like black pepper scallops and fragrant duck, they're also serving Malay stuffed turkey marinated with five-spice and turmeric and stuffed with a smoked side pork sticky rice, flash fried Brussels sprouts with smoked pork and garlic ginger sauce, and more.
Cost: A la carte; reserve online
Belltown
One of the best dive bars in the city (or anywhere really), the legendary 5 Point never really closes, so it's hardly a surprise that it's open on thanksgiving. What might be a surprise is how good their deep-fried turkey is, or how much it comes with, including butternut squash soup, stuffing, candied sweet potatoes, cranberry sauce, bacon green bean casserole, and a dinner roll. 
Cost: $29; Walk-in only.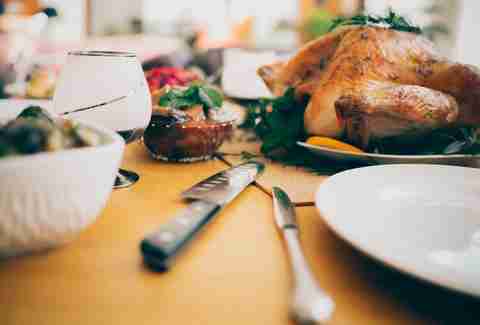 Pioneer Square
Another Seattle institution that never closes, 13 Coins has been "roasting turkeys for 50 years" so they're probably pretty good at it. Ensconce yourself in one of their looming black-clad booths while also enjoying Yukon Gold mashed potatoes, sage stuffing, green beans almondine, candied yams with caramelized marshmallows, and Fresh cranberry sauce.
Cost: $39.99; Reservations for six or more accepted by phone at 206.682.2513
Capitol Hill
Hitting Lost Lake Cafe is usually the kind of thing you do late at night, but you can make an exception for their generous Thanksgiving menu that includes starters (cauliflower soup with truffle oil, to which you can add crab for just $2), five different entrees (everything from traditional turkey to lasagna), a half dozen sides, and an equal number of desserts. 
Cost: It's a la carte, but entrees run between $16-$24; Walk-in only.
Madison Park
Seattle's most famous vegetarian restaurant isn't messing around this Thanksgiving. On Tuesday they're hosting a Night Market from 3-7pm, so those people foolish enough to cook at home can buy everything they need (including pies and other things from their new bakery), and on the day of turkey they've got an impressive four-course meal on offer, highlighted by roasted stuffed squash served with mushroom gravy, and a dark chocolate pecan tart for dessert. 
Cost: $75; Call 206.325.9100 to reserve a place
Downtown
This playful rooftop bar -- one of the best in Seattle -- might not be the first place you think of on Thanksgiving, but between views of skyline and a holiday menu that boasts roasted turkey, a rib roast, pumpkin ricotta ravioli, pumpkin pie, and more, maybe it should be.
Cost: $58; reserve online
Wallingford 
Tucked away in a homey, Craftsman-style bungalow on 45th, Tilth has long been one of Seattle's best and most innovative restaurants, so you can imagine how good a Thanksgiving meal made by James Beard-winning chef Maria sHines will be. Except... well, you don't have to imagine it, you just have to get a reservation for one of their three seatings, and try their all-organic feasts for yourself. 
Cost: $90; Call 206.633.0801 for reservations
Downtown
James Beard-winning chef Jason Wilson run's several area restaurants but MG has always been one of our favorites for a fairly simple reason: Meat. Specifically meat cooked on their nine-foot-long, custom live-fired Infierno grill. Seriously, it's worth going just to watch the cooks in action. Or for a holiday meal that includes crispy pork pâté croquettes, roasted butternut squash soup, organic roasted turkey with sage brown butter gravy, and prime rib. Oh, and pumpkin pie if you still have any room left.
Cost: $89; reserve online
Sign up here for our daily Seattle email and be the first to get all the food/drink/fun in town.