Why Chowder Fries Could Be the Signature Dish Seattle's Been Waiting For
Though rightfully famous for its quality, Seattle's seafood doesn't have a dish for which it's known -- unlike the fried clam bellies of New England, the South's shrimp and grits, and even San Francisco's cioppino. This is partly because our raw ingredients are just so good: Northwest oysters on the half-shell don't need sauce, a sautéed fillet of Neah Bay salmon stands on its own. Yet a vacancy exists. Seattle needs a dish that fits the city's personality, demonstrates its culinary prowess, and showcases its excellent seafood. Recently, a food trend began proliferating that fits this description to a tee: chowder fries.
Like NYC's ubiquitous dollar slice, NOLA's gumbo, or San Diego's fish tacos, signature dishes tend to be affordable, widespread, and easy for chefs to put their mark on. Chowder fries are ridiculously simple to make -- at its most basic, the dish is just a bowl of chowder poured over French fries, two ingredients that huge numbers of Seattle restaurants already have on hand. Which is why the five restaurants around town currently serving chowder fries could quickly become 20... or 200. But why would anyone pour soup on their fries?
 
Seattle needs a dish that fits its personality, demonstrates its culinary prowess, and showcases its seafood.
Charlotte Cook, the marketing director of award-winning Pike Place Chowder, watched customers pour chowder over scraps of bread they pulled from the inside of their bread bowls for years. Last year she took inspiration from a food-trend article about chili fries and added chowder fries to the menu at their Pacific Place outlet. Other chefs who ran with this trend took their cue from poutine, the Quebecois dish of gravy and cheese curds over fries. "Chowder is almost the same consistency as gravy," explains Tyler Palagi, one of the executive chefs of Radiator Whiskey. Palagi helped develop sibling spot White Swan Public House's "Poutine o' the Sea" -- chowder poured over fries, fresh clams, and bacon.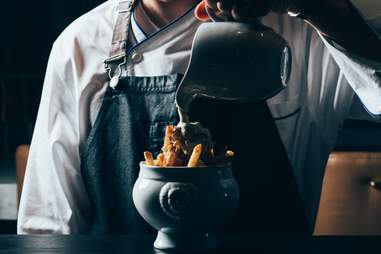 All Water Seafood & Oyster Bar

| Arnaud Montagard
Poutine also guided another local chef pushing chowder fries: Scott Mickelson at All Water Seafood & Oyster Bar. Mickelson had seen chowder fries before, at a restaurant in his native San Diego. When he moved to Seattle and took the helm at All Water, he saw an opportunity to present a comforting, shareable dish that showcased the region's seafood. In his version, laden with cubes of salmon, it's the sweet, tender Dungeness crab that almost acts like cheese, giving it an even more poutine-like texture. But, he adds, the dish really has its roots in chowder — after all, traditional New England-style chowder features potatoes, so this simply deconstructs the soup.
Like Mickelson, the White Swan team knew they didn't invent the dish -- Charlie Garrison, Radiator's other executive chef, had seen it on a menu in Astoria, Oregon. But upon bringing it back to Seattle, he and Palagi saw how emblematic of the city it could be: "It's house-made bacon, clams, everything that is the bounty of markets around the Pacific Northwest." They were excited to find a warm, cozy dish that combated the infamous grey skies, describing its Northwest-ness as, "like a lumberjack sweater with a beard."
"People like messy food, big hunking bites of flavor... it's kind of stoner food."
When White Swan -- currently the most notable restaurant serving chowder fries -- opened in fall of 2016, Seattleites immediately embraced the dish. The Stranger heralded it as evidence of the new spot's awesomeness. The Seattle Times praised the thick chowder and smokiness of the bacon, suggesting diners use empty clam shells to scoop the soup. And Seattle Weekly, presciently, declared it what "could become a Seattle signature dish." (Not long after, Saveurtook note of the dish across the country, calling a Charleston, South Carolina version a "sleeper hit," life-changing, and "the poutine of the future").
Josh Nebe, the opening chef at White Swan (who has since moved on to his own okonomiyaki pop-up, Oko), seemed overwhelmed by the initial praise, wondering, "Am I going to be remembered for good seafood, or for making fries with gravy on them?" But he was enthusiastic about the dish's instant popularity. "We got lucky that we had this silly idea that caught on," he tells Thrillist. "People like messy food, big hunking bites of flavor... It's kind of stoner food." He speculated that the fried potato has ceased to become a dipping food, and graduated to a role of vessel -- for gravy, salsa, and whatever else. He sees it as something that could become a Seattle staple. "I think it would be great if people played with it, put their own spin on it... there's a thousand things you can do with it."
But the fundamentals of the dish are the same everywhere: "The key is a good fry," says All Water's Mickelson. All agree that a soggy French fry is the death of the dish. Cook says they dedicate themselves to making the fries crispy, so they best deliver the chowder and keep their texture throughout the meal. And the chowder texture is essential, as well: "Not paste-y gloop," adds Mickelson. Finally, Nebe points to the flavor of the chowder as important: "Otherwise you'll just have bland fries on the bottom."
White Swan

| Sandy Lam
So where's the best spot to try it? You can enjoy it in a mall food court setting at Pike Place Chowder (which they do not serve at their older Pike Place Market location); All Water serves it up in their hotel restaurant; Seattle Fish Company in West Seattle offers it in a classic seafood shack-style environment (and their West Side poutine is the only version to include cheese curds); and White Swan brings the dish to the table at an upscale sit-down restaurant. And though the bowls may differ slightly, the fundamentals remain the same.
"This is an unpretentious dish. That's so Pacific Northwest."
Built from the bottom up, with sturdy, crisp fries and flavorful, thick, smooth chowder brimming with local seafood, it is, without question, a heart-warming dish made for the Pacific Northwest. But is that enough to take it from a hot trend to a city's signature dish? "It's just down-home comfort food. Who doesn't want poutine with a Northwest chowder twist?" Palagi both answers and asks. Well, Seattle Magazine food writer Chelsea Lin, for one.
"Does it improve the chowder? Or the fries?" she wondered, dubiously. She gives verbal side-eye to the current movement of restaurants toward cooking dishes that appeal more to Instagram than to everyday diners, that go big for gluttony's sake. To her, this is still a trend -- one without much purpose beyond being trendy. She awaits proof, something she believes comes with quality, not in quantity (of either fries or places serving the dish).
Only time will tell if the trend puts down roots and joins flannel shirts, teriyaki, and the evergreen as symbols of the city. Cook sees it as fitting into Seattle's native humbleness: "This is an unpretentious dish," she says. "That's so Pacific Northwest." And Mickelson sees this as just the beginning and anticipates a future filled with other versions of chowder fries, with more and more people gravitating toward the dish. After all, he says, sagely, "Today's trends are tomorrow's mainstream."
Sign up here for our daily Seattle email and be the first to get all the food/drink/fun in town.
Naomi Tomky is a freelance food and travel writer who just wants Seattle's food to get the recognition it deserves, even if it's for some crazy-ass soup mash-up. Follow her edible adventures on Twitter @Gastrognome and on Instagram @the_gastrognome.