Seattleites roll their eyes at the stereotypes of Northwesterners and the idea that flannel-clad folks just constantly drink coffee and beer and eat massive amounts of seafood. While locals long since traded in their '90s plaid for microfleece and nanopuff, the big difference in the coffee, ale, and fish is that the quality consistently improved: locals care deeply about the source, production, and style of each. Plus, the city gained a signature hot dog, an omnipresent soup, and many more essential eats that add up to everything visitors and newcomers need to eat to understand the city's complex culinary scene.
Pike Place Market
Seattle's central market has long welcomed locals, tourists, and immigrants alike, resulting in this Chinese bakery, whose case stays stocked with oversized doughy pot-stickers and delicate almond tarts. But along with the savory specialties and traditional baked goods, sits a slightly bastardized version of the classic Chinese bao. With the uniquely regional moniker "hom bow," the bun consists of a fluffy dough wrapping around thick, savory Japanese-style curry. A sweet and crunchy pineapple bun-style topping adds texture to the bun, which, much like the market itself, brings a variety of flavors and cultures together.
Coffee
Various locations
Perhaps the food or drink most synonymous with the city, coffee holds an oddly special place in Seattle. It's not grown here and there's no natural resource that would make Seattle any better at coffee than anywhere else, and yet, Seattle loves its coffee. While outsiders might immediately pin that onto a certain mermaid-branded international chain, in reality Seattle loves its independent shops, with a few in each neighborhood. Whether at old classics that brought espresso to popularity in the US like Vivace or the cutting-edge third wave roasters like Fulcrum, Seattle's coffee scene keeps everyone caffeinated.
Seattle Dog
Various locations
Ask for a schmear on your sausage anywhere else, and expect some strange looks, but here, cream cheese sits in the condiment section alongside mustard and relish. The strange but strangely delicious quirk of local late-night hot dog stands started sometime in the '90s and remains a steadfastly Seattle tradition. Vendors squiggle the cream cheese onto a toasted bun with a contraption reminiscent of a caulking gun. Though everyone's condiment choices vary beyond the cream cheese, one favorite adds caramelized onions for sweetness and fires up the flavor with a little hot sauce. While any place in the city that sells hot dogs offers the option, it tastes best well after midnight. Walk up to any local hot dog cart like Monster Dogs, Comet Dogs, or Dante's Inferno Dogs.
Lower Queen Anne
Seattleites take ownership of the giant baked souffle-like pancake called a Dutch Baby, and this tiny shop at the foot of the Space Needle honors the local favorite better than anywhere else. The beloved, if somewhat apocryphal, story of its invention nearby at the erstwhile Manca's Café claims that a misunderstanding about a German (Deutsch) pancake led to the name. But regardless of its origins, the fluffy favorite comes to the table puffy and hot, jumping out of the pan in which it is both cooked and served, topped with powdered sugar or roasted fruit, or as a savory, usually with cheese and bacon.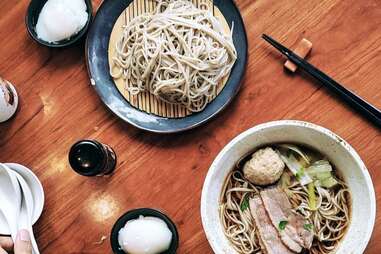 Fremont
While ramen still rules the world as the trendy Japanese noodle of the moment, soba awaits its turn to take the stage. From her Fremont kitchen, Mutsuko Soma shows exactly why the buckwheat noodles deserve more attention, making and cutting the nutty, smooth specialty fresh each day. She serves soba in a variety of styles—hot, cold, dipped, and mixed—but this most basic version, with chilled noodles and chilled broth, offers the best opportunity to explore the subtleties of the each element, the cool and clean flavor making an essential complement to Seattle's long summer evenings or the restaurant's excellent sake selection.
Geoduck
Various locations
No animal better captures the sea air and mild quirkiness of the Pacific Northwest than its de facto mascot, a giant clam called a geoduck. The name serves to screen for locals—they pronounce it properly, as in goo-ee-duck—though even the most hardened flannel fan can't resist a giggle at the phallic shape. But for all the joy just talking about geoduck gives people, it also tastes great. Sliced thin for sushi its gentle crunch releases a subtly salty wave of flavor, while stir-frying it adds a briny chew. Look for it raw at Sushi Kappo Tamura or Taylor Shellfish or in fried rice at Joule.
Various locations
Seattle's longest running mystery asks if the greasy bundles of joy unwrapped on your lap in the wee hours of the morning actually taste good or if it depends on how many beers you drank beforehand. But the true answer matters very little, as any local knows that when the sun goes down and the big orange sign beckons, a Dick's Deluxe hits the spot better than anything in this world. The two small, never-frozen patties on fresh, locally made buns with cheese, lettuce, mayo, and relish simply add up to the flavor of Dick's-fueled nostalgia—always punctuated by the disappointment in their soggy fries and the upcharge for ketchup.
International District
Usually fresh is the most desirable thing for a sushi restaurant, but at more than a century old, Maneki still beats the fish-loving pants off any other place in town. From its historic Japantown location, the warren of tatami rooms and walls papered with specials written in two languages creates a calm, comforting atmosphere—and any of the specials show of the restaurant's seafood skills. But the salmon nigiri highlight the best of this old-school restaurant: giant blankets of gleaming orange fish draped over gently shaped, cohesive, petit balls of rice.
Ballard
Hummus—that Middle Eastern chickpea dip popularized in America mostly by hippies and mediocre app platters—hardly makes headlines as a wow-inducing food. But only because the version at this Lebanese café stays tucked away in a far corner of a residential neighborhood. Freshly made and whipped into a concave well, the hummus creates a hole that Munir fills with spiced ground lamb, sizzled in butter with pine-nuts and still bubbling as it warms the dip, adding layers of textures, flavors, and even temperatures, ready to be swiped up with a piece of pita.
Mill Creek
You can—and should—find a teriyaki shop every few blocks all over Seattle, but truly understanding why this pseudo-Japanese budget meal represents the city so much requires a trip to the suburbs, where its inventor, Toshi, still mans the grill. His sweet glaze never edges into cloying, and the tender meat and crisp char come from cooking to order—a rarity these days. Once a scion of teriyaki franchises, now the immigrant who made snow white rice, a specific salad, and a tweaked sauce from his homeland city's signature stays focused on the Styrofoam container in front of him, even as his invention keeps locals lunching for less.
International District
When Chera Almag first made her mark on the Seattle food scene, it came through pop-ups and word of mouth, inspiring the name "Hood Famous" that she used as her baked goods landed first at local stores and then in the pastry case of her Ballard shop and then her International District café. The combination of flavors from her Filipino heritage with classic favorites started with her ube cheesecake, which draws on purple sweet potato for its vibrant color and beguiling flavor, and replacing the citrus in lemon bars with calamansi, but now extends to coffee, savory dishes, and cocktails.
Fresh-shucked Oysters
Various locations
Plump and filled with the flavor of the Pacific Northwest's clean, salty waters, no food represents the seafood-forward, environmentally conscious region better than these local bivalves. The same chill of the frigid waters of Puget Sound and the nearby Pacific that turns swimmers' toes blue in minutes keeps the local oysters briny and bountiful year-round. The small, coppery native Olympias, meaty and ubiquitous Pacific variety, and even branded tumbled designer ones pop up on menus everywhere, garnished with the classics like horseradish and lemon or with signature mignonettes featuring fish sauce or gin.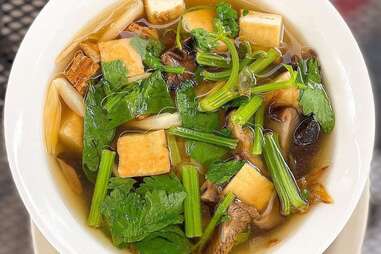 Pho
Various locations
Seattle's multitude of Vietnamese restaurants and chilly, wet weather combine to make this rice noodle soup one of the city's most quintessential dishes. With at least a few pho restaurants in each neighborhood, the warm spices and soul-warming broth loaded with fresh herbs and rice noodles blanket the city in a star-anise-scented hug. Depending on preference, day, or mood Seattleites turn to versions made with high-quality ingredients at Ba Bar, fresh rice noodles made in-house at Dong Thap, or the Instagram-favorite giant short ribs at Phở Bắc.
Various locations
Oversized and bright red, this crustacean is practically a symbol of the bountiful seafood of the Northwest but even its visible glory belies the sweet, tender meat inside. To put it plainly: This crab is absurdly delicious. At this restaurant from a fifth-generation family shellfish farm, they know exactly how to show it off best: cooked, chilled, cracked, and most importantly, unadulterated—save for a squeeze of lemon and the option of their secret dipping sauce.
IPA
Various locations
The India Pale Ale, a bitter and hoppy beer, played a huge role in creating Seattle's prominent local brewing scene. Because about three-quarters of the country's hops grow in nearby Yakima, it makes sense that beers here feature them. That inclination toward the style now known as West Coast or Pacific Northwest IPA also brought much attention and popularity to microbrewers starting in the '90s and pushing the scene forward ever since. Few bars in town would dare leave a local IPA off the menu, but for the widest selection try one of the local taproom and convenience store mashups like Chuck's Hop Shop or head to Ballard's brewery district.