Listen up, Seattle! The city is celebrating all things culinary with two weeks of non-stop deals on some of the best restaurants around. For food fanatics in the PNW, Seattle Restaurant Week is their Bumbershoot... their HempFest... their Super Bowl (because it's way too early to tell if we'll get one from the Seahawks this year). Most all of the restaurants participating in the event offer a three-course dinner for $32 and some will offer a three-course lunch for $18, all over a 10-day period. It's pretty sweet -- pun intended, because of the amazing desserts.
It would be a monumental task to choose just one from the over 165 places to visit. But we've got you covered. Whatever kind of food you're in the mood for, just take your pick from the amazing eateries below...
Italian
Capitol Hill
This Ethan Stowell spot serves up fresh pasta with a seafood-flair in the same minimalistic way the restaurateur has become known for. It's nestled on the edge of the Pike-Pine corridor, so it's a perfect location for Capitol Hill and Madison Valley residents. The stars of the restaurant's Seattle Restaurant Week menu are the hamachi crudo, an Italian ceviche, and an entree option of albacore tuna-charred onion with smoked mushrooms.
Steak
Belltown
Let's be honest -- to really enjoy Seattle Restaurant Week you want to feel like you're enjoying a meal that's a decadent escape from the norm. And biting into a juicy steak cooked just the way you want it can do just that. This posh spot is offering up filet mignon medallions for an entree, and finishing up the meal with dessert options like a chocolate ganache. Champagne taste on a beer budget.
French
Downtown
Celebrity chef Michael Mina's modern French bistro is serving several of the restaurant's most delicious dishes for Seattle Restaurant Week, including Parisian gnocchi and (for a small upcharge) Steak Frites au Poivre, which is a marinated bistro steak with red wine butter and duck fat fries.
Mexican
Queen Anne
This bustling Mexican restaurant in Lower Queen Anne is the requisite spot to spend an evening getting your spice fix and knocking back a few signature cocktails. For Seattle Restaurant Week, choose from classic dishes like arroz con pollo, a seared half chicken with bomba rice, or a guajillo-molasses grilled pork chop. Finish it off with a fresh strawberry sopapilla or crème caramel flan.
Seafood
West Seattle
If it's an unbeatable scenic view you're after this Seattle Restaurant Week, it doesn't get any better than Salty's on Alki Beach. With sweeping views of Elliott Bay and the city skyline, your entree choice of garlic chili prawns or grilled steelhead will taste even better.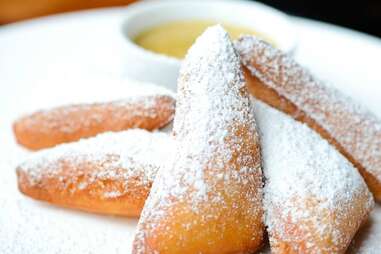 American
Queen Anne
Get the beignets! That had to be the first thing said about this Cajun-inspired spot known locally for an amazing brunch. Other than the most delicious powder-sugar covered beignets in the city, the Seattle Restaurant Week menu is filled with savory favorites like wild shrimp with house-made andouille and a fennel braised pork shoulder.
Sushi
Eastlake
Fresh Pacific Northwest ingredients are harvested locally every day and prepared masterfully at this much-beloved sushi restaurant. That's the beauty of Sushi Kappo Tamura -- you don't know exactly what you're going to get, but you know it'll be delicious. The chef's choice sushi plate is the star of the Seattle Restaurant Week menu, so you know, order that.
Greek
Capitol Hill
A visit to Omega Ouzeri on Capitol Hill is the next best thing to booking a Greece trip. The bread basket with olive oil/spices is enough reason to spend an evening sat behind the blue door of the restaurant. Notable options on the SRW menu include Kritharoto Me Garides, an orzo pasta with prawns and baby squid, and chocolate baklava for dessert.
Indian
Bellevue
Classic Indian dishes like butter chicken, spinach ginger lamb, and madras vegetable curry are on the menu at this Bellevue favorite. But be warned -- these dishes are insanely spicy.
Thai
Downtown
Vegetarians, we didn't forget about you. Noi Thai Cuisine, which opened up in Seattle earlier this year, is the SRW spot for you. Most all of the menu items can be ordered vegetarian and gluten-free. On top of that, the entrees like thai red curry and pad thai are as delicious as they are beautiful.
Pizza
Ballard
Stoneburner's Seattle Restaurant Week menu includes three different delicious entrees: a pizza with goat horn peppers and Castelvetrano olives, Bucatini Pimenton with hamma hamma clams, and plump meatballs with aged provolone and slow cooked greens. You'll assuredly leave fatter and happier than when you came in.
Sign up here for our daily Seattle email and be the first to get all the food/drink/fun in town.