Ever wonder why all those "Seattle's Best Burgers" lists always include pretty much the same hamburgers? Sure, Li'l Woody's, 8oz. Burger Bar, Katsu Burger, Zippy's, and Uneeda Burger all make amazing meat discs, but we figured there have to be some other badass burgers out there (we were right!), and put together a collection of under-the-radar gems that haven't appeared on any of the latest "Seattle's Best Burgers" lists from 1) Seattle Metropolitan, 2) Seattle Magazine, 3) Seattle Eater, or... um, 4) your second-favorite men's lifestyle site.

Skagit River Ranch Beef Burger
Golden Beetle, Ballard
This Iron Chef-vet is known for sweet Mediterranean/Italian eats, which is probably why this locally sourced beef disc has Greek-inspired toppings like tomato-garlic sauce & pickled onion, and the fries are flavored with Near East spices... either that, or it's because they're frickin' awesome.
Woodinville Whiskey BBQ Burger
The Commons, Woodinville
You're in Woodinville... are you lost? It's cool, 'cause the Commons purveys meaty behemoths, like this sucker topped w/fried onions, butter pickles, coleslaw, and BBQ sauce made with some sweet local hooch -- together, they'll put some wood in somewhere else.
The Bacon & Egg Burger
Relish Burger Bistro, Denny Triangle
The Westin-based Relish is probably slightly-too-corporate for some Seattleites, but their burgers, like this Applewood-smoked bacon, fried egg & Beecher's Flagship cheese-topped number are wayyy more than slightly-too-good to miss out on.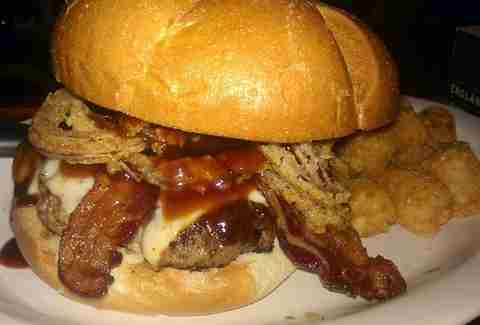 The Twilight BBQ Burger
Twilight Exit, Central District
The CD's finest dive bar makes the kind of burgers, like this one w/Zoe's bacon, fried shoestring onions, BBQ sauce & Muenster cheese, that you want to... sorryboutthis!... dive into. And they're three bucks off every weekend.
Tin Hat Burger
Tin Hat, Phinney Ridge
This venerable boozer's a magical time machine back to an easier, perhaps more drug-addled time and place where you're literally encouraged to "Shut the F*** Up and Drink", but should also consider shutting up and eating this pork and fried veggie-topped burger.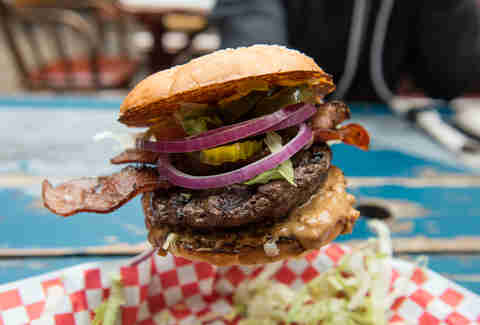 The After School Special
King's Hardware, Ballard
This After School Special isn't about making sure latch-key kids don't talk to strangers on the way home from school (it doesn't matter that he offered to buy you an ice cream, Jenny!). No, it's about putting two of the world's best foods, bacon and peanut butter, on an already-pretty-sweet burger.

Henry's Mac & Cheese Burger
Henry's Tavern, SoDo
Located right next to one of SODO's most popular destinations… yup Deja Vu (!), this Portland-based eat/drink-spot from the peeps behind places like Cutters and Palisade is serving up generously portioned pub fare like this All American Burger w/ mac & cheese, Applewood-smoked bacon & an Elysian Immortal cheddar sauce.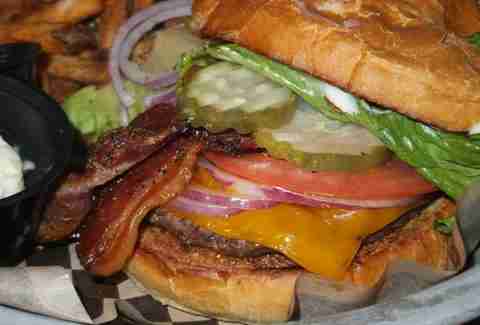 The Deluxe Bacon Cheeseburger
Deluxe Bar and Grill, Capitol HIll
This old-school boozer makes burgers that are the BOMB (seriously, it's their Burger of the Month Burger), and a few more creative numbers (one w/ chicken, SPAM, pineapple, crispy onion, Pepper Jack & Sriracha), but a perfectly greasy classic is possibly even better than Seattle's most famous Deluxe: Dick's.
The Ultimate Burger
ART Restaurant, Downtown
This Four Seasons-based spot isn't messing around: this sucker comes with a platter full of toppings, including a fried egg, herbed cheese, Kobe pastrami & crab, and is by definition a work of ART. But is also, you know, a work of art.

Organic Lamb Burger
Barolo, Downtown
This happy hour destination is serving up a gooey Buffalo mozz-topped lamb burger on ciabatta, that is quite possibly the sexiest thing on Westlake, including all the ladies working at Lil' Darlings, and that girl in the Whole Food's deli who's been on your radar since the first time she made you a burrito.