The single best thing to come out of Philadelphia is... um, constitutional democracy, obviously, but cheesesteaks are pretty great too, which is why we scoured everything from food trucks to former food trucks for Seattle's five best takes on Philly's signature sandwich...
Various locations
The messy and meaty masterpieces are worth waiting in the occasional line at Calozzi's two locations in Georgetown and Downtown, especially when you can chose between options like the Donnie (mushrooms and steak, no cheese), the 'Roni (with salumi pepperoni), and the Pepper Steak, all of which come with or without fried onions and your choice of cheese, though that one is not up for debate -- you're obviously getting the squirty stuff.
Pioneer Square
Tat's Deli is well known for a bevy of its jam-packed sandwiches, but its classic Philly cheesesteak sandwich takes the crown. Tat's offers four different variations: a chicken cheesesteak, a pizza steak (with Tat's marinara and mozzarella), a hoagie steak (topped with lettuce, tomato, and onion for no extra charge), and the OG, which you should order with and Ice-T, obviously.
Industrial District
If you had one question to ask Philly Boys, it'd likely be "wait, why are you throwing batteries at Santa Claus?" But if you had a second, it'd likely be "how do you make such good sandwiches." The answer to the second is putting whiz/provolone on top of 14-day-aged beef.
Various locations
Though probably not the best thing to say to your lady/wife as soon as you get home from work, this food truck's one of the best things to happen to lunch, mostly thanks to the Beastie, which has roast beef, hot peppers, grilled onions, provolone, and rosemary aioli.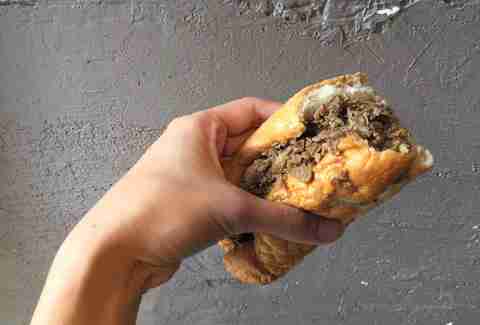 Beacon Hill
This hole-in-the-wall spot just off Rainier in Beacon Hill has a Ms. Pac-Man machine that has most certainly seen better days, and sandwiches that aren't exactly the prettiest, but hey, don't judge a book by its cover, because these cheesesteaks are the real deal. Be sure to grab some cheesy fries to go along with your messy sandwich.
Sign up here for our daily Seattle email and be the first to get all the food/drink/fun in town.