It's been months since we told you about the best burritos in Seattle, so you've probably tried 'em all by now, right? RIGHT?! Right. That means you're gonna need some new South-of-the-border-style eats to stuff yourself with, so we've rounded up the seven best tacos in the 206. Feast your eyes...
Capitol Hill
What you're getting: Barbacoa tacos
The Capitol Hill newbie slings eight different kinds of tacos, but we really dig the barbacoa, which has braised pork shoulder and roasted poblano. Enjoy their tacos with a side of sangrita (a little like a deconstructed Bloody Mary with tequila) to get the whole experience.
Ballard
What you're getting: Cabeza tacos
With a locations in SoDo, Ballard, and Haller Lake, good tacos are never too far away, and at $1.45 a pop, you can go ahead and try every single offering. From fish and chorizo to cabeza (beef cheeks) and adobada (marinated spicy pork), it's definitely time to get adventurous.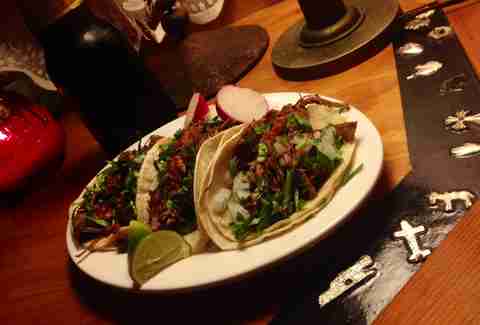 Ballard
What you're getting: Breakfast tacos
The taco offerings at Señor Moose include the Tacos de Camote (sweet potato, panela cheese, spinach, black beans, pepitas) and Tacos de Machaca (shredded beef with salsa, onion, cilantro, avocado), but SM's infamous for its killer breakfast tacos, and it's definitely the spot to hit for a Sunday wake up call.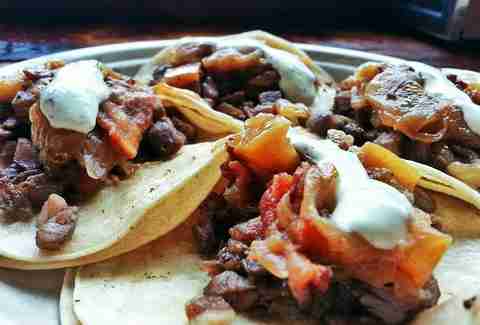 Capitol Hill
What you're getting: House tacos
Hands down one of the most beloved taco spots on this hill, Tacos Chukis never fails to please with its super-authentic menu, and you'd be remiss if you didn't order the house tacos (with adobado, melted cheese, guacamole, and grilled pineapple) at this hole-in-the-wall.
Greenwood
What you're getting: Beef tacos
This Salvadoran spot in Greenwood purveys tasty eats in both the pupusa and taco persuasion. Take your pick of beef, chicken, or pork-- all tacos come with chopped onions, cilantro, and a mild salsa verde that you can wash down with a Jarritos or horchata.
Beacon Hill
What you're getting: Adobada tacos
This Tex-Mexy spot in Beacon Hill is the perfect place to pretend you're in Austin and pound Coronas and tacos, which include carne asada, lengua, Mexican sausage, and more.
Wallingford
What you're getting: Green Chili Braised Chicken Tacos
Just off 45th in Wallingford, TNT Taqueria's tacos are… you guessed it… dynamite. The space might be tiny, but this certainly doesn't compromise the size of the menu. Order by the taco or plate here, with options like al pastor, papas dulce & kale, carne asada, and more. All tacos come with cotija, diced onion, cilantro, radish, and salsa, plus, all plates come with arroz roja and frijoles pintos.
Sign up here for our daily Seattle email and be the first to get all the food/drink/fun in town.