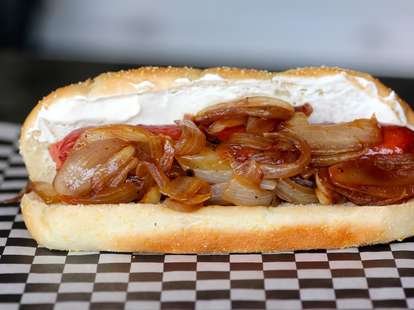 Bradley Foster/Thrillist
Bradley Foster/Thrillist
What makes a good Seattle Dog? Who came up with putting cream cheese on 'em? And where can you find a good one? We're about to answer all those questions -- and show you some beautiful pictures of the tastiest dogs in The Town while we're at it. So without further ado, here's the definitive guide to Seattle's signature hot dog…
Approximately two decades ago, street vendors started putting an admittedly strange, but delicious, ingredient on the hot dogs they were selling to people leaving the bars in what was Seattle's hottest nightlife neighborhood at the time, Pioneer Square. It proved to be incredibly popular and, when paired with grilled onions, soon became known as the Seattle Dog.
According to Seattle Weekly, the idea for the iconic dog came from the Square's bagel vendors, who began selling hot dog bialys -- or bagel dogs -- with cream cheese in the late '90s. Today, you can still find Seattle Dogs near Pioneer on game days, when a slew of stands set up outside Safeco and CenturyLink Fields.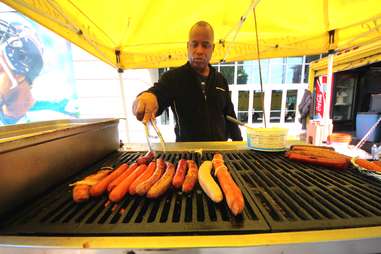 One of the more successful vendors is Al's Gourmet Sausage, run by Al Griffin. Al is happy to tell you about how much love people show his dogs, but he shies away from talking about the fact that -- according to his wife -- he was one of the first people to start putting cream cheese on them 21 years ago.
He was convinced it would work when he saw a customer pull a packet of Philadelphia cream cheese out of his pocket and put it on a dog he'd just bought. It's probably not a coincidence that since then, he's gone from running a late-night-eats stand to building a full-fledged sausage empire, including a food truck and multiple stands posted up at events around the city.
Unlike other cities (Detroit, Atlanta, etc.), hot dogs are still very much a street food in Seattle. And with the demise of Po Dogs, there are only handful of brick-and-mortar spots -- like Taxi Dogs, a stall across from Pike Place Market; and an out-of-the-way shop in Tangletown called Diggity Dog -- that are still serving them up.
Diggity Dog sells regional dogs from around the country, including Detroit-style Coneys, Chicago Dogs, and this one from Atlanta topped with chili and coleslaw. But guess what their No. 1 seller is?
... not the Seattle Dog. Actually, it's a dog topped with their house-made kimchi (this is Seattle after all). However, the Seattle Dog (above) is a very close second.
This shortage of permanent hot dog spots means the best place to find a dog of any kind is outside one of your favorite bars in Belltown or on Capitol Hill... which makes sense, because there's nothing better after catching a show at Neumos. So once you make your exit, find a stand, order a dog, and make sure you get it with cream cheese and onions. It's quintessentially Seattle, and it's undeniably delicious.
Sign up here for our daily Seattle email and be the first to get all the food/drink/fun in town.
Bradley Foster is a former Thrillist editor who may or may not have eaten all the hot dogs pictured in the article. OK, he totally did.