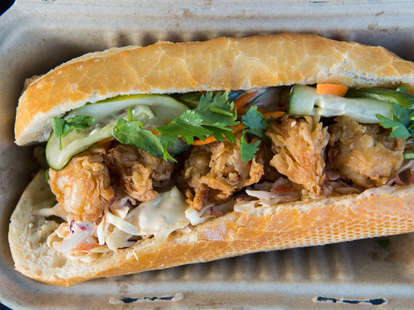 There aren't many things that have started in Hawaii and gone global: the phrase "5.0"; that thing where you encourage people to hang loose with your thumb and pinky fingers; and the Pacific Rim-style eats of Chef Sam Choy, who's taken a break from doing things like appearing on Iron Chef to launch a Seattle food truck called Poke to the Max, which is serving the kind of sweet, island-style eats that he's famous for, and that Danno would definitely find... ugh, arresting. Check out 5(.0) of our favorite dishes from the street food operation, below:
This handmade beef patty, which is topped with sautéed onion, fried egg, and smothered in fresh gravy, is a Hawaiian street food staple: Loco Moco.
This Roadside Shrimp comes with oximoronically large shrimp cooked in fresh garlic & scallions, and is presumably named after what cabbies call Tom Cruise.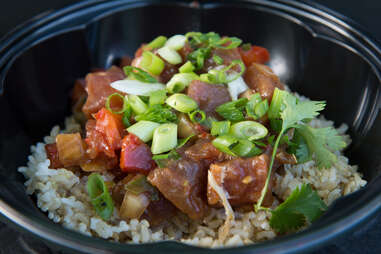 One of their signature (and titular) dishes is the spicy Ahi Tuna Poke, which is pronounced like "okay", and... waitforit... tastes way better than that.
Seafood not your thing? PttM's also taking chicken cutlets and frying them up in a style that rhymes with the I Can Cheezburger corporation's biggets fear: Katsu.
Sandwich offerings include the slow-cooked shredded pork Big Kahuna Kalua w/ house slaw, special sauce & namasu (house pickled veggies), and this deep fried, popcorn-style Shrimp Boat, captained by... Tom Cruise?
You can't miss their truck -- it's like a moving Gotcha t-shirt -- but you probably shouldn't just drive around looking for it. Instead, hit SamChoysPoke.com to see where they're going to hang.