Seattle loves snacks (doesn't everyone?!), but if there's one thing people from Seattle love even more, it's free snacks, and if there's one thing they like even more than THAT it's... well, nothing. But a selection of Seattle's signature (and widely available) snack options might come close. That's why we've rounded up everything from childhood favorites (Mountain Bars!), to national mainstays (Oh Boy! Oberto) for our list of Seattle's nine most important snacks...
Beecher's curds
This Pike Place Market-based cheese-slinger opened shop in 2003 and was the first artisan cheese-maker in town, today the company also maintains digs in New York City and makes one of Seattle's best grilled cheese sandwiches, but the pro move is still snacking on these little pillows of deliciousness that are totally available at your 'hood's better grocery stores.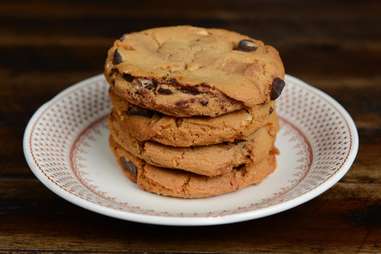 Cougar Mountain
Cougar Mountain cookies have been around since 1988 and come in a bevy of flavors, from Chewy Molasses-Ginger to "Ugly" White Chocolate Raspberry. There're also "Ballpark" cookies that're only available April-August and are the perfect summer snack to enjoy while catching the M's either at Safeco or at home with an ice cold glass of milk.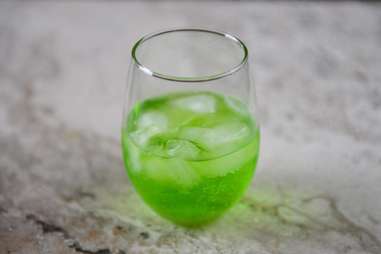 Jones Soda
Branded with its trademark Jones and fan submitted photos, Jones Soda is a bubbly and pure cane Seattle soda that's taken its unique flavors across the country. From Green Apple to Crushed Melon, Jones Soda's fruity effervescence is a true blue classic -- especially when you're talking about their Berry Lemonade flavor.
Oh Boy! Oberto
Since 1918, Oberto has been slinging its signature bacon jerky, smoked sausage sticks, cocktail peps, and more. Oh Boy! Oberto's HQ is located in Kent, just South of Seattle so believe us when we say we're claiming this one. Also, every rightful Seattleite should have a stash of this somewhere in the event of an emergency... like hunger, you know?
Snoqualmie Ice Cream
Gracing stores all across the Northwest, Snoqualmie Ice Cream is a creamy breed of ice cream that gives mega brands like Ben & Jerry's and Häagen-Dazs a run for their money. Snoqualmie Ice Cream has a brick-and-mortar tucked away in Snohomish, just North of Seattle where you can get beer floats and sundaes, but it's easier to grab a pint. Pro tip: for a true taste of Washington, opt for the Cascade Mountain Blackberry.
Tim's Potato Chips
When in Seattle, we like to forego the Lay's in favor of Tim's Cascade Style Potato Chips. Made in the Pacific Northwest, Tim's line also slings Erin's Popcorn and Hawaiian Kettle Style Potato Chips, so there's no shortage of salty/crunch options to go with that sandwich.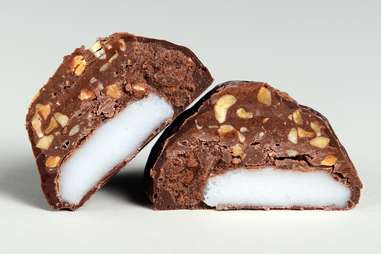 Mountain Bars
True to its roots, Brown & Haley's bars contain a "mountain" of chocolate flavor, along with peanuts and a vanilla center. Brown & Haley are also known for their Almond Roca, but who can resist the old-school blue wrappers these bad boys are contained in? Incredibly easy to stuff in your pocket only to later forget about it, this PNW treat definitely reps your Northwestern upbringing.
Frango chocolates
Created by the candy makers at Seattle's Frederick & Nelson department store (RIP!) back in the '20s and then spread across country by Marshall Field's (which bought F&N in 1929 and used a Chicago version of Frangos to boost sales during the Great Depression), these chocolate truffles are now available in area Macy's stores in a variety of flavors like caramel, milk double chocolate, dark mint, and more, and they're always in classic hexagonal boxes placed temptingly right next to the cash register.
Marge Granola
Seattle-based Marge Granola can be found in Whole Foods, at the Ballard Farmers Market, and a couple other select stores in the Seattle area, and believe us when we say that this extremely addictive drug that looks a lot like granola is well worth the hunt. Marge's original cranberry pecan doesn't even need accoutrement, just eat it by itself, but be careful because this stuff is truly dangerous.
Sign up here for our daily Seattle email and be the first to get all the food/drink/fun in town.