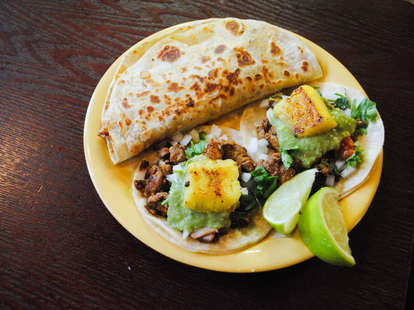 Cody Permemter/Thrillist
Cody Permemter/Thrillist
Tacos Chukis is oblivious to the fact that it -- as a restaurant -- makes no sense.
Let's start with the location. The half-decade-old taqueria is located in the heart of Seattle's trendy Capitol Hill, surrounded by dive bars and the old charms of a changing neighborhood that once housed the city's artists and outcasts.
For being in this bustling epicenter of food and culture, Tacos Chukis is magnificently elusive. Nestled far back against a wall on the second story of an indoor mini mall on East Broadway, the taco joint isn't visible from the street. You're more likely to notice the barbershop, tattoo parlor, or nail salon before you'd spot this hidden gem. There's no sign. No advertisements. The only warning that you might stumble upon the best damn tacos in Seattle is a line snaking out of a creaky wooden door. Or the full stomachs and smiling faces of those scurrying back onto busy sidewalks -- not speaking a word about what they just experienced for fear there won't be enough tacos to go around.
This is Tacos Chukis. And the first rule of Tacos Chukis is you don't talk about Tacos Chukis. It's your secret spot. Of course the problem with this rule is that this humble hole in the wall is a lot of people's secret spot. Naturally word has gotten out, so Tacos Chukis is expanding. A new location is opening this October in South Lake Union, the teeming tech hub of Seattle.
What seemed like an impossible fever dream of a restaurant will now be recreated in an affluent neighborhood flooded by a steady stream of tech transplants. Tacos Chukis is no longer hidden. It's out in the open. Can it survive?
"This couldn't happen anywhere else," owner Roberto Salmerón tells me one evening, relaxed against a post outside his busy restaurant and gesturing to the front door. "I came into this with no expectations. If it worked out, great. If it didn't, no biggie."
That's a pretty startling statement for an immigrant-turned-businessman who started a successful restaurant straight out of college. Salmerón, originally from Tijuana (and later San Diego), graduated from the University of Washington in 2010 with an economics degree. With limited job prospects, he decided to ride a bike over 1,200 miles from Seattle to Tijuana to visit family and eat some of the delicious street tacos he remembered enjoying as a child.
He bought a bicycle, planned his trip for two weeks, and took off.
"I had no idea what the fuck I was doing," he says.
But after sleeping in campsites every 40 or so miles, and on a bench one cold night in San Francisco, the idea came to him: these tacos he had dreamed about since leaving for college… couldn't others obsess over them the way he had?
Five years later, and Tacos Chukis is poised to open its second location. But this time, things are going to be a little different.
Tacos Chukis doesn't have a website. Instead, the restaurant has gained a cult following through social media. A quick search on Twitter shows dozens of posts bragging about succulent tacos with bright green guacamole and pineapple slices.
As one fan put it: "First thing I buy on payday is Tacos Chukis."
Simplicity is what makes the taqueria so successful. The tacos are $1.90 and come with your choice of grilled protein, cilantro, onion, salsa, and guacamole, all served on fresh corn tortillas. There are other items, quesadillas and tortas, that cost a bit more, but assuredly won't leave you hungry. The price is low, but the flavors are complex. The tacos are a tornado of sweet, tangy, spicy, and meaty that hits you all at once. You'll get in line again once you finish your plate, and there's no shame in that. Maybe you'll wash it all down with some horchata or an aguas frescas.
Tacos Chukis is a respite for folks used to authentic Mexican food in their home cities. Danyella Hinojosa, a chef and entrepreneur who now lives back in Corpus Christi, TX, went to the restaurant at least once a week during her four-year stay in Seattle. "I told one of my chef friends that I missed the tacos from Texas and he recommended it," she said. "I wasn't disappointed."
Whatever potential drawbacks the original location has -- a small kitchen, no street visibility, no signage -- the new South Lake Union location is the complete opposite. It's located under a brand-new apartment complex and surrounded by large windows on two sides.
For Salmerón, the decision to open another location was a no-brainer. The unexpected growth of the original -- and recent popularity -- has propelled the cramped restaurant into the spotlight. But transferring the unique vibe of the Capitol Hill location to the new space was a major concern.
"I was definitely worried about that [the vibe] aspect," he said. "But this new spot is going to let me do what I sought from the beginning. It's definitely not going to be the same, but I think we can put out something that works."
At the center of the new restaurant -- which is still under various stages of construction -- sits a massive open kitchen with plenty of room to turn out hundreds of tacos a day. Placed prominently in front will be the trompo, a giant skewer of grilled al pastor meat, says Salmerón. There aren't many changes planned for the simplistic menu, but with more space, a daily special might be added, and more meats like lengua and carnitas could make an appearance.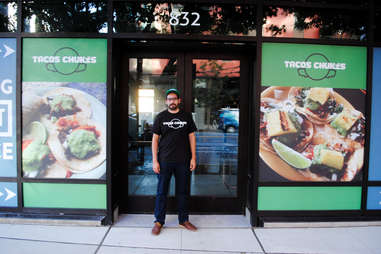 The question weighing on everyone's mind seems to be: can Tacos Chukis keep its soul in a place so different from where it first flourished? We'll have to wait to find out. Salmerón says the new location won't be a carbon copy and admits it will be more "polished." However, if you're worried that this will change the allure of what initially made Tacos Chukis so sought-after in the first place, remember that it's still being helmed by the man who rode a bike to Mexico, came back, opened a restaurant in a secret location, doesn't have a website, and shrugs off his success like it's not a big deal.
It shouldn't have worked the first time, but it did. And it just might work again.
Sign up here for our daily Seattle email and be the first to get all the food/drink/fun in town.