The Best New Brunches in Seattle
Deciding where to go to brunch is never easy -- nobody should have to make choices before they've gotten coffee -- and with the latest influx of new restaurants and brunches it just gets harder. Luckily, we've simplified the task by picking the best new spots for everything from Southern comfort food to Hawaiian treats so you know just where to go (but maybe put on pants first, okay?).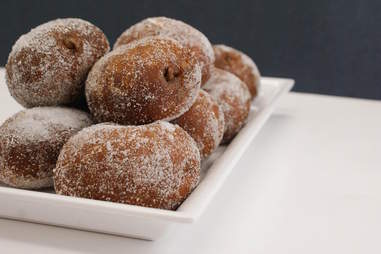 Courtesy of John Beck/ Super Six
Columbia City
Tropical ingredients like the toasted macadamia nuts on the pancakes and the kalua pork in the hash anchor the menu in Hawaiian flavors at this latest spot from the Marination folks. But it's the bottomless mimosas that anchor it in our hearts as one of the best new brunches in town.
Queen Anne
The greasy diner foods you seek are not here: this is a brunch for when you're awake enough to appreciate a smoked oyster omelet with house sour cream and Pacific sea grass. The bellini has huckleberry and yuzu and the cinnamon roll comes with rose geranium and orange glaze. Basically, this is the kind of brunch you want to be able to remember -- not eat before you're really up.
Ravenna
The bright, airy space will open eyes and the food will drop jaws thanks to Chef Edouardo Jordan, who is bringing his special blend of global influences, Southern traditions, and local ingredients to the morning hours with everything from yogurt to head cheese, buttermilk biscuits to buckwheat pancakes.
Courtesy of Jim Henkins
Capitol Hill
Fresh-squeezed juices and granola for the health nuts, biscuit sandwiches with pork sausage, mushrooms, and fried eggs for... well, you, and an interior made for Instagramming offer something for everyone at this centerpiece of the Chophouse Row complex.
Queen Anne
If you're not up on your trends, then we're here to let you know that avocado toast is where it's at, and this health-minded hotspot has it in spades. But kale salads and gluten-free breads aside, it has surprisingly innovative and far less trendy menu items also worth a try, such as the autumn panzanella with endive, chicken, and poached pears.
Capitol Hill
For years, this space drew epic brunch lines for the fried chicken in its incarnation as Kingfish Café. Now, the Hemingway-inspired menu draws in weekend feasters with brioche French toast and prosciutto Benedict, serving espresso and cocktails from the giant bars running the length of the room -- from the light-filled front windows to the cozy spots in back.
North Seattle
It's hard to find any dim sum at all this far from the ID and the Eastside, but to find a place that not only serves it but is pushing forward with innovative/actually good food is basically a miracle. Nestled into the new Asian Food Center supermarket, don't miss the crispy noodle, seafood, and corn wrapped in rice noodle house special and other dim sum that you won't see anywhere besides the easily navigable photo-menu here.
Sign up here for our daily Seattle email and be the first to get all the food/drink/fun in town.
Naomi Tomky loves any meal that involves both coffee and alcohol. Follow her on Twitter @Gastrognome and Instagram @the_gastrognome.