Sure, there are a few things that visitors to Seattle don't understand about it (at least 18 of 'em) but, since they almost never head over to the other side of the lake, there are countless things people from Seattle don't understand about the Eastside, starting with the fact that there are some pretty good things to eat over there. Things like these eight great burgers...
Chipotle BBQ burger
BeachHouse Bar + Grill (address and info)
Kirkland
What's better than eating a fiery half-pound grass-fed burger with bacon, onion strings, cheddar cheese, and a smoky chipotle BBQ drizzle? Eating said fiery burger in a laid-back space overlooking the charming Kirkland waterfront.
Recommended Video
Tuna Eyeball with Timothy DeLaGhetto and Ben Sinclair
Hillbilly burger
Local Burger (address and info)
Bellevue
This down-home burger will give you a little taste of the South, and a whole lot of flavor: a ground beef and bacon patty is topped with house-made BBQ sauce, fried red onions, baby greens, and aioli, which is so good it'll make you wanna slap your momma!*
(*Don't slap your momma.)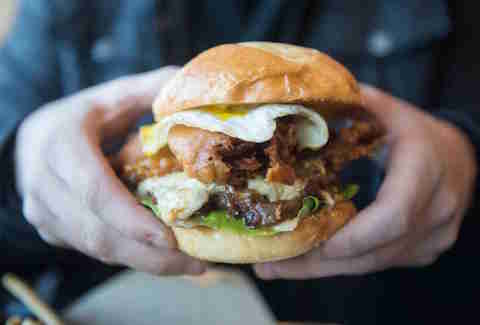 Rockstar burger
Tipsy Cow Burger Bar (address and info)
Redmond
If you wanna live like a rock star, aka die young, then this burger is for you. It starts with a 7oz grass-fed beef patty, then gets topped with white cheddar, a fried egg, caramelized onions, and veggies all covered in a maple syrup drizzle. Oh, and did we mention the FRIED beer-battered bacon?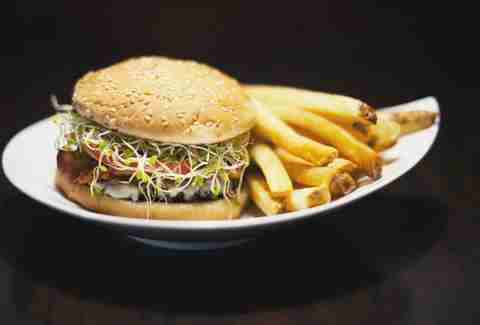 Century burger
Wibbley's Gourmet Hamburgers (address and info)
Bellevue
With the atmosphere and feel of an old English pub, this down-to-earth eatery pumps out some truly delicious burgers, including this numerically named one made with 100% fresh-ground chuck beef, blue cheese crumbles, and bacon, that gets its unique taste from one simple secret ingredient: fresh bean sprouts.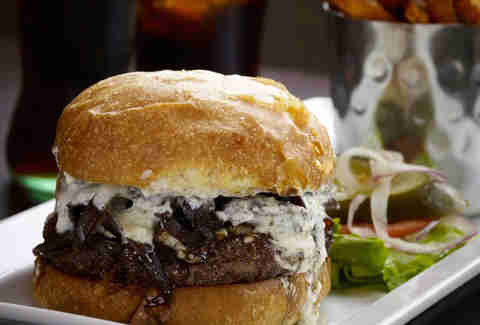 Burger of the Gods
Lunchbox Laboratory (address and info)
Bellevue
Lunchbox Laboratory has some pretty crazy creations, but if you like stinky, gooey, melty, cheesy, dripping hot meat on a fluffy bun (and let's face it, who doesn't?) then this burger covered in blue cheese crumbles, and a super Gorgonzola spread is for you.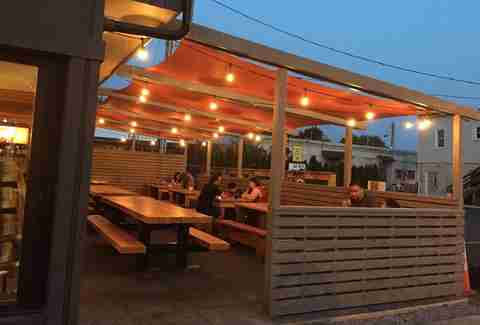 Big bison burger
Feed Co. Burgers (address and info)
Redmond
For a break from the traditional beef burger, try this badass bison number topped with French onions, Gruyere, and truffled crispy potato strings. And you can enjoy it on the festive outdoor patio just added to this new Redmond bistro.
Pastrawesome
Burger Addict (address and info)
Renton
With all the flavor of a classic pastrami sandwich and a burger wrapped into one, this sandwich is almost too awesome. But one look at this 10oz Washington Angus beef beauty flavored with fresh pastrami, and topped with even more of the smoked deli meat, as well as spicy sauerkraut and mounds of gooey Burger Addict cheese, and you'll quickly remember the key word in the previous sentence is "almost."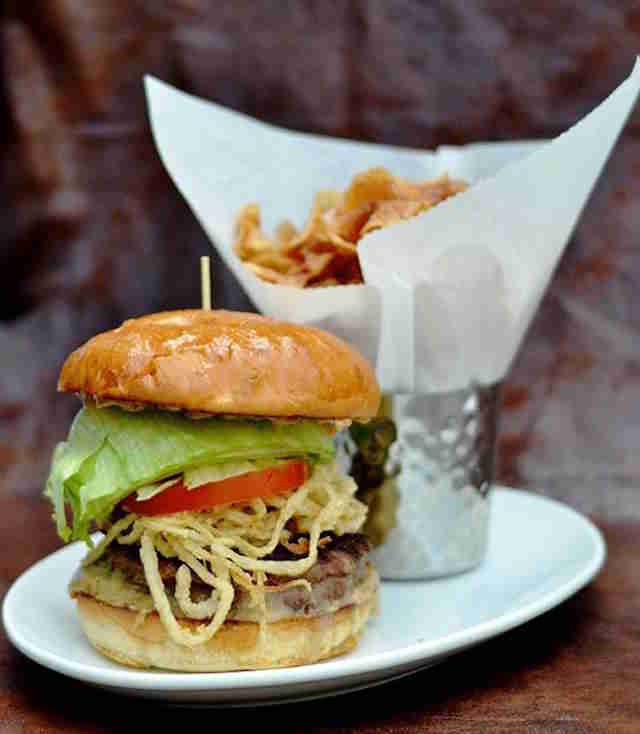 Juicy Lucy
John Howie Steak (address and info)
Bellevue
John Howie's a familiar face in the Seattle area due to his handful of restaurants and TV ads, but people on the West side of Lake Washington should also be familiar with Washington's best burger by now. Available only during Mon-Fri lunch, this thing is like a Minnesotan's wet dream: it starts with a massive patty comprised of 60% Prime chuck and 40% Kurobuta bacon, stuffed with New York cheddar and Jack, which then gets crammed into a brioche bun and topped with fried onions, all of which combine to ensure that people from Seattle, and everywhere else, know where to go for a sweet burger.
Sign up here for our daily Seattle email and be the first to get all the food/drink/fun in town.
Cody Permenter is a freelance writer, and social media manager who occasionally manages to eat something other than burgers. Follow him here.