The best frozen treats in Seattle means shakes, slushies, and shave ice... with booze!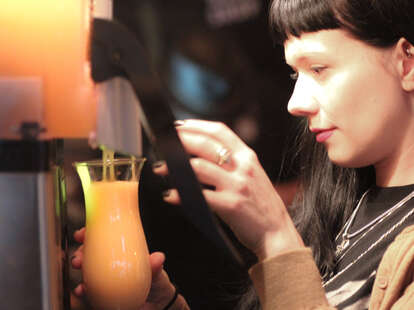 When Gucci Mane sang about how ice gets "all these girls excited" he was probably talking about jewelry, but on the off chance he was talking about things that are actually frozen, we've found five icy items from around Seattle that just might make all these girls think you're even cooler. Boozy Slushies at Bait Shop606 Broadway E; Capitol Hill; 206.420.8742North Broadway boozer Bait Shop is presumably called that because you'll end up hooked on its tropical frozen cocktails, like the rum/ pineapple juice/ coconut cream Painkiller (pictured above). Or just, you know, because of the nautical motif or whatever.

Ice Cream at Lick Pure Creamery
1424 E Pine St; Capitol Hill; 206.478.3829
Inside the Zaw take-and-bake pizza spot on Cap Hill, this not-at-all-suggestively-named frozen treat slinger is offering up curious/edgy flavors like Southern Comfort, Sunset Strip, and Pandora's Box, though that one might be tough to eat without opening it.

Popsicles at Six Strawberries
Various Locations
In addition to being Major League Baseball's second worst nightmare after half a dozen Doc Goodens, Six Strawberries has more literally become Seattle's sweetest new mobile food operation by pedal-ing artisanal versions of old-school freeze pops from the back of a bicycle.

Alcoholic Shakes at Hot Cakes
5427 Ballard Ave NW; Ballard; 206.420.3431
Totally overcompensating for having The Town's smallest bar (just two seats!), Ballard's Hot Cakes has laced its cocktail menu with hooched-up milkshakes and other libations, all clearly created so that after a few of 'em you'll probably take up both seats.

Adult Shave Ice at Marination Ma Kai
1660 Harbor Ave SW; West Seattle; 206.328.8226
When they say the third time's the charm, they aren't talking about Dustin Ackley this season, but they could be talking about the Marination crew's third venture, Marination Ma Kai, where they're slinging hooch-soaked shave ice, like a rum/pineapple/guava take on the Mai Tai that's named for the place.