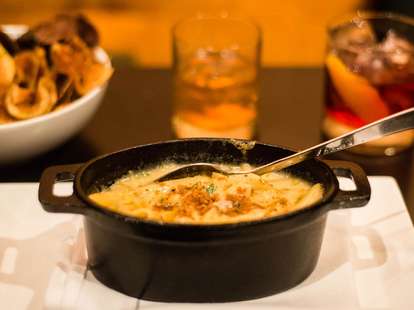 Mac & cheese is the world's ultimate comfort food, but it can't do its job and briefly distract you from... say, all the stuff you've been missing out on recently if you don't know where to get a decent bowl. To that end, we scoured Seattle for the sweetest macaroni-based dishes, tried them all, then took a nap, and finally assembled this list of the 206's 10 most delightful dairy-drenched dishes.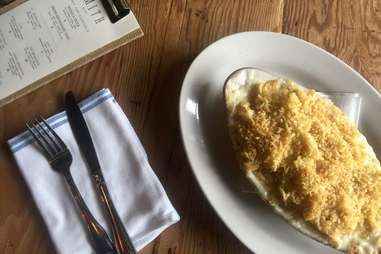 Capitol Hill
What you're getting: Macaroni & Cheese with Gouda & White Cheddar
This dark and heavily taxidermied affair off 15th Ave serves a version of this staple that's cheesier than... um, the jokes that sometimes appear in a certain lifestyle site that rhymes with "illest."
Wallingford
What you're getting: Pinky's Mac 'n Cheese
The Pinky's menu describes its mac as fusilli pasta in a rich, creamy Béchamel made with smoked provolone, sharp cheddar, and topped with a crispy panko crust... but we describe it as the perfect pile of cheese and pasta. Tom-ay-to, tom-ah-to.

Belltown
What you're getting: 360 Mac & cheese
Because it's Local 360, everything in the creamy skillet of delightfully dairy-covered pasta is locally sourced, and you can get it with bacon, obviously.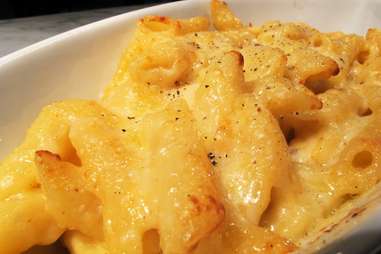 University District
What you're getting: Beecher's Original "World's Best" Mac and Cheese
Made with Beecher's very own flagship cheese, Liam's cheesiest dish is available on Tuesday, on which they celebrate an all day happy hour. This version has kale, Mama Lil's peppers, and cheese -- lots and lots of cheese.
Capitol Hill
What you're getting: Who knows?!
Americana has a whopping selection of five different mac & cheeses to choose from, including a traditional bread crumb-laced affair, and one chock-full of French onions or cheesesteak; there's a dish for every night of the week here.
Ballard
What you're getting: Build-your-own mac & cheese
Whatever your heart desires, you can make it so at Bitterroot thanks to its custom ordering system. Pick two meats from its list (pulled pork, sliced hot links, bacon lardons) and the pile 'em onto a bowl of rich elbow macaroni. Plus, you get the whole thing for just $10.
Lower Queen Anne
What you're getting: Pork Belly Mac & Cheese
Triumph Bar's Pork Belly Mac & Cheese touts foraged mushrooms, truffle oil, and chives, effectively making it the best thing to hit lower Queen Anne's since Gary Payton (RIP Sonics!). Trust us on this one, this jam packed mac is what late-night dreams are made of.
Ballard
What you're getting: Dottie's Mac 'n Cheese
This Ballard spot dishes up their famous Dottie's Mac 'n Cheese daily. What makes it so famous? This creamy baked mac & cheese has Beecher's flagship and Tillamook sharp cheddar, but for a dollar more, you can score yourself the mac of the day, which can mean anything from Gorgonzola and herbs to chorizo and tomato.
Capitol Hill
What you're getting: Shawn's Vegan Mac
Shawn's Vegan Mac is made with a secret recipe, so not much can be divulged as to what's in this cheesy goodness but hey… it doesn't taste vegan, so we're not asking questions.
Ballard
What you're getting: Build-your-own Mac & Cheese Mondays
At Golden Beetle, Monday hosts a magical day of cheesy carb eating. Customize your pasta with a bevy of options from sauce and cheese to meat. Whether it's Gruyère or smoked gouda you're after, you are the master of your destiny on this one.
Sign up here for our daily Seattle email and be the first to get all the food/drink/fun in town.