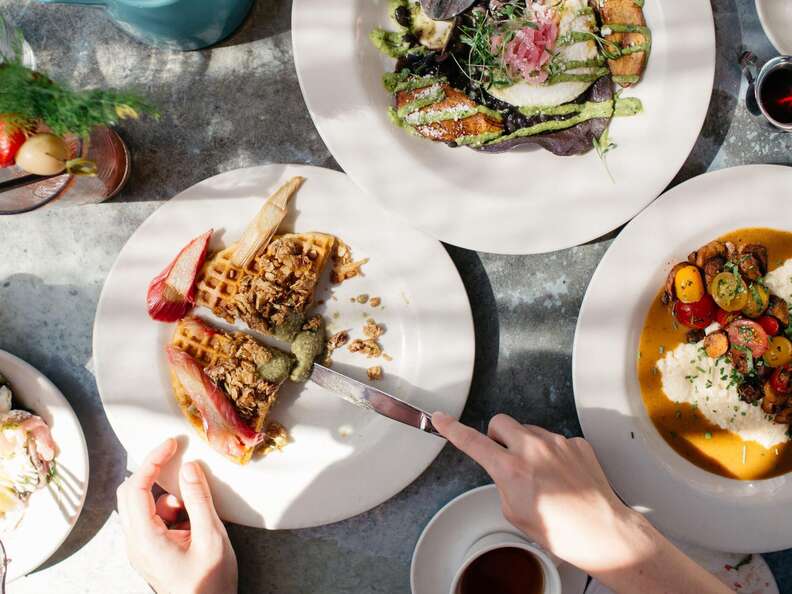 A few years ago we probably wouldn't have written about the best vegan or vegetarian restaurants in Seattle. And if we did, we would have called it "Vegetarian Restaurants That Actually Don't Suck" or something equally disparaging and insulting. But things have changed (for the better!).
More and more people are eating meatless meals nowadays, and there's an increasing number of restaurants rushing to meet the demand. Hell, when even Burger King is getting in on the act, it's about time we share our picks of some of the places to find the best vegetarian and vegan meals… some of which happen to be in Seattle's best restaurants.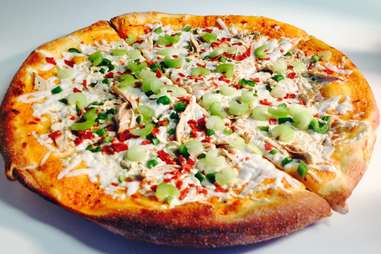 University District
"America's Oldest Vegan Pizzeria" moved a few blocks to a new location on Roosevelt Way, but thankfully they've got the same old menu, highlighted by their Mac 'N' Cheese Pizza topped with white garlic sauce, their house made Mac 'n' Cheese & Canadian bacon, and more classic options like a Margarita with sun-dried tomatoes & roasted garlic.
Ballard
This venerable food truck is now posted up five days a week at Pedder Brewing Co., where they're serving a range of elaborate faux hot dogs (try the one topped with chorizo chilli) and creative specials, including takes on classic Taco Bell dishes that're sometimes only available for one night.
Wallingford
Fine dining and vegan food haven't exactly seen eye to eye, but this inviting and inventive restaurant in an old storefront on 45th may change that thanks to their constantly changing five-course prix fixe dinners with dishes like celeriac ravioli in an apple wood smoked carrot sage fennel sauce, and Tiramisu made with Theo's chocolate mousse.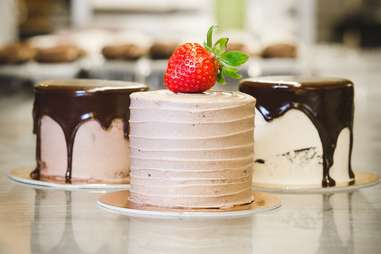 Fremont
This cafe in the heart of Fremont (there's another location in West Seattle) boasts baked goods that are so delicious it'd deserve a spot on this list even if that's all they did. Luckily, it's not -- they also offer a selection of savory options like flatbread pizza, lasagna, etc. But you won't really care once you see their assortment of donuts, cookies, cakes, and other sweets made daily by hand.
Capitol Hill
Highline might seem like just another dive, but don't be fooled. It's got some of the best vegan pub food around, headlined by a range of sandwiches, including the Carolina-style BBQ "Pig Destroyer" or the faux corned beef Rubender -- all named with the kind of irreverent attitude that suits a place best known for putting on raucous punk and metal shows.
Madison Valley
Boasting a tiny back garden and a glass-enclosed atrium, Seattle's most famous meat-free restaurant serves everything from dinner (corn tortillas filled with cheesy mashed potatoes, a Portobello Wellington with madeira wine sauce, plus a selection of pizzas, sandwiches & salads) to brunch, where you can down buttermilk banana pancakes, biscuits & gravy, and the one thing that's infinitely better without meat… cocktails.
University Village (& Other Locations)
This casual/healthy chain has three Seattle locations, all of which feature weirdly not-so-bad-for-you favorites that could seriously pass for animal-based bites, including VG's Mondo Nachos, BBQ-kicked Chill Out Wings, and a 'Cheesesteak' Sandwich. Air quotes included.
Roosevelt
Seattle's oldest vegetarian spot has been serving meat & gluten-free food for 40 years, including a range of pastas (pesto with basil, lasagna, risotto, etc.), two different kinds of nachos, and daily morning dishes like the sesame crunch waffle with organic maple syrup.
Capitol Hill
Sure, this Pike/Pine eatery serves up some stylish and innovative vegan dishes ranging from flatbread pizza to a handful of burgers (like the buffalo portobello) as well as a varied array of entries (black truffle gnocchi), but it doesn't stop there. They launched Seattle's first vegan food truck, a cookbook, and they cater.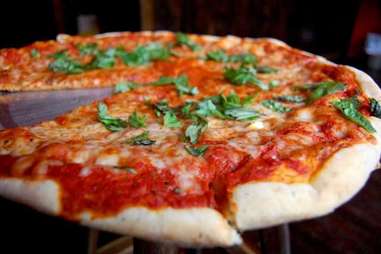 International District
Fifteen years after closing the Belltown original, the brothers behind this golden-era-of-grunge destination reinvented it as a salvaged, wood-heavy Chinatown slice spot with seats for 20 and myriad touches from the old space. Said touches include vintage signs, and -- originally reclaimed from the lobby of the Space Needle -- a low-slung orange couch, where you can sprawl out while eating one of WP's meatless 16-inch pies -- including the signature spicy veggie and pepperoni number.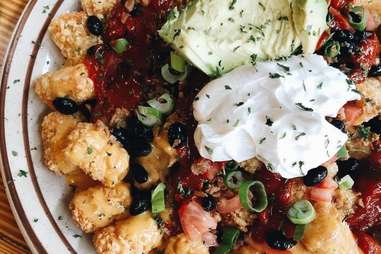 Ravenna
Two words: Mac Daddy. We don't care that this former U-District mainstay has relocated a little ways northward. At least not as long as they keep making this vegan homage to the Big Mac, made with two no-beef patties, 1000 Island sauce, lettuce, cheese, pickles, onions on a sesame free bun (beware the objectively less dangerous Veggieburglar!), along with the rest of their bistro-style meatless eats.
Sign up here for our daily Seattle email and be the first to get all the food/drink/fun in town.
Bradley Foster is a former Thrillist editor who didn't even realize that his first few slices of World Pizza's "pepperoni" didn't even have meat on them.