The definitive guide to Seattle sushi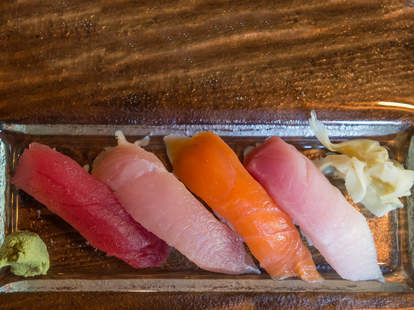 When it comes to things like chicken, or sales figures for Lindsay Lohan's second album, being raw isn't really a good thing. However, when it comes to fish, being raw is a great thing, provided you're eating at one of Seattle's seven sweetest sushi spots -- a list we've assembled because we like alliteration (!), and because if you eat bad sushi, you'll end up making "Confessions of Broken Heart".
Umi Sake House, Belltown: This badass Belltown seafoodery has so many happy hours... one when they open, a late night version, and an extended-happy hour in the bar every evening... that it's hard to pay full price for anything.
Shiro's Sushi Restaurant, Belltown: Trained by a world-renowned sushi-ninja back in the '60s, master Chef Shiro Kashiba's spent years slinging The Town's most next-level raw eats (585 Yelp reviews can't be wrong!), but good luck getting some -- the photo above shows where you'll probably be waiting in line.
Japonessa Sushi Cocina, Downtown: Helm'd by sushi superstar Billy Beach, this place -- adjacent to Pike Place -- has a name that means "Japanese woman", but more than your knowledge of foreign languages, it's the spicy Latin flavors that'll impress your woman.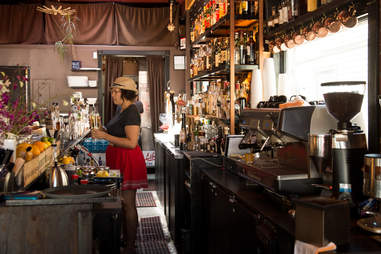 Liberty Bar, Capitol Hill: By day it's a coffee shop, but by night it uses its vast caffeine fortune to fight crime in Gotham City! turns into one of Seattle's sweetest cocktail bars, and, unbeknownst to many, a sweet little sushi bar too.
Palisade, Interbay: This waterfront mainstay recently went though a serious upgrade; it got new paint, furnishings, and a raw bar to go with a new surf and turf-heavy menu, which also features a small, but sweet, selection of stuff people eat with wood sticks.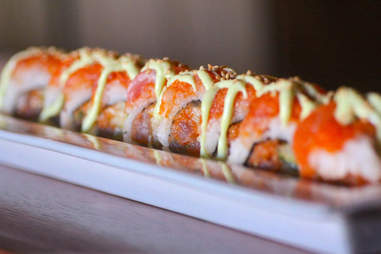 Billy Beach Sushi and Bar, Ballard: This laid-back spot is a more traditional offering from the guy behind Japonessa, and serves a constantly rotating menu of raw bites like sea urchin and tuna brushed with sweet sake, plus a highly curated list of what Lindsay must have had when she decided to become a singer -- cocktails... lots and lots of cocktails.