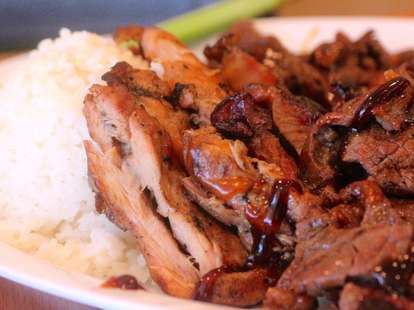 Sure, The Town loves its burgers, and its ramen spots, but if there's one thing we can't get enough, it's teriyaki. Just take a look around at how many restaurants in Seattle have "teriyaki" in their name (though only around 10% actually serve it). So with all those options, how do you know who's got the greatest gyoza or the juiciest thighs? With our ultimate guide to Seattle's teriyaki of course...
Best Downtown lunch spot:Okinawa Teriyaki
Downtown
Dirt-cheap, convenient, and quick, this Western Ave teriyaki outpost (it used to be in Pioneer Square) also has decent ramen, and a section of the menu dedicated to dishes that're "Hot & Spicy".
Best teriyaki shop that's also a laundromat/donut shop:King Donuts
Rainier Beach
KD's owner thinks you'd be a fool not to go somewhere you can "eat the best donuts and teriyaki in town and wash your drawers all under one roof." We agree. We so agree.
Best teriyaki with a side of hamburger: Orange King
University District
It's a college student's dream: chicken teriyaki and a double deluxe burger for under $10.

Best selection:Red Bowls
Downtown
It's not that this Downtown lunch spot just does one dish, it's that it does it, like, 40 different ways, all of which start with rice, then add vegetables (carrots, cabbage, cauliflower, broccoli, etc.), and protein (salmon, chicken, etc.) all for under $10.
Best beef teriyaki:Teriyaki Bowl
Madison Park
Chicken teriyaki tends to be the norm, but that means you're missing out on the good stuff at TB, where you can even pile your plate with additional beefiness like short ribs.
Best view:Canlis
Queen Anne
Apparently, you can't be a city's signature restaurant without serving the town's signature dish, so, sure enough, you'll find a teriyaki tenderloin on the menu at this fine dining destination.
The best old-school teriyaki:Toshi's Teriyaki Grill Flagship Store
Mill Creek
The only teriyaki restaurant in town still owned and operated by the guy who basically invented Seattle-style teriyaki: Toshi Kasahara.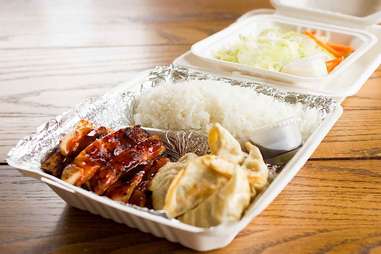 Best (and juiciest) chicken: Mr. & Mrs. Wok
Greenwood
They cook the chicken properly here -- on the bone -- before cutting it up and slipping it into your teriyaki combo.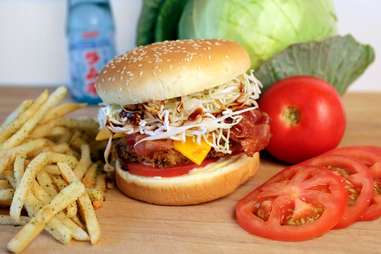 Best teriyaki chicken-burger: Katsu Burger
Georgetown
The only thing better than meat? Fried meat, which is why their tempura-battered/ panko-breaded/ deep-fried chicken sandwich w/ pineapple, Japanese mayo, and teriyaki sauce (obviously) is a can't-miss.
Best salad(?!):Teriyaki Madness
University District
Think all Teriyaki comes with the same salad? Well, the zingy cucumber salad here sees your pathetic, bland iceberg lettuce w/ pre-shredded carrots in syrupy dressing and laughs in its face.
Best teriyaki chicken wings:The Attic Alehouse
Madison Park
We've already told you they've got some of the best wings in town, but did you read carefully enough to see they come in teriyaki flavor, too? Well, they do!
Best (only?) teriyaki you don't need pants to eat:Yummy Teriyaki
Queen Anne
There's a footnote on the teriyaki quality ratings that says "if you don't have to put on pants to go get it, who cares what it tastes like?". But lucky for you, Yummy's pretty... waitforit!... good.
Best teriyaki you ate In college: Nasai Teriyaki
University District
The menu. The fryer oil. The students studying at the table, the stoners giggling about pot stickers, and the rowdy SAE's crowding the counter. They all remind you nothing's really changed since college, unless you went to WSU, in which case... hahahahaha.