9 awesome ways to spend a free day in Seattle
Say someone offered you a free day to go out and do whatever the hell you wanted. You'd probably jump for joy -- or at least pump your fist for joy -- but then after that, you might find yourself paralyzed, because there are just too many possibilities. To help shake you out of it, we put together a list of some of the greatest ways to have the most killer Emerald City day possible.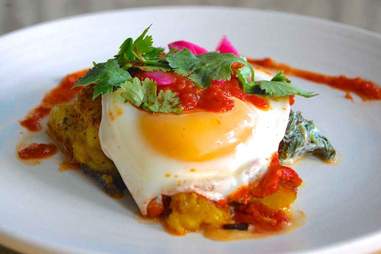 Get Three For One
True, you have all day to do whatever you want, but that doesn't mean you have to par down your options. Hit up Assembly Hall and get three venues at once: hit up TanakaSan for modern Asian mastery (hearth roasted penn cove clams with yuzu kosho aioli), walk over to Home Remedy for some deli classics (or the growler bar), and then waddle by Assembly Hall Juice & Coffee for a palette cleanse… or just double down on their pastrami hash with chili smashed potatoes.
Dream Of Sushi
Yeah, you're gonna wait, but now's your chance to enjoy some of the best sushi in Seattle at Shiro's… after you take the time on line. Once you get in, trust the master and grab any of the Omakase with chef selections.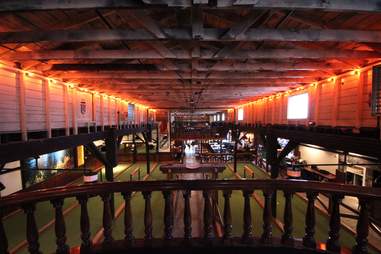 Game On
Do you think a day off is a game?! Oh, you do? Good, then go to Von Trapp's and enjoy a bevy of bocce courts with breaks for schnitzel, brats, and beer-based cocktails. Rum, apricot brandy, pineapple gum, and Weissbier Edelweiss Punch? Okay.
Level Up Your Pizza Game
If you're after the thrill of middle school hooky and/or want to play the hell out of Ms. Pac-Man, head down to Belltown Pizza where they'll set you up with a gloriously meatified pie while you set yourself up at one of their three pinball machines.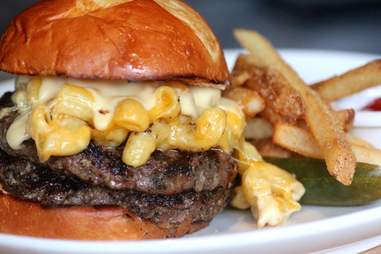 Make The Best Worst Food Decision
It's a good thing that someone offered you the day off, because after eating the All American Burger at Henry's Tavern -- a two pattied, mac n' cheese piled, cheddar sauce smothered, bacon'd beast -- you're going to need a moment or two (or ten) to stave off a food coma.
Keep The Doctor Away
A free day means an opportunity to experience something you might not have otherwise experienced. Mosey over to Capitol Cider and start developing opinions about fermented apples with their 130 strong cider library.
Stay Perky
Just because you have some time to yourself doesn't mean you should spend it lazing around. Pick up a cold-pressed coffee cocktail at Anchors Down like the coffee slushie made with in-house made coffee spirit liquor, and get your pep on.
Chona Kasinger
Become A Burger King
The operationally infinite permutations of meats, cheeses, toppings, and buns at 8oz. Burger Bar may be intimidating (you really should try the espresso rubbed patty), but you've nowhere to be, and you surely brought a tote bag for the burger you're about to make, right?
Meat Your Maker
Nobody knows meat like the fine folks at Canlis. The first people to serve Wagyu beef in the U.S., you'd best believe that they'll do right by their rib-eye. You can finally get a reservation and give up the expectation of every tasting meat this drool-worthy again.