The Weekend Playbook: Two-dollar street food and a 25-cent happy hour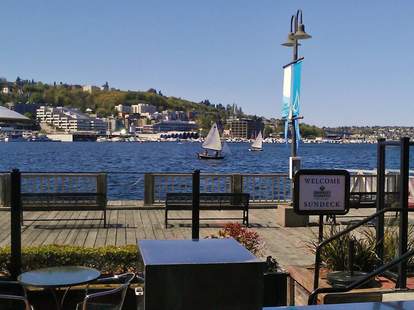 Event of the WeekThis Saturday and Sunday, Phnom Penh Noodle House, Tai Tung, Fuji Bakery, and 31 other sweet Asian eateries are celebrating the ID's DragonFest by posting up on Chinatown's streets and slinging snacks for just two bucks a pop. Get a handy food map, and deets on all the DF events, here!
Thursday, July 11thSwilling drink specials from Rhum J.M. and Ron de Jeremy all night could probably even make watching soccer -- specifically a match between two rum-producing countries, Martinique and Panama, in the CONCACAF Gold Cup -- fun. Put that theory to the test tonight at Bastille
Friday, July 12thThe West Seattle Summer Fest, with street food from dozens of vendors and local restaurants; live music from two dozen bands; and a beer garden overlooking the whole thing, kicks off tonight when they start closing streets in the Junction. Details! Details! Details!
Saturday, July 13thTake the ferry to Bremerton for today's Summer BrewFest, where they've got live music, and... waitforit... BEER! They'll have 70 Summer ales/IPAs from 28 different Washington brewers. You need tickets
The Madison Valley Bastille Bash is closing streets so you can get access to eats from the city's best French-taurants, wine tastings, chef demos, and one-day sales from the 'hoods sweetest shops. Should you click here to buy a ticket? Oui
Head back to Bastille for a shton of activities in honor of their titular holiday: a Petanque tournament across the street, a beer garden w/ beer, wine & cocktails for just $5, and a burlesque performance from Shanghai Pearl and "Friends". If you love freedom (even for the French), you'll click here for deets
Sunday, July 14thBadass Wallingford noodle house, Myabi 45th, wants to see who can consume the most small bowls of soba in 30min. The winner gets $100, but, really, everyone wins, 'cause the dinner-only spot is also serving lunch to spectators. Hungry? Then hit 'em up!
OngoingLike hot dogs smothered in pulled pork & melted cheese? How 'bout fried mac & cheese balls? Then mobile eats slinger Hutch Dogs is for you. See where they're posted up at the Fbook
From now 'til the end of the year, Chandler's Crabhouse is randomly announcing 25 different 25-cent happy hour events on its Fbook. "Like" 'em, and you can score sweet deals on things like $0.25 Dungeness crab dip, salmon hand rolls, ahi tartare, etc.. Oysters on the half-shell will be $1.25 apiece, and beer will be $1.25. Better hit the book of Face, now
Local Lady We Love, and Where to Meet Her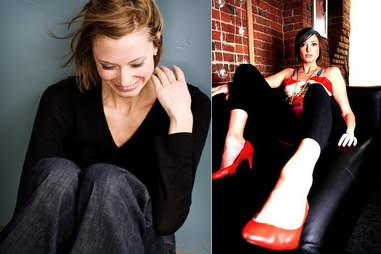 This is Amanda Akin, co-owner of Belltown's Pintxo and The Upstairs.

Why We Love Her: 1) Duh! She co-owns Pintxo and The Upstairs, and is almost always at one of 'em slinging drinks/eats. 2) Her dad was one of the original SuperSonics. 3) Before owning bars, she was a teacher, and she totally thinks it's cool if you're hot for her. 4) She got thrown off the Seattle Great Wheel a couple of weeks ago... Why? For sneaking booze on with a couple of dudes who work at a certain men's lifestyle site that rhymes with "illest".

Amanda's Pro-Tip: The best way to pick up a girl who works in a bar is to not try to pick her up. Just have a conversation. Also, the best way to get free stuff from a bartender is to not ask for free stuff. "It's totally zen!" she says. We say you're welcome.