With no less than 20 Mexican restaurants on Capitol Hill alone, a new bar or restaurant better be special if it's going to stand out. That's not a problem for the Cantinetta crew's newest spot, Chavez, which is named after the Italian spot's former chef, Gabriel Chavez. But we figured that besides where it got its name, there're still less than 20 things you don't already know about this new spot. Nine of 'em in fact...
Recommended Video
Get 5 Katsu Sandwiches in One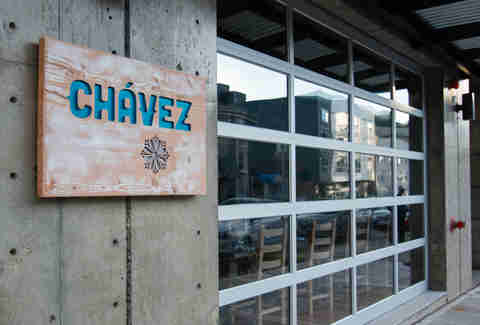 1. All the tile and stone is from Chef Chavez's hometown, Durango, Mexico.
Inside, the cozy spot off 12th seats 60 and is warmly lit, making it feel more like your cool Abuelita's living room than some stuffy big city spot.
2. Chef Chavez's Chile en Nogada is award winning…
... according to his family members, that is. It's his mother's recipe, and with it she won a cooking contest. As flavorful as it is colorful, the Chile en Nogada, which is a stuffed poblano chili w/ carne & nogal walnuts, is modeled stylistically after the green, white, and red Mexican flag.
3. Chavez serves eight kinds of tacos…
... including their Barbacoa taco, which has braised pork shoulder and roasted poblano. Other options include Nopales (cactus and huevos), Rajas Pablano (queso Oaxaca), and Stafado de Langua (tomato, cinnamon, peanut).
4. You won't find chips and salsa there
Eschewing the humdrum appetizer, Chavez serves Queso Fundido Totopos Azules with a blue corn tortilla that ISN'T fried, so you can actually taste the corn. Incidentally, everything on the menu is gluten free, but chef Chavez didn't do it on purpose so it's okay.
5. The chef's mom works in the kitchen
She also worked with him at Boat Street Cafe back in the day, and all the dishes at Chavez are small plates (like this roasted poblano corn soup made with a truffle that actually grows on corn) that are based on the recipes she cooked when he was growing up.
6. You haven't had ceviche….
… until you've had this version made with Pacific red snapper that is surprisingly rich.
7. Chavez serves the best Bloody Mary…
… that isn't actually a Bloody Mary. Sangrita, a tomato-based chaser sipped alongside tequila, is a little like a deconstructed Bloody Mary. Minus the vodka, obviously.
8. It'll be a restaurant industry hang
A late-night industry happy hour is in the works for spring, and so is brunch. And while on the topic of warmer weather, the Chavez space sports a roll-up garage door, which means outdoor seating the moment Mother Nature permits.
9. They've got a secret menu. Sort of.
Chavez's lemon flan and churro aren't on the menu, but if you're reading this, you can still order it. You're welcome!
Sign up here for our daily Seattle email and be the first to get all the food/drink/fun in town.