The 7 Most Underrated Restaurants Throughout Seattle
If you live in Seattle, your favorite neighborhood restaurant is... well, it's probably a teriyaki place. Or a pho place. But there's also a decent chance that the poky, relatively out-of-the-way place (like Tilth, Revel, Red Cow, etc.) you love is run by a big-name chef -- or is a darling of the local food media -- and attracts diners from all around The Town... and in the process overshadows spots like the ones on our list here. Check out these seven great neighborhood restaurants you probably haven't been to, but totally should.
Bradley Foster/Thrillist
Phinney Ridge
The original Thaiku -- and its apothecary-themed bar Fu Kun Wu, which Esquire called one of the best bars in America -- was a Ballard mainstay that was forced to shutter in 2012, only to reopen a year later in a new ("Mai") much smaller space, where it now manages to slip almost totally under the radar, but where you can still down traditional, brightly flavored Southeast Asian eats, and creative cocktails, which are just as Fu Kuning good as they were at the old place.
Ballard
So you want to open a "farm to neighborhood" restaurant? Here's how it's done: first pick an out of the way corner of a 'hood already packed with great spots, preferably one that doubles as the city's best drinking 'hood if possible, then move into a building that already houses some of the city's most beloved spots (Delancey, anyone?), so that no matter how much good press you get when you open you won't quite turn into the kind of place people cross the city for, even though said trip would be worth it for classic American eats that promise to be like pretty much everyone from Seattle... "nice without being fancy."
Fremont
So this place isn't technically underrated, as anyone you ask about it will only have great things to say about it. It's more like this venerable Mexican joint in the shadow of Fremont's iconic rocket is seriously overlooked. Maybe because it's on an odd block behind one of the 'hood's most popular bars. Or because the aforementioned Revel is just a couple of blocks in one direction, while one of Iron Chef-winner Maria Hines' spots is a block in the other. Or perhaps it's been around so long that it's somehow faded into the background of Seattle's constantly changing food scene. Whatever the reason, it's too bad, 'cause not only is El Camino's bar the best place in the city to celebrate your birthday, the restaurant is perfect for anything and everything else... first dates, day drinking on the back patio, or just eating delicious Oaxacan food made with Northwest Ingredients.
Queen Anne
LM is the quintessential Seattle neighborhood restaurant: it's a little hard to get to; it's helmed by an accomplished and innovative chef who allows seasonal, local ingredients to inspire his constantly changing menu; and you get decidedly upscale food for way less than it'd cost Downtown or in Capitol Hill. Sounds great, right? So how does it manage to fly under the radar? Well, since this is Seattle, Ethan Stowell has a popular restaurant not too far away, not to mention one of the best new restaurants in the city last year is two blocks away, and a seriously beloved Mexican establishment is just a block or so further. And that's just for starters.
Magnolia
It is one of the best Italian restaurants in the city. It is utterly charming thanks to a recent rustic makeover. And it literally serves family recipes made by actual members of the family as often as not. And you've never been there. Hell, you may not have even heard of it, thanks to its remote location in the middle of Magnolia Village... but now you know, so there's no excuse not to try the ravioli Marsala, or the Carbonara, etc., like, today.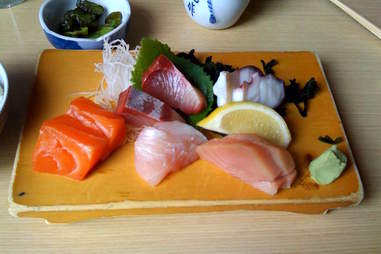 kisaku

| Flickr/mightkenny (edited)
Tangletown
One of a handful of bars/restaurants hidden away on a strip there's no way you'd even come across by accident, and no doubt overshadowed as a destination for outsiders by the nearby Elysian outpost -- as well as the Burgundian's breakfast and beer operation down the street, and the Seattle Dog-slinger around the corner -- this underrated raw seafood joint is worth finding, even though you'll run the very real risk of getting lost and winding up wandering the oddly curving streets between Green Lake and the freeway forever.
Ballard
So far away in the northern end of Ballard it's basically in Blue Ridge, or maybe Crown Hill (who knows?!), this magical little Lebanese restaurants serves up elegant but surprisingly affordable small plates featuring mainstays like hummus and chicken skewers, plus unique dishes (slow-roasted beets in tahini, and ground lamb with herbs & bulgur wheat) you probably didn't even know you could get in Seattle -- since we're betting you never even knew about this place... despite the fact that it's serving one of the 50 things in Seattle you need to eat before you die, and pouring over 100 whiskeys from behind the bar.

Sign up here for our daily Seattle email and be the first to get all the food/drink/fun in town.
Bradley Foster is a former Thrillist Editor who didn't know about Cafe Munir until last year even though he bought donuts and other pastries at the bakery across street wayyyy more often than he'll admit.