Unbeatable pork dumplings from Hong Kong (and Bellevue) in U-Village
Just because something's big in Asia doesn't necessarily mean it'll blow up when it hits the States (though it probably will, given our hatred of exercise and love of Doritos), but, just like the one on the Eastside, Seattle's DTF (yuk it up) doesn't have to worry, since people are already lining up outside this famed Pacific Rim eatery (the Hong Kong spot has a Michelin star) for dumplings so good that you'll definitely be down to... um, well, you know, them.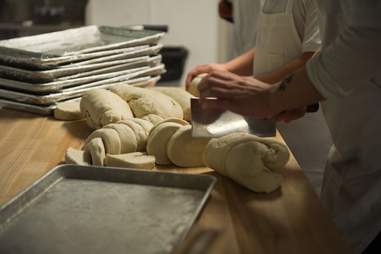 Chona Kasinger
The only thing more talked about than this international chain's xiaolongbao (or steamed dumplings) is the wait to get a basket of them, though, helpfully, they try to make it bearable by texting you, so you can shop until your table's ready.
Chona Kasinger
Each order of their signature offering comes with 10 delicious food pockets. The 8000sqft restaurant seats 230 people, and there are around 20 cooks in the kitchen, which means that on average each cook makes... um, carry the one... err, a lot of dumplings.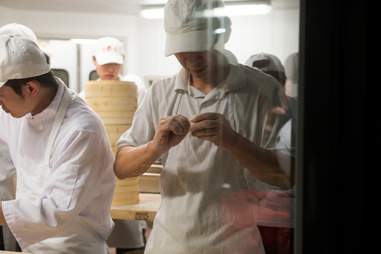 Chona Kasinger
The dough is made in small batches to ensure freshness and is rolled out and stuffed with premium minced pork. Then comes the fun part -- each dumpling is hand-pleated with 18 folds, which given Ben's pro-life message in "Brick", is probably how many there are in his family by now.
Chona Kasinger
The cooly modern space is huge and boasts something you can't get anywhere else in U-Village: a view of the parking lot!
Chona Kasinger
The space also boasts lights made out of old rice receptacles, but you probably won't notice 'em since you'll be chowing down on badass Asian foodstuffs like...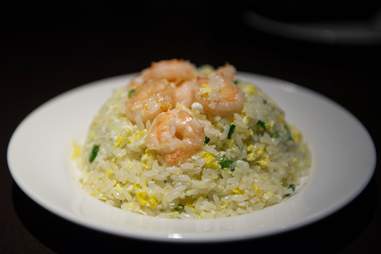 Chona Kasinger
... this glorious mound of shrimp fried rice, which is made mostly of guess what two ingredients.
Chona Kasinger
They've also got a bevy of noodle dishes, which include a braised beef soup, noodles with the minced pork they put in the dumplings, and some relatively plain ones like these, which're drowned in a spicy sauce.
Chona Kasinger
As good as the rice/noodle eats are, you're really here for these suckers, so pull up a chair and settle down to... (stop being gross)... eat a basket of 'em.