Maria Hines Does Italian in Fremont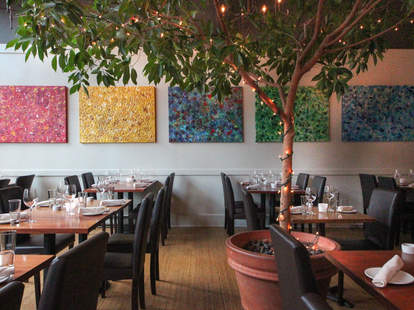 If she spelled her name differently, you might think Maria Hines had 57 restaurants, but Fremont's Agrodolce -- a Southern Itailan follow-up to Tilth, and the Golden Beetle -- is actually only her third, so in terms of the number of dining establishments opened by big time Seattle chefs, the James Beard winner's clearly playing Ketchup
This the sign outside the restaurant, so now you can't be like, "Well how was I supposed to know they replaced the "o" in agrodolce with some sort of symbol thing?!?".
Apparently Kendrick Lamar isn't the only one who thinks trees are money, though he's probably not talking about ficuses
The arancini features carnaroli rice, some seriously bright green parsley coulis & Skagit valley beef, which probably started because La Conner just won't stop talking trash about being listed on the National Register of Historic Places
All of Agro's pastas are handmade, like this handsome bucatini topped w/ pine nuts, sardine & fennel.
The burrata is served w/ cylindrical beet, citrus honey gastrique & mint, and is made in-house at the restaurant (insert hilarious cut-the-cheese joke).
Wash all that cheese and pasta down with a cocktail like this Negroni, or the anchovy garnished Salty Sicilian, aka Vizzini the moment he realized the iocaine powder was in both cups the whole time
Agro's vivid art is done by a former cook who now prefers to splash canvas in what seems like at least 57 different colors.