Since its start last year as a not-so-mobile food operation serving some badass sandwiches, Pinky's Kitchen has turned itself into what is hands down one of The Town's sweetest BBQ joints by building a smokehouse in the parking lot across the street, and doing what you and all your college buddies invariably did when you got the munchies: take over a Winchell's.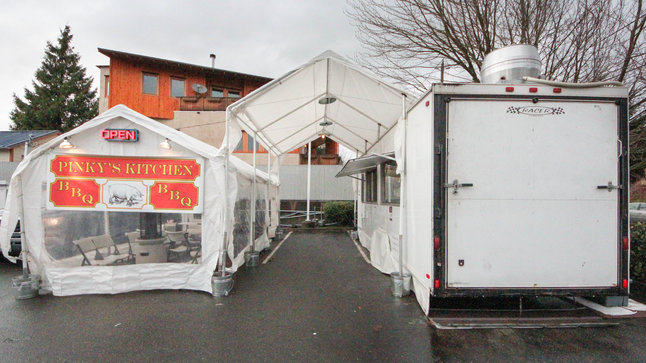 PK uses this portion of a gas station parking lot to offer year-round al fresco dining, and possibly free car washes.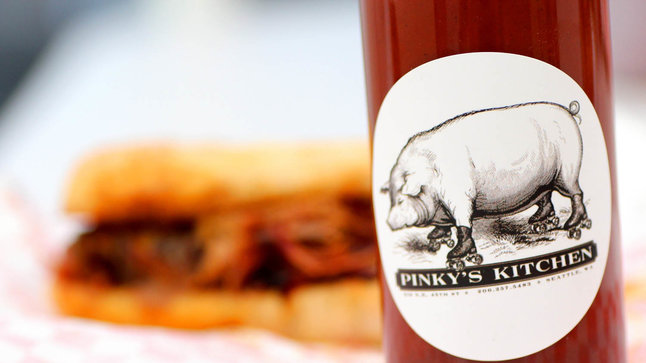 But seriously, they will fill-er-up with one of their signature bottled BBQ sauces, the first thing they added to the menu.
Then they scored a next-level meat smoker, so if you've got wood... just stack it on the floor.
Or see it go up in flames like your plan to start that post-New Year's diet.
The smokehouse is right next to the former Winchell's on 45th, which they now use to do things like prep pork butts for cooking.
Then it's into the rotisserie like everything else, including super-limited holiday turkeys so juicy people will love it when you give 'em the bird.
They'll also put huge racks of ribs in there, if there's room to... uh, spare.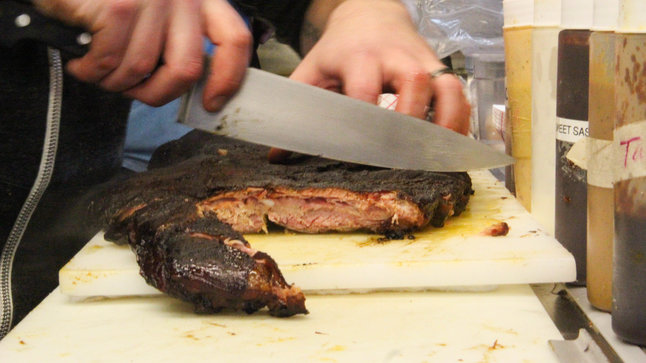 Next the ribs go under the knife...
And finally a pound of 'em go onto a plate with slaw and beans that're "essentially pork and beans" thanks to all the pulled pork and smoked bacon used during the cooking process.
Oh, and all this means PK can do even better sandwiches, like a smoked fried chicken creation -- the only one in Seattle -- that is definitely pinky-and-every-other-finger-licking good.