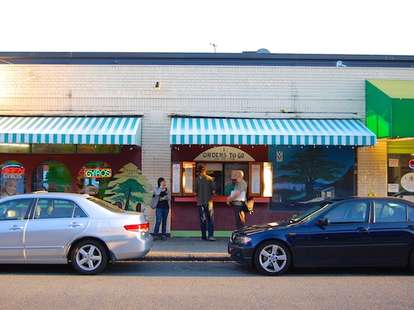 When you want quick, good food options in this city, your best bet is probably Dick's, or... uh, moving to another city. That, or maybe hitting one of Seattle's sweetest walk-up windows. To that end, we've assembled a handy guide to some of the best, most you-don't-even-have-to-talk-to-a-waitress-est spots in the city:
Ivar's Lake Union
Wallingford
The only walk-up on this list that can be accessed by boat, Ivar's window is slinging fried fish, chips, and clams, but the best cure for seasickness is the sourdough bread bowl overflowing with New England clam chowder so good that yes, Richard Sherman, Tom Brady is mad, bro.
Mamnoon
Capitol Hill
Repping Lebanon and Syria, this Cap Hill bar's walk-up serves soups, salads, sweets, kulage (griddled sandos), and the mana'eesh jibneh wiza'atar, which is with Arabic for something with Akkawi cheese, wild thyme & toasted sesame, presumably.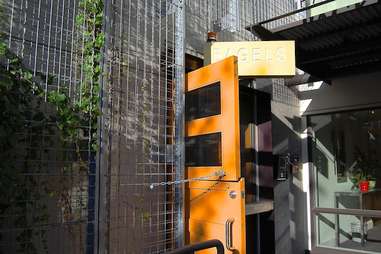 Eltana
Capitol Hill
Carbo-loading after a heavy workout a late-night of heavy drinking has never been easier, thanks to the $1 bagels being served from this bright yellow Dutch door.
Cedars
University District
Easily the oldest walk-up on this list, Cedars in the U-District has been feeding hungry college kids for over 30yrs with Indian/Mediterranean dishes (baba ghanoush, hummus, shish taouk, kabobs, etc.), but your parent's moneystudent loans hard-earned cash is best spent on the gyros plate piled w/ marinated beef, onions, and hummus.
Marination Station
Capitol Hill
Not content running the country's best food truck (according to Good Morning America), the crew at Marination opened this 600sqft QFC-surmounting nook that's fronted by a beer garden, and serving-up things like a Spicy Pork Torta w/ slaw, house-made pickled peppers & onions, guac & Nunya sauce... as in it's really nunya business what's in it.
Little Uncle
Capitol Hill
Boasting locations in both the Central District and Pioneer Square, Little Uncle serves up big flavor Thai dishes like khao soi gai (chicken curry egg noodles w/ coconut milk & curry paste). Just try not to sound too cheeky when telling the chef you want his buns... stuffed w/ braised beef cheek.
Kedai Makan
Capitol Hill
Prior to opening Kedai Makan, these restaurant vets traveled throughout Asia to learn how to make roti and stir-fried rice w/ egg & roast pork that'll transport you all the way from Malaysia to... uh, Montana, the bar next door where you can take your food.
TNT Taqueria
Wallingford
Alfred Nobel's and Wile E. Coyote's favorite and least favorite Seattle restaurant, respectively, this vibrantly colored, walk-up-window-equipped spot from the crew behind The Hi-Life and 5 Spot, is serving locally sourced Mexican street-eats just a few blocks down from Dicks! right on 45th.