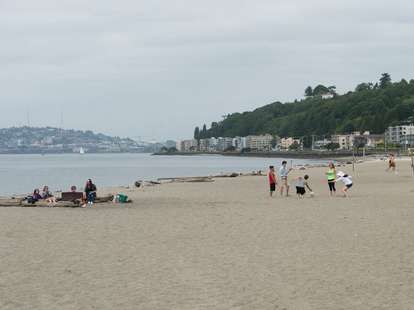 One of the few problems with Seattle is that there aren't that many days in a year you'd even consider going to Alki... certainly not enough for you to remember the best places to eat and drink out there. That's why we took on the not-so-onerous task of scouring the beach for the eight sweetest spots to grab some ice cream, SPAM sushi, and more.

Phoenecia (address and info)
This romantic, accolade-heavy little Italian joint just off Alki purveys a hefty assortment of artisanal pizzas from a Fig and Pancetta to one named after their 'hood, which touts Zoe's spicy salami, caramelized Walla Walla onions, Kalamata olives, fresh mozzarella, and EVOO over red sauce.
Ampersand Cafe (address and info)
Skip Tully's and Starbucks and opt for Ampersand Cafe, where a collection of exotic Venus flytraps garishly decorate the breezy shop, and... err, "&", the outdoor seating is the perfect place to drink your coffee or something from their assortment of bottled beers.
Pepperdock Restaurant (address and info)
From the weird (bubble gum and cotton candy) to the tried and true (mint chocolate chip), Pepperdock is hands-down the place to get your ice cream off Alki. Bonus points to this place for being cheap enough to treat everyone on your beach volleyball team to a round of sugar cones.
El Chupacabra (address and info)
This beachfront version of the Phinney Mextaurant features a very similar patio, and is decked with all sorts of funky South-of-the-border art. They're serving up traditional comida like burritos/tacos/tortas stuffed with various meats, shrimp sautéed in tequila, and starters like fried jalapeños and nachos with two different cheeses, which everyone -- except Prop Joe -- is a fan of.
Spud Fish & Chips (address and info)
This Seattle institution has been family owned since 1969 and is your best bet for fish and chips off Alki. Get your tartar sauce on inside the kitschy space, or take your order to go and enjoy some rays out on the beach.
Marination Ma Kai (address and info)
Named after a Hawaiian phrase for "near the sea", MMK's serving an expanded menu of Asian-inspired eats (Loco moco, mac salad, SPAM sushi, etc.) in a heavily updated beachfront shack with a sprawling patio and stunning views of Downtown Seattle.
Cassis (address and info)
From 1997 to 2004 Cassis lived on, but after a lengthy hiatus, they're back in new digs off of Alki in West Seattle, where they're serving cassis aperitifs (do you expect any different?) and entrees like their all-star lamb steak and roasted pork short ribs.
The Celtic Swell (address and info)
Right in the middle of the many shops that dot Alki, The Celtic Swell is the perfect place to get a little rowdy over a couple pints, lamb stew, and shepherd's pie while discussing whether or not the place's really named after the waves off the Irish coast... or something else entirely.
This list -- and all the rest -- look even sexier in our iPhone app. Get it now!