Where to Eat and Drink on Broadway, Seattle's Most Iconic Street
Although it's been surpassed as an eating and drinking destination by Pike-Pine, and portions of it have been snarled by light rail/streetcar construction for years, Broadway -- specifically, the stretch celebrated in Sir Mix-a-Lot's famous song (from Seattle Central College to around Roy, where the infamous Taco Bell used to be) -- is still Seattle's most iconic street.
It's packed with bars and restaurants, new condos, boutiques you're probably too old/not cool enough to shop in, and a bunch of other places. Anyway, now that the light rail station is finally finished, it's time your posse hit Broadway. Here's where to go:
Opened by the women behind nearby <a href="https://www.thrillist.com/venue/drink/seattle/bar/montana&quot; target="_blank">Montana</a> (one of whom is also behind Seattle's favorite ginger beer brand, Rachel's), Nacho Borracho is one of the few (though strangely one of only two on this list) places in Seattle where you can get frozen cocktails, like a passion fruit margarita, or a pink guava Moscow mule. They also have a handful of cocktails and beers on tap, all in a brick-heavy space festooned with colorful south-of-the-border inspired decor, and fitted with a walk-up window cut into a corrugated metal wall from which street food operation Neon Taco is serving a selection of Mexican bites.<br />
<br />
<!-- single line template -->
The best place for hiding a witness is obviously out in Amish country with Harrison Ford. But the best place for a bar called Witness is the former Five Fish Bistro space (now featuring frosted-glass windows that are meant to evoke a church, and booths built with 102-year-old pews). That's where a Knee High Stocking Co. bartender is serving seriously delicious Southern eats -- probably the best on the Hill, now that Kingfish Cafe is gone -- and plenty of creative craft cocktails.<br />
<br />
<!-- single line template -->
This dive is the north Broadway outpost of Linda Derschang's ever-growing booze empire. It's presumably called Bait Shop because you'll end up hooked on its tropical drinks (is this thing on?). Or, more likely, because of the nautical motif, or whatever. Inside, it manages to feel like it was there back when Pike-Pine was just a wasteland of failed car dealerships, but without all the yuckiness associated with places that are actually old (it opened in 2013). If you're savvy, a whole mess of fried food options like fish & chips, crab fritters, etc., along with a few of their inventive cocktails, are being served inside -- a couple of which, yes, are frozen.
You won't find it in most <a href="https://www.thrillist.com/eat/seattle/where-to-find-the-best-sushi-in-s…; target="_blank">guides to Seattle's best sushi</a>, but you will find this no-frills fish spot -- with a double handful of small tables scattered around -- almost always full of locals who come for fresh sushi that's just a little cheaper than Cap Hill's other raw seafood joints. You'll also find a little piece of Seattle history, since Ha Na's been posted up in the idiosyncratic Broadway Alley building since before there were any other areas to go out in on the Hill. &nbsp;<br />
<br />
<!-- single line template -->
After rising to fame as the chef at The Herbfarm in Woodinville, Jerry Traunfeld has made an art of Indian-inspired dishes using Northwest ingredients at this warmly colored, and warmly staffed, subcontinental restaurant. The pro move here is to try one of the daily Thalis, which for less than $30 will get you a half-dozen constantly changing delicacies, not to mention the best naan in the city.<br />
<br />
<br />
<!-- single line template -->
Jerry Traunfeld's back, baby! This time we're talking about his latest project: a Sichaun spot he opened right next door to the aforementioned Poppy. The dishes range from steamed buns filled with braised beef tendon, to steaming bowls of buckwheat noodles, and mains like Ma Po Doufu, a stew made with pork, douban jiang(?!), and tofu... which, in this instance, actually tastes good.
This can't-miss first date spot seems like it's been on Broadway forever, but that's because from 1975 to 2008, this local chocolate producer's flagship location was also on Broadway, just a couple blocks away. The newer version boasts the same mochas/desserts as the old places, but has added a full menu and a sleek martini bar, behind which its pouring indulgent takes on said cocktail, including a Mexican chocolate version; one with hazelnut espresso; and -- presumably in case things aren't getting hot on their own -- a version infused with cayenne pepper.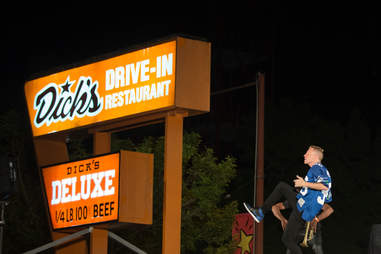 Chona Kasinger/Thrillist
If you know anything about Seattle's signature burger joint, then you know that Sir Mix-a-Lot and his posse famously ended their night on Broadway right here. And you probably should too, seeing as how it's the only place on the street open after the bars close (RIP Minnie's!).<br />
<br />
<em><a href="https://www.thrillist.com/authors/bradley-foster&quot; target="_blank">Bradley Foster</a> is a former Thrillist editor who still misses Broadway Grill, and gets two Deluxes and two cheeseburgers from Dick's pretty much every time he drives down Broadway. </em>