Given that they run a ton of sweet spots like Purple, Barrio, and Lot No. 3, it's pretty clear that the Heavy Restaurant Group is good at this whole opening eat/drink spots thing. And, given the massive and wildly varied menu at The Commons -- their new casual gathering spot in the Woodinville Wine District -- they're probably also pretty good at making you heavy. See just how good with our guide to dominating their menu and ordering like a boss.
1. Order the Stregasaurus
It's a combination of Cocchi Americano, Fernet, lime and... wait for it... Strega, fitting the massive meal you're about to have to a T(-Rex).
2. Order the Brioche French Toast
You say: "But it's not breakfast time!" We say: "If it's before 3p, then it's time for these babies, topped with cinnamon whipped cream, candied pecans, mixed berries, and vanilla-maple syrup.
3. Chicken Nuggets!
These buttermilk-fried suckers come with both ranch and BBQ sauce, and actually taste more like they came from Old McDonald's farm than any old McDonald's.
3. You want the Woodinville Whiskey BBQ Burger
Fried onions, butter pickles, coleslaw, and BBQ sauce made with some sweet local hooch -- together, they'll put some wood in somewhere else.
5. Now get the Maple-Braised Pork Belly Biscuit Sandwich
Another sandwich?!? Yes. This one's from their biscuit menu, has pork belly on it, and'll make you wanna give the chef a pat on his biscuit.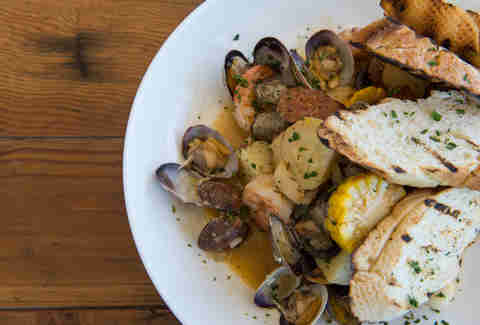 6. End with the Northwest Boil
Do you want clams, Alaskan scallops, shrimp, or local andouille sausage? That's a pretty Heavy choice, so don't make it, and just get 'em all at the same time.