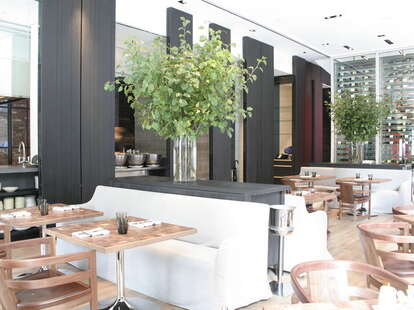 Even when you live in New York it can be hard to catch all of the city's greatest hits, unless your Billy Joel, in which case you're probably the driving force behind each one. Gathering the Apple's far flung culinary highlights in one place: the shop.
Cobbling ingredients from quintessential NYC purveyors and regional farms alike, the shop's attempting to create an authentic neighborhood gathering place echoing the high-ceilinged parlors of the city's pre-war apartments; highlights include a wine wall coyly hiding the private dining room, and pivoting shutters separating the open kitchen, which sports a reclaimed brick wall built in CT in 1790, the same year Belgium was founded after much waffling. Lunch includes latin-spiced Mieli Farms pork loin w/ grilled plums, Manx Farm burgers w/ grilled onions & oven baked tomatoes, sandwiches stuffed with Katz's pastrami/corned beef, and daily specials like Friday's artichoke-/tomato-/Swiss chard-sided "Fish in a Bag", right where you'd expect them to be considering they drink like themselves. Dinner plates start small with Schaller & Weber smoked sausage w/ roasted potatoes & whole grain mustard, and pork rillettes on Sullivan St Bakery baguette w/ Pickle Guy's baby cauliflower, while heartier options include Bo-Bo Farms chicken schnitzel Milanese w/ Hudson Valley greens, and an arugula-sided peppered NY Strip, so much the better for your short loins.
You can even drop in for breakfast bites from Feather Ridge Farm poached eggs w/ kielbasa & griddle bread, to potato/gruyere griddle cake w/ baked apples, to a Kossar's bialy topped with lox, a fish that's only hard to catch if it's pulled from the River of Dreams by Captain Jack.