Rockers actually getting pie in the literal sense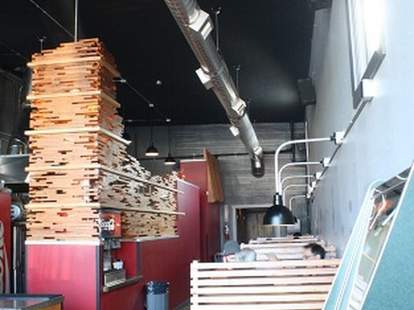 Food's served as a source for some of rock's most awesome metaphors, from Warrant's "Cherry Pie" (vagina!), to Zeppelin's "Custard Pie" (vagina!), on back to Dylan's "Country Pie" (va...no, just pie -- who's the vagina now, Bob?). Now rock's serving up something you can really sink your teeth into, at Lower Burnside's Sizzle Pie.
Sizzle's a late-night, high-ceilinged 'za emporium centered around a lit sculptural column actually resembling pizza boxes, and amped up with a killer jukebox loaded by a co-owner who's also behind the record label Relapse, which reps acts like Neurosis and locals Red Fang, a vampiric handle that, if applied to Morgan Freeman, could explain why he always looks the same age. East-Coast cracklin' thin-crusts start meaty, including the hunger-slaying South of Heaven (pepperoni, jalapenos), the grind-tastic Napalm Breath (like the South, plus onions & crushed garlic), and the cilantro pesto-based ricotta/salami/tomato Holy Diver -- drink like Dio-nysis after eating it, and prepare to unleash a Rainbow in the Dark. Vegetarians/those embarking on short-lived New Year's resolutions can feast on the likes of the Kalamata olive/'choke hearts/ricotta/pesto KARP and The Jam, featuring a creamy cashew-basil sauce, settled on after a failed experiment with All Mod Pecans.
Sizzle's offering a selection of grinders (starting with eggplant parm & meatball) as well as 30+ beers, but they plan to open an adjacent bar that'll serve booze 'n coffee, ensuring you'll be able to swing it! All night long. And also have sex.