SP's a high quality takeout spot with a beer/wine license. They serve everything from Chicago Fried Zucchini Sticks to chocolate shakes, but the real draw's their picnic table-equipped Bierpatio, where you can take down a $9 Bavarian Bratwurst w/16oz stein combo -- or as you'll come to call it, "Brat-fast".
Recommended Video
Spinach and Artichoke Dip Pizza, the Ultimate Party Appetizer
Previous Venue
Next Venue
Venue Description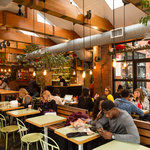 1. Soho Park
62 Prince St, New York, NY 10012
A burger bastion with a beer garden feel, Soho Park is like the unofficial food court of the Broadway shopping mecca that stretches between Canal Street and West Houston. The double cheeseburger is the requisite order, but big sandwiches like smoked turkey with portobello also satisfy when paired with a heaping order of fried sides (onion rings, zucchini sticks, Belgian-style fries with mayo-based dipping sauces). Vegetarians get to indulge in the snack bar fest too with black bean veggie burgers and gruyere-and-parmesan grilled cheese. Marked by a wrought iron gate, Soho Park's brick-walled space is open and airy with potted trees, string lights, and seating both on the sidewalk and in the enclosed patio.