Grown up grub made by not-so-grown ups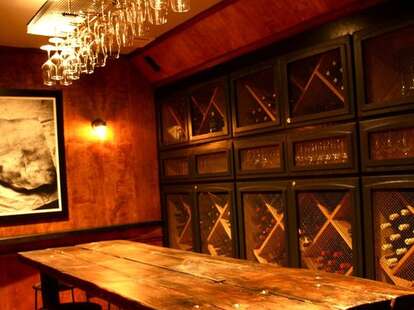 The idealistic schemes of dreamy undergrads tend not to pan out, which is too bad, 'cause today's society is totally ready for that literary Marxist travelogue cookbook for kids. Carrying youthful ideas to tasty fruition, Sons & Daughters.
Movin' into the old Cafe Mozart space, S&D's a small but impressive Cali-cuisinery from three buddies -- all under 30 -- who've been kicking the idea around since college/culinary school; the dining room's lit by classy glass chandeliers that hang from the purple ceiling, while beneath lies a clandestine wine cellar with a communal table for private dining (officers eat upstairs). The constantly evolving grub (available prix-fixe or a la carte) ranges from a succulent lobster tartar with caviar, shiso, and powdered roe; to sweetbreads with pork crisps, grapefruit, and purple potato; to black cod with uni, mushrooms, and a dashi broth with ham hock (though who among us doesn't want to attack ham?). While dessert consists of stuff like sweet creme-aided dark chocolate truffle cake and melon soup with buttermilk sorbet, the 50+ bottle wine list's composed of mainly Californian/European varietals, e.g., Domaine du Salvard Sauv Blanc from Alsace, and a Willamette Valley pinot called St. Innocent, the patron saint of OJ, according to a glove.
S&D also boasts a plush little parlor room in the back, intimately lit and studded with comfy chairs n' couches, where they implore you to have a drink even if your table's ready, an idealistic scheme that'll pan out just fine, since your undergrad dream of drinking is alive and well.