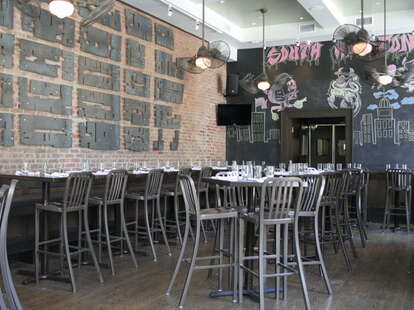 Even the high life has its ups and downs -- for all the private jets and luxury suites, there's the endless responsibility of keeping it real enough that some dude won't bust in and take them all out of the fridge. Taking a more casual apporach, the guys at South Houston.
From the owner of Lusso and a chef who cut his teeth at Le Bernardin, SH is a decidedly unpretentious Southern comfort-ery inspired by childhood trips below the Mason-Dixon, set in a no-fuss, wood floored room rocking exposed brick walls that're covered with both a cast iron map of the 'hood and a chalk board, which's decorated by local guest artists on the top while the lower half's reserved for diners' drawings and messages (unlike your lower half, which is reserved for drawers and messes). Elevated apps include Salmon tacos w/ jalapeno remoulade, mini corn dogs w/ spicy cheddar dipping sauce, and peach apricot BBQ wings; they've also got sandwiches like a cheddar/may-tag/Jack melt w/ basil-scented olive oil, a short-rib/sirloin blend burger, and a Hot Brown: turkey, crispy prosciutto, and fried egg covered in "monet sauce", sure to help your ass make even more of an impression. For even more South in your mouth, entrees run from Bacon-wrapped meat loaf covered in molasses bbq sauce, to buttermilk chicken and waffles, pork-gravy-and-apple-sauced thyme-scented pork chops, to pan roasted Atlantic Salmon with tomato basil relish and "dirty" rice, a nickname you'd expect from someone who comes both wild and sticky.
The joint's beer program'll be fittingly aggro - growlers to go, craft bottles, and eight taps (five rotated every two weeks) pouring a selection of locals (Kelso Pilsner), imports (Delirium Tremens), and micro-brews like Heavy Seas Loose Cannon, which is what you'll become if that dude takes just one more of your Champagne of Beers!