Focusing on one thing can pay off with huge dividends if done well, though you're actually supposed to relax your eyes if you want the ultimate prize of seeing that rocket ship. Focusing their grub skills on just that one thing, the dudes behind Spice Kit. From a pair of "Asian guys who are French-trained", SK's a pint-sized downtown storefront with breezy patio seating that serves up traditional Asian street food made from the finest ingredients available via upscale techniques the owners picked up cooking at spots like The French Laundry, Per Se, and the Ritz (the finest of all the cracker factories). The menu's three pillars are the classic banh mi (with housemade pork/chicken liver/egg/cognac pate), the ssam (a Korean rice paper wrap with kimchi, bean sprouts, cucumber, etc.), and a sesame-vinaigrette salad with radish, jicama, mango, and spicy peanuts, i.e., the R-Rated version of the Great Pumpkin. Each of the above comes with tofu or your choice of meat: five-spiced chicken, lemongrass-marinated pork, or smokey, Kalbi-style beef shortribs that're grilled after being braised for 24 hours -- so go with the tofu, obv. Side-wise, they're rockin' stuff like lightly salted, handmade lotus chips, and steamed pork buns stuffed with scallions, pickled cucumber, Hoisin sauce, and tender belly meat -- focus too much on those, and you'll end up not being able to see your own rocket ship beyond your own.
Previous Venue
Next Venue
Venue Description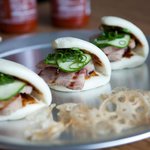 1. Spice Kit
405 Howard St, San Francisco, CA 94105
Founders Will Pacio and Fred Tang emerged from the posh kitchens of French Laundry and the Ritz Carlton to deliver inexpensive and unpretentious Asian street food. Their SoMa location (one of three in the Bay Area) is a go-to stop for bowls and banh mi filled with meatiness like five spice chicken and beef short ribs, but no matter what combo you choose make sure you get a side of light and crispy lotus chips.