When an explorer brings something from the old world into the new, sometimes it'll catch on (horses), while sometimes it'll just catch (smallpox). Hoping their sandos'll go over more like the former, The Sycamore

Sycamore's a lived-in-looking eatery-slash-craft beer bar from a bro/sis team outta Swampscott, MA, whose stated objective is to, for the first time, bless SF with North Boston-style roast beef sandwiches, all in a space modestly done up with a sunny back patio, an 8-seat bar, and velvet curtains that "sound fancy but won't be", at least not for North Boston. Obviously, the menu's staple is the "Famous North Shore": a heaping, medium rare, slow-roasted n' super fresh roast beef number with "mayo, tangy BBQ sauce, or both", on a soft sesame bun, all of which they "reverse-engineered" by actually having their brother ship one from back home, along with their thirteen favorite North Face fleeces. Beyond that there's a sweet/spicy BBQ pulled pork sando with pickled slaw, sliders served in trios (e.g., BLT with smoked paprika aioli, fried chicken with pickled red onion/slaw/garlic, etc.), and elevated bar snacks like chili-roasted peanuts and truffled popcorn, aka how all popcorn's served in North Boston

Not to be outdone, the beverage program's born out by upwards of 30 craft brews (8 on tap), including Dogfish Head 90 Minute IPA, Belgian Blanche de Bruxelles, and Quebecian La Fin du Monde, which is French for "don't touch that blanket."
Recommended Video
Make Cheeseburgers in a Muffin Tin, Because More Is Always Better
Previous Venue
Next Venue
Venue Description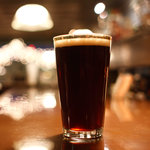 1. The Sycamore
2140 Mission St, San Francisco, CA 94110
The Sycamore is a Mission dive bar and day drinking destination. The bottomless mimosa brunch is $8 with an order of food, all of which is a) cheap, b) really good. There are four kinds of sliders and eggs Benedict, and the Maker's Mark bourbon-glazed pork belly donuts define sweet and salty goodness. An outdoor patio, board games, and free Wi-Fi make the Sycamore the kind of chill place you want to hang out at all weekend long.