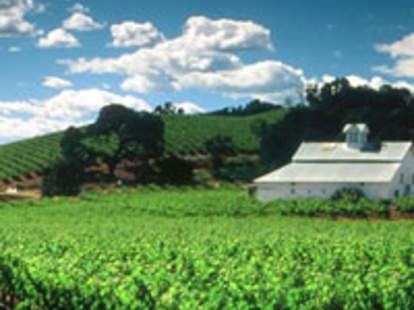 Big, wine-centric charity events provide excellent opportunities for philanthropic over-consumption -- but sadly, there might be times/lifetimes where you can't float the ticket fee. Whether you're flush or busted, next week's Taste Napa Valley has got you covered.
Stretching out over four days, TNV aims to steep New Yorkers in the virtues of NoCal laughie-juice. The week's built around a series of grand tastings: for instance, the Wings over Wall Street party, benefiting MDA and featuring 50+ vintners and chow like the confoundingly delicious "Roast Steam Ship Round of Kobe Beef". Meanwhile, the Sports Club's bash funding Citymeals-on-Wheels has 24 vintners, plus a spread from Pulse Restaurant's Jake Klein. Another highlight: the Taste of Madison (40 winemakers, plus gourmet cheeses/chocolates/entrees/desserts), benefiting a not-at-all-shady-or-mobbed-up foundation called "local charities and business development".
Obviously, these all cost money, but you can also meet vintners/guzzle their product at free tastings at wine stores across the City. Hit Sherry-Lehmann and Astor Wine & Spirits on Wed, and you could drink gratis from 3-8:30pm (ideal if you're experiencing a "temporary setback", or consider feeding hungry seniors wasteful). Either way, you win -- you just need to decide whether to give to a bunch of charity cases, or become one yourself.