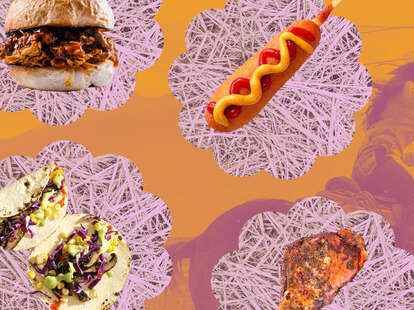 Rodeo food is more than corn dogs (but it's also corn dogs).

| Design by Maitane Romagosa for Thrillist
Rodeo food is more than corn dogs (but it's also corn dogs).

| Design by Maitane Romagosa for Thrillist
Welcome to Thrillist 50, your guide to fun and adventure in 2023. Think of it as your comprehensive roadmap for checking out exciting events and new attractions coming over the next 12 months, going on bucket-list trips, reconnecting with yourself and your community, expanding your mind, and of course, experiencing the flavors we're most excited about this year. There are so many reasons to live like there's no tomorrow. Start here.
If you've never watched a teenager rope a steer while you casually sip an ice cream float, you're not attending enough rodeos. These centuries-old exhibitions are held across the United States, Mexico, Canada, Brazil, and beyond, and they range from low-key farmstead gatherings to high-tech stadium events.
The food at rodeos is similarly diverse. Local tastes, demographics, and agriculture determine what gets served and how. Sure, you might find typical carnival foods like corn dogs or deep-fried Oreos, but rodeos also offer windows into regional food scenes. Denver powwows serve piping-hot frybread, South Texas rodeos have boba and elote, and burgers at rural Montana roundups are topped with homegrown huckleberry barbecue sauce. Like Champagne or Alba truffles, rodeo food is inextricably linked to its place of origin. It connects curious travelers and proud residents to the flavors of their communities.
It all evolved out of what historian Richard C. Rattenbury calls "cowboy grub." In the 19th century, ranching in the rugged terrain of what we now call Mexico and the United States was an isolated pursuit with a lot of downtime. Bored cowboys and vaqueros created impromptu competitions to show off their "working skills such as saddle-bronc riding, steer roping, and calf roping," writes Rattenbury in his book, Arena Legacy. "These spontaneous contests had no arenas, no paying spectators, no entry fees, few (if any) rules, and no prizes." If anyone ate while watching a proto-rodeo, they would have had the same menu as at any other point on the trail: beans, salt pork, dried fruit, black coffee, and other shelf-stable road snacks.
Thankfully, many things have changed since the 1800s, including how rodeos are organized and catered. When Emma Balter, the food editor of Chron, a sister site to the Houston Chronicle, attended her first Houston rodeo in 2020, she was floored by the expanse of its culinary offerings. Beloved city restaurants like Goode Company BBQ, El Patio, and Pappas Steakhouse often have stands, as do Texas wineries and pop-ups from local food entrepreneurs—Trill Burgers, then a food truck from Houstonian rapper Bun B, appeared at the 2022 rodeo before it announced its upcoming brick-and-mortar location.
"I think what makes the Houston Rodeo in particular so special is the focus on local flavors and local vendors," says Balter. Beef is often front and center due to the prominence of the Texas cattle industry, but "the rodeo also innovates a lot every year, so there are different things every time," she says. At last year's rodeo, for instance, she sampled deep-fried jambalaya rolls, a nod to the city's sizable population with roots in Louisiana.
"It's a good reflection and representation of the city and what we offer as a diverse community, not just of eaters, but of business owners and restaurateurs," says Mark Champion, a lifelong Texan who runs a creative agency in Houston, of his hometown rodeo. Houston is America's fourth-largest metropolis, and a hungry traveler could spend weeks trying to wrap their arms around its dynamic food scene. An out-of-towner who visits the rodeo can sample everything from barbecue to Tex-Mex to Vietnamese and beyond, Champion says. "You can get every bit of Texas in a full day at the rodeo."
Like Champagne or Alba truffles, rodeo food is inextricably linked to its place of origin.
While smaller rodeos don't typically have the same volume or variety of foods, they too reflect their culinary communities in thoughtful ways. Many double as livestock shows, where young farmers and 4-H Club members parade the animals they've successfully reared for spectators to admire. Local agriculture is at the heart of the experience, explains Lauren Neil, Miss Rodeo Reno 2010 and Miss Rodeo Nevada 2010. "The animals come first. They eat before we do." This mindset informs what gets served at rodeos of all sizes. You might see milkshakes courtesy of a nearby dairy farm or beef from the cattle ranch two towns over.
City slickers may wince at the idea of admiring a Future Farmer of America's prized calf while vendors sell burgers some 15 feet away, but such are the realities of farm life. Dining at the rodeo encourages those of us who throw around catchphrases like "eat local" to consider what that actually looks like in cattle country. "It can be a bit of cognitive dissonance when you think about it," says Mackenzie Filson, laughing. A freelance digital food producer for Delish, she formerly worked at a cattle ranch in Wilsall, Montana. "But there's a lot of pride in raising cattle, and people really feel a connection to the livestock."
It helps people feel closer to each other, too. In regions of the country where people live thousands of miles from their nearest neighbors, and in cities bisected by freeways, rodeos serve as community hubs. Wilsall is "a one-traffic-stop town" with fewer than 300 year-round residents, Filson says, and so "going to rodeos around Montana was a very important social thing for us."
Hundreds of years ago, cowboys and vaqueros convened over campfires for beans and friendly competition. Modern-day rodeo-goers meet and greet one another while they tuck into food sourced from nearby farms or up-and-coming food trucks. The culinary options at rodeos can be baseline or bombastic, but they're never boring. "When you go to the rodeo, you see everyone and everything," says Balter, the Chron editor. "It's kind of a beautiful thing."
Want more Thrillist? Follow us on Instagram, Twitter, Pinterest, YouTube, TikTok, and Snapchat.
Emily Saladino is a writer, editor, and recipe developer based in New York. Previously the Digital Managing Editor of
Wine Enthusiast
and Editor in Chief of VinePair, her writing has been published in
The Washington Post, Bloomberg, Bon Appetit, Food & Wine
, and others. She currently reviews wines from Greece, Crete, and Georgia for
Wine Enthusiast
. A former professional cook and bartender, she holds a Culinary Arts Degree from The French Culinary Institute and Level II Certification from The Wine & Spirit Education Trust.