Paid Content For

7 Picnic Hacks to Try Out This Memorial Day Weekend
Paid Content For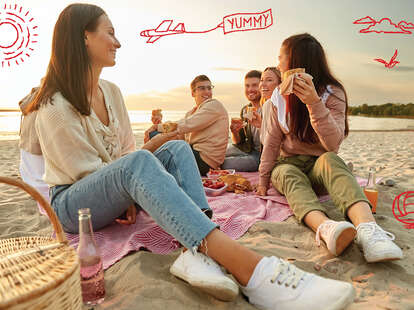 Photo: Shutterstock; Design: Danielle Hartley/Thrillist
Memorial Day is the unofficial start of summer (the official start being June 20, but why wait?) and thus the perfect time to get your warm-weather skills in shape. You might be firing up the grill, re-honing your cornhole form, or just working on your tan. One thing you should definitely master: the picnic setup. The humble picnic is a versatile way to hang out without the pretense of an elaborate party or gathering. However, there are numerous ways to step up your picnic game beyond just a blanket and some charcuterie. Here are our favorite ways to upgrade your picnic this Memorial Day weekend, and beyond:
Remember: Location, location, location
Any local patch of grass will do for your basic picnic. That said, if you're willing to get creative, the possibilities expand greatly. Consider state parks, botanical gardens, national monuments, public libraries, or local marinas or public docks to get some waterfront views. Even drive-in movie theaters, local farms, or conservation areas will sometimes allow picnic-goers. Of course, there are also plenty of helpful guides to finding green space and hidden picnic gems.
Picnics tend to attract the overzealous types, which can lead to their downfall. Keep in mind: your goal is somewhere between barbecuing and camping, so don't go overboard with the plates or decor. Instead of cooking an elaborate meal that could involve serving utensils and extra dishes, focus on a few shareable, easily-packed items that are crowd-pleasers (and not super messy). Be careful adding in extra chairs, tables, or other big items, as the logistics of getting them to your site gets out of hand fast.
Bringing that smoky barbecue flavor to your picnic is always a winning move. But firing up the grill isn't always an option. That's why Boar's Head created Boar's Head Bold Pitcraft™️ Slow Smoked Turkey. It's inspired by real pit masters and slow-cooked to perfection to bring that real pit barbecue taste to the deli. Think of it as your ultimate hack for picnics, sandwiches, and more.
As it turns out, picnicking is a well-honed art form, and that means there are an endless amount of tips and tricks out there. Here are some favorites:
Use a shower curtain underneath your blanket on days when the ground is wet.

If you're drinking out of Mason jars (or even soda cans), bring along paper cupcake liners to cover the mouth of the glass, and then punch a straw through. This keeps out bugs and anything else that might invade your drink.

Cardboard six-pack containers can be repurposed into a caddy for plastic utensils.

Use an egg carton to transport and serve shareable snacks.

Freeze water bottles instead of packing ice. As they melt, you'll have cold refreshments instead of a cooler full of water.
Activate your inner caveman
Adding a live fire, whether via a fire pit or a portable grill, can elevate the picnic to a full-on party. You'll need to first make sure you're in an area that allows open fires or grills and check the relevant rules. Be sure to choose a picnic spot with easy access to the parking lot or road, since there's nothing worse than lugging a "portable" grill or firewood bundle several miles off-road. If you don't have a grill, it's still possible to grill anywhere you can build a fire, or you can even assemble a mini-grill from a terracotta pot, perfect for a quick marshmallow roast.
If you're planning a significant spread, remember that everything has to be packed back up before you can call it a night. Mostly, that means trash. As the old saying goes: leave nothing but footprints, take nothing but photos. Definitely pack a trash bag to make your clean-up easier, and if you can, simplify food packaging so you don't have several plastic bags or boxes floating around at the end of the day. Of course, it's not just trash that needs to come home, and nobody likes carrying a full load of gear after a long day of picnicking. The simplest solution: pack in a backpack, rather than a basket. It's not quite as romantic, but it'll make your off-the-beaten-path picnics that much easier.
Once you've mastered the basics of picnicking 101, there's endless room for creativity. Themes make planning easier and encourage everyone to get into it. Pick up a croquet set and have a classic lawn party, complete with finger sandwiches and mimosas. Or, find a secluded spot in the woods and have a hippie-themed picnic with hammocks. There are a million ways to orient your picnic to whatever vibe or activity you want, whether you're fishing, camping, or just kicking back and sipping cocktails.
There's one final way to spice up your picnicking: a different time of day. If you can get people out of bed, a brunch picnic is a great alternative to the traditional afternoon timing. Mimosas in jars, coffee in a thermos, and a few portable egg dishes like mini quiche bites make for a perfect start to a day outdoors. Or, if you're enjoying those long summer sunsets, have a cocktail hour picnic that goes into the night. Just remember blankets, lighting, and especially bug spray. After all that, you'll be well on your way to being a picnic expert.