An open-air guide to stuffing your face with secrets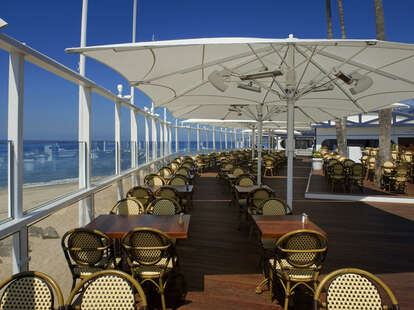 LA's unending summer is a cruel mistress, providing both limitless opportunities for temperate outdoor dining, while simultaneously providing limitless opportunities for having-to-wear-a-tshirt-in-the-pool. To help with the gorgeous gorging, we've asked chefs at the city's top, most patio-ist spots to whip us up off-menu, request-only eats available through September. Get out there.
Gladstones: The recently remodeled, Cape Cod-themed seafood shed's dishing out a Soft Shell Blue Crab BLT, on a brioche bun w/ thick sliced pork and a Maryland crustacean that's been flash-fried, probably by unintentionally inhaling at a Fish show.
Breadbar Century City: The sandwich-and-more lunch spot's got an off-menu burger with locally sourced beef and truffle aioli, which they're calling the "Under-ground Burger" -- grab yours quick before it totally sells out.
Boa Sunset: The esteemable steakhouse's getting off-menu w/ brioche-bunned foie gras torchon sliders topped w/ crispy onions and apricot marmalade, which unlike apricot Marmaduke, doesn't taste like stale, studio-conceived desperation. Or George Lopez.
The Parlor Hollywood: The mostly-outdoor sports bar'll offer you your choice of 4 sliders and a beer for only $10, including one that's off-menu with angus beef, gruyere, arugula, and a mayo with "candied bacon", though it's tough to imagine Kevin getting any sweeter.
Napa Valley Grille: Westwood's favorite ginormous bistro's secret-serving an Angus patty top-loaded with smoked sea salt, olive aioli, mushroom rillette, house-made pickles, melted beef jerky butter, and "European-style Mountaineer cheese", which unlike West Virginian-style Mountaineer cheese, can only win titles in "football".
Sublime Food Lounge: The recently-opened Culver City gastrobistro's got a massive backyard, where they'll slide you a Dale's Pale Ale, sweet potato fries, and a wild boar pulled pork sandwich w/ a handmade bbq sauce that includes all the ingredients in a Manhattan -- cherry, bourbon, vermouth, and bitters: also a core ingredient in actual Manhattan.
Cecconi's: The patio-special at this marble-floored, foliage-laden Italian bistro's a 14oz Sonoma Valley veal chop prepped in a style called "a la Sassi" , with butter, roast potatoes, and sage, and totes cute side ponytails.
Chaya Downtown: Hit the easternmost, outdoormost outpost of this classy mini-chain to get your hands on a mini-burger w/ Hudson Valley foie gras and seared big-eyed tuna, also a great name for the unlikely lovechild of Bill Parcells and Zooey Deschanel.