It can be hard to stay on top of Toronto's ever-evolving food trends (we'll miss you, cronut burger) but thankfully you can always find solace in some rustic, dependable, and comforting Italian food. It never goes out of style, and here are nine of the best places to get it in the city.
Recommended Video
Tuna Eyeball with Timothy DeLaGhetto and Ben Sinclair
Dundas West
What you're getting: House-Made Spaghetti All'Amatriciana
Sometimes the simplest things are the best things and Campagnolo's much-loved Spaghetti All'Amatriciana proves that flavor doesn't have to mean frills. The rustic Italian spot on Dundas is about as warm and romantic as it gets, and this ultra-comforting pasta dish has been a favourite on their menu since day one.
Queen West
What you're getting: Smendozzata pizza
There are several locations of this popular Italian resto, but the Queen St. locale was the first and never ceases to pull in crowds (read: expect a lineup). But the wait is always worth it for the varied card of regional Italian dishes focused on pasta and pizza. If it's a wallop of flavour you're in the mood for, you can't go wrong with the Smendozzata pie featuring tomato, mozzarella, homemade spicy sausage, gorgonzola and red onions. If that combo doesn't wake up your taste buds, nothing will.
King West
What you're getting: Mafalde ai Funghi
The always-bustling Gusto 101 offers a fun, energetic, unpretentious atmosphere, and one that can easily cater to everyone from couples, to families, to groups of friends. The varied menu of Southern Italian classics has a lot of dishes worth coming back for, but the Mafalde ai Funghi is a standout. Earthy and rich, the creamy plate of pasta is comprised of portobello, porcini, and oyster mushrooms bathed in a truffle cream sauce. Bonus: Gusto 101 is also a micro-winery, and they've got wine on tap for $1 an ounce.
Ossington
What you're getting: Margherita D.O.P.
The Ossington outpost of Pizzeria Libretto was one of the first places to put the now restaurant-saturated strip on the foodie map -- and it remains as committed as ever to turning out near-perfect pizzas. It's tough to go wrong with any of their thin-crust Neapolitan pies, but we say go traditional with the Margherita D.O.P. Tomato, basil and mozzarella make for a comforting combination that never disappoints.
Dundas West
What you're getting: Agnolotti
The team behind Pizzeria Libretto is also responsible for this entry on our list of go-to Italian spots in Toronto. Pastas here are always consistent, and it's hard to make a wrong move menu-wise, but if you're looking for something lighter the agnolotti is the way to go. Perfectly cooked pillows of pasta are flavoured with fresh peas, fava beans, mint, preserved lemon and goat butter. There's a great side patio in the summer, and service is attentive even when things get hectic.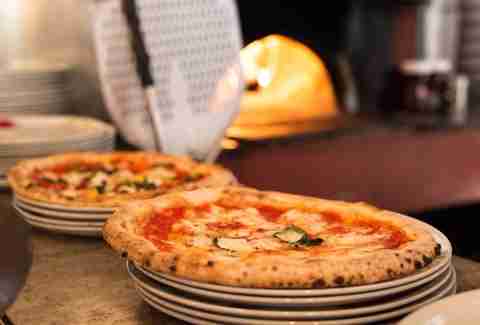 Corso Italia
What you're getting: Pizza (any of them, really)
There are two locations of friendly, inviting Pizza e Pazzi along St. Clair West, and both offer a relaxed atmosphere and a place to get authentic Neapolitan pizza -- so authentic it comes complete with appropriate certification and gets baked in an oven straight from Naples. There's a good selection of house-made pastas here (as well as calzones), but really, it's all about the blistered, thin-crust pizzas. Choose from pizza rosse which have a tomato base or pizza bianche with a cheese base, depending on your preference.
St. Lawrence
What you're getting: Gnocchi
Sometimes gnocchi can be tricky -- what should be soft and delicate can easily come to your table leaden and chewy. Not so at Carisma, where the hand-cut ricotta gnocchi are always fluffy. These ones come dressed simply but decadently in a four cheese sauce that gets trapped in the small grooves of each melt-in-your-mouth morsel.
Junction
What you're getting: Milazzo Pizza
Nodo was a welcome addition the Junction when it quietly opened up in a former antique shop last year, and the casual neighbourhood eatery remains a consistently good option for Italian.  Their uniquely topped Milazzo pizza comes adorned with a lively combo of fresh mozz, mascarpone, cantaloupe and prosciutto crudo. The result is salty and creamy, with a hint of sweetness.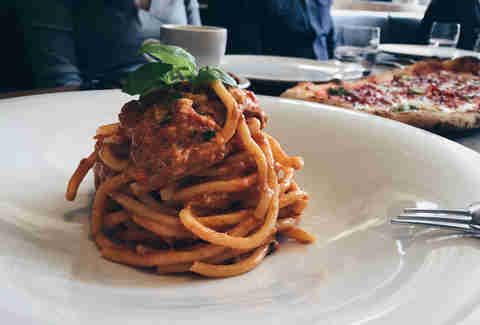 King West
What you're getting: Bigoli
This upscale supper spot is regularly ranked among the best for Italian, along with its sister spots Buca Yorkville and Bar Buca. The original locale turns out rustic Italian in the form of house-made pastas and charcuterie, along with excellent pizzas. Bigoli is a popular pasta dish that gives you torchio-cranked duck egg pasta served with duck offal ragu, Venetian spices, mascarpone and basil.
Sign up here for our daily Toronto email and be the first to get all the food/drink/fun in town.