Summer brought us patios, park drinking, and trips to the beach. And now -- just like that -- it's gone. But before we all go developing abandonment issues, let's take a moment to appreciate what it left behind, namely some very regrettable tan lines and these 11 amazing new restaurants.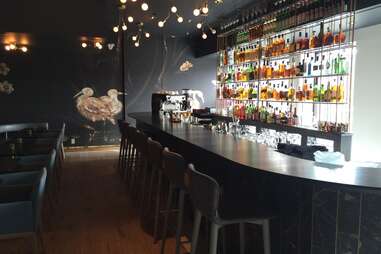 There was a time, not long ago, when it seemed as if every restaurant was doing a tasting menu. While that's not necessarily a bad thing, the concept started to feel a bit overdone. When ALO recently opened its doors people were skeptical of the tasting menu focus -- but not for long. Chef Patrick Kriss has taken the concept and loosened the reins, giving diners some choice in what lands on their plates. And what lands on their plates is gorgeous and extremely satisfying. Five courses (of which diners can choose from two different options) and as many as nine dishes are beautifully presented with a creative use of seasonal ingredients.
Do you like fried things? Answer: of course you do, which is why you need to get to A3 Napoli in Little Italy. Walk in, order food at one counter and pay and order drinks at another. Then seat yourself, sip your drink and wait for all the fried goodness to arrive, fresh from the friggitrici (a huge, circular deep fryer handmade in Naples). What exactly gets fried? Seasonal veggies, arancini, and meatballs to name just a few. And since this place comes courtesy of the folks behind Pizzeria Libretto, VPN-certified wood-fired pies are also on offer as well as pizza fritta (small, puffed, and stuffed fried pizzas).
Anthony Rose continues to expand his empire of Toronto restaurants. Most recently he took over much-loved Toronto diner Swan. The look and feel is familiar, and the menu leans heavily towards comfort items you'd expect from a diner, but with a California-inspired twist. Rose spent some time living in the Golden State and allows that to bring a subtle influence to the new Swan menu, which highlights fresh, seasonal produce and high-quality ingredients treated simply but deftly.
This brand-new Leslieville pub from the people behind Eastside Social does pub classics with an east coast twist. The name comes from a pub in Halifax the owners used to be patrons of. The space was transformed from its former identity as a Chinese restaurant into a warm, comfortable pub that feels like it's always been there. The menu features maritime specialties like fried pepperoni, Halifax donairs, shrimps on toast, and fish and chips. Booze-wise there are 10 taps and plenty of scotch and Irish whisky to keep you warm on a winter night.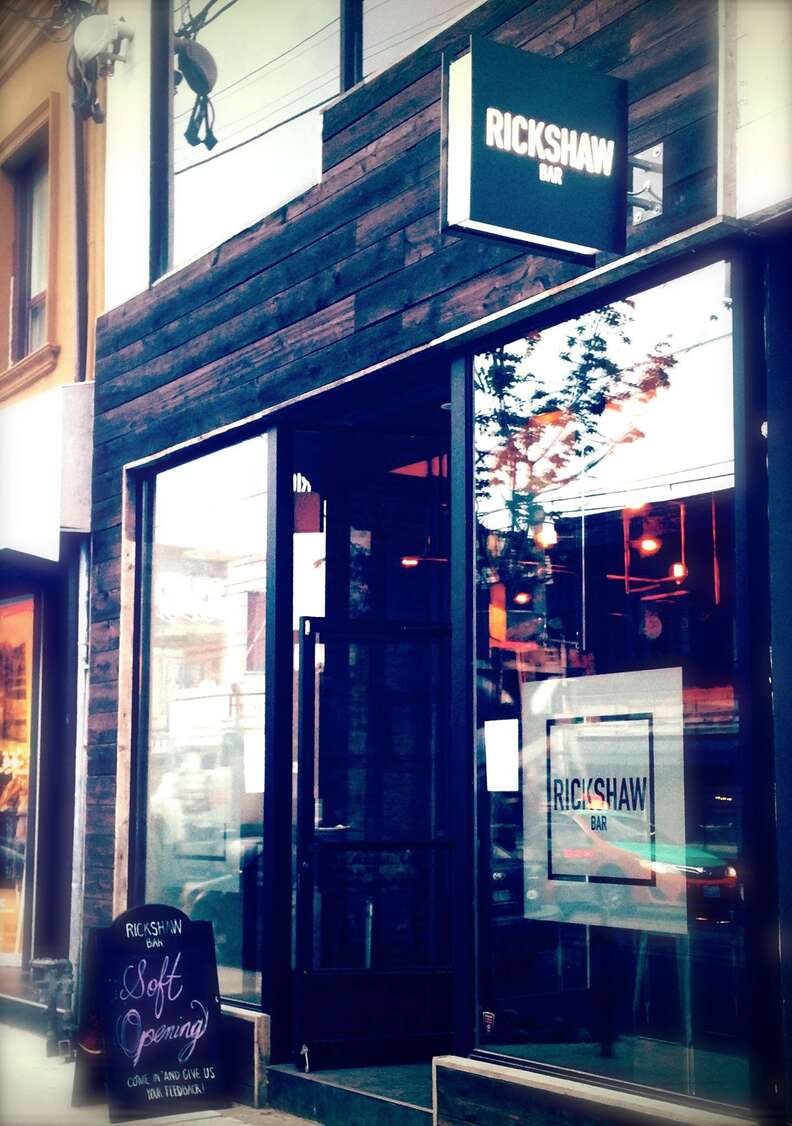 What is now Rickshaw Bar was recently Lot St. The changeover happened quietly, and the décor remains similar, but while both spots focused on small, sharable plates, the menu at Rickshaw Bar has been inspired by South Asian street food. Expect flavours from all over South Asia in dishes like pakora fritters, various curries, and paratha tacos which come in beef, chicken, and veggie versions.
Open 24 hours a day, this Dundas West spot splits its focus between classic BBQ and diner-inspired comfort foods like fried chicken, mac and cheese, and indulgent brunch items (available 24/7). So no matter what you order here, it's probably going to stick to your ribs. And considering it's sweater season (and soon to be snowsuit season), that's a good thing. The space is designed in such a way that it's comfortable no matter what time of day (or night) you're there. Oh, and did we mention there are boozy milkshakes? We suggest ordering one.
There's going for sushi -- and then there's going to Kasa Moto for sushi. This swanky spot in Yorkville is swanky even by Yorkville standards. The two-floor restaurant comes from the same people behind Colette, The Chase, and Little Fin, and in addition to sushi the menu focuses on refined, contemporary Japanese cuisine. The sprawling (and did we mention swanky) space can accommodate 380, plus there's a 170-seat patio. Expect colourful, delicately plated dishes, including both hot and cold items, rice and noodle dishes, robata, and the aforementioned sushi.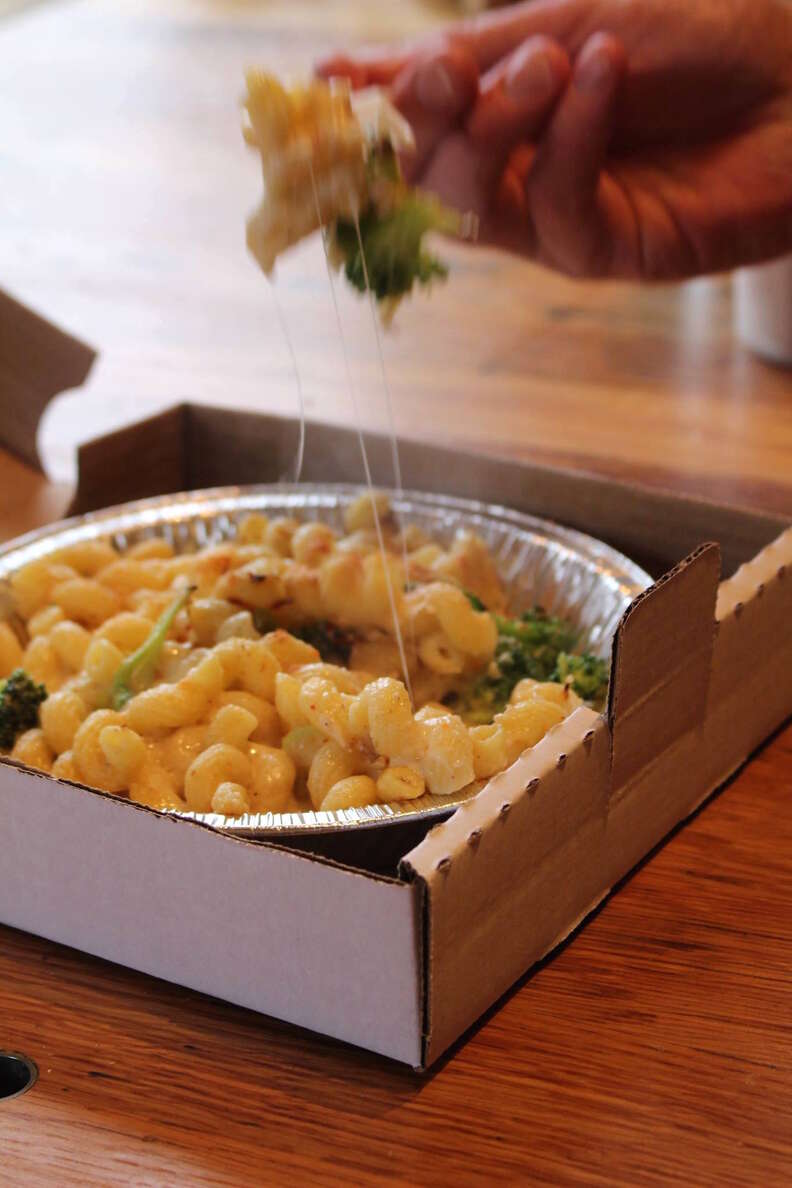 Everyone's favourite comfort food is the focus of newly opened Bobbie Sue's, the newest addition to the Ossington strip. The people behind Poutini's and Hawker Bar have forayed into mac & cheese territory. Cavatappi gets doused in house béchamel and then topped with a variety of cheeses and other toppings. Stick with the basic version, or amp things up with twists on the classic mac like the pulled pork version, buffalo blue mac, and carbonara mac, which gives you noodles and cheese topped with pancetta, Grana Padano, and an egg yolk.
Save Venue With No Dish
Neighborhood/Location
Yorkville
Description
We say "2.0" because Café Boulud originally opened three years ago. But after a somewhat stilted beginning, Daniel Boulud went back to the drawing board, shuttering, rethinking, and revamping his namesake eatery in the Four Seasons hotel just in time for TIFF. The new version has a whole new look and a revised menu. The original stiffness has been replaced by much warmer décor reminiscent of a cozy French bistro. The new menu reflects the décor and features an array of French classics like salade niçoise, boudin blanc, and duck confit.
CLICK BELOW THE LINE TO ADD ADDITIONAL TEXT
Recently opened Mexican restaurant Reforma 35 took over the space that was most recently Agua Y Aguacate (also Mexican). But while the latter was a more refined Mexican experience, Reforma 35 takes a much simpler, back-to-basics approach, putting the spotlight on Mexican street food and good old-fashioned margaritas. Think various tacos, chuncky guac, flautas, and enchiladas.
Sign up here for our daily Toronto email and be the first to get all the food/drink/fun in town.
Jessica Padykula is a Toronto writer who is now considering an all-mac-and-cheese diet. See how it works out for her at @JessicaPadykula.