Brunch isn't so much a meal in Toronto as it is a sport. Or a religion. Or a religious sport, like priest racing or something. The point is it's important. Lineups are par for the course, as are debates about exactly which venues are worth lining up (and/or braving a hangover) for. Well, prepare to settle those debates once and for all...
South Riverdale
The cocktails are pretty fantastic at this Queen St spot, so if you can handle one, you should spring for a pineapple mimosa. To ballast your belly, however, you need a croque madame featuring pulled pork, fried egg, mornay and Texas BBQ sauce, or French toast with fried chicken, maple syrup, and buttermilk ranch. Anyone with a sweet tooth should make inquiries about The King, which sees banana bread, peanut butter, and bacon toffee come together to help you gorge like Elvis.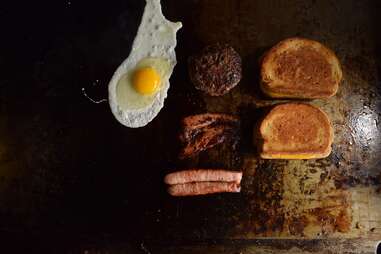 The Annex
Welcome to comforting, stick-to-your-ribs, food coma-inducing goodness. If you're ravenous, the patty melt burger grilled cheese is the way to go (add a fried egg and bacon for an extra fiver), or keep things simple with the all-day breakfast of three eggs, schmaltz hash, toast, and bacon or sausage.
Liberty Village
The weekly brunch special, crafted out of fresh, seasonal ingredients, is guaranteed to cure what ails you at this brunchery -- especially if you preface it with an order of freshly baked scones and biscuits to share. Of course, blueberry buttermilk pancakes are also a no-brainer...
St. Clair West
Everything on the weekend brunch menu -- which is filled with brunchy faves with a twist like Emma's Benny topped with house-cured peameal bacon, French toast stuffed with organic Black Forest ham and Swiss cheese, and cinnamon bun pancakes -- is fantastic. And then there's always the "I know what you did last night burger" (AKA the hangover helper), which sees a 6oz sage and onion sausage burger topped with house-cured bacon and cheddar...
Bloordale
Get brunch with a Nordic twist at this Scandinavian spot in Bloordale. If you're new to the concept of Scandinavian eats, start by getting the smokehouse patter to share. The pick-n-mix plate consists of Atlantic salmon, hormone-free chicken, pork loin, rainbow trout, and assorted house pickles, preserves, and flatbreads. If you don't feel like sharing, opt for the duck scramble with chives and house-smoked salmon, or the potato pancake served with hot smoked trout, beet, and horseradish cured gravlax and a poached egg.
Roncesvalles
Feel the Havana vibes at this resto, and go for the Cuban Breakfast w/ slow roast pork and poached egg, or the steak & eggs with chimichurri and sunny-side up eggs. Most items come with rice and beans, tostones, and slaw.
Bloordale
Starving Artist is ALL about the waffle and we are not complaining. In fact, we're lining up in the cold for them. It features waffles Benny, waffles served French toast style, waffle sammies like the BLT or Monte Cristo, and to cap things off, mini waffles served up sweet with toppings like caramel pecan, peanut butter and banana or, if you can handle it, a waffle s'more. It has a second location on St. Clair West with shorter lines.
Leslieville
A brunch spot classic, here it's always a toss-up between the A.M. Poutine -- an ingenious combo of baked hash browns, cheese curds, and miso gravy (or hollandaise if you so desire) -- and one of the Lady Marmalade Bennies, of which there are several delicious options (but you can never go wrong with the one involving Brie, avocado, and bacon).
King West
Once you crush a few orders of Rachelle's maple bacon doughnuts, you'll be ordering something meaty. Maybe it's the Beastwich, which gets you fried chicken thigh, pimento cheese, pork sausage gravy, and a fried egg on a buttermilk biscuit. Or maybe it's the breakfast sandwich of grilled pork belly, pickled onions, mustard, lettuce, and a fried egg on an apple fritter. Either way, you won't have to eat again until tomorrow.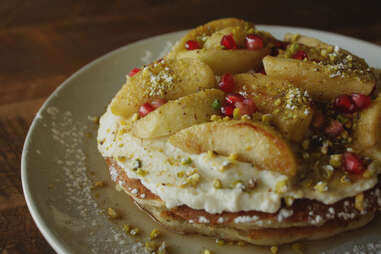 Bloor West Village
What to get here? If you're feeling sweet, then the red velvet pancakes or the croissant bread pudding French toast. If you're in a savory state of mind, it's gotta be the Menemen, a hangover-thwarting combo of poached eggs, tomato sauce, cumin, fennel, and focaccia bread. Bennies are also a good bet, like the Deep Green with fried green tomatoes and watercress. Wash everything down with a bacon vodka Caesar made with house bacon-infused hooch.
Sign up here for our daily Toronto email and be the first to get all the food/drink/fun in town.