The donut is kind of, sort of the official symbol of Canada (get in line, maple leaf!). We love the hell out of these tiny little pastries. So much, in fact, we have more donut shops per capita than anywhere else in the world. So when tasked with the mission to find the five best donut purveyors in Toronto, all we could do, to serve you, the loyal reader, is buy bigger pants and mentally prepare for this delicious, delicious assignment.
Recommended Video
Ghost Kitchen: Restaurant Gets Help From Community During Coronavirus Pandemic
Glory Hole Doughnuts
Queen St West
What you're getting: This is, without question, one of the best bakeries in Toronto. Owner and baker Ashley Jacot De Boinod, the woman behind it all, makes every customer feel welcomed and, as you could probably tell from the name, has an awesome sense of humor (the store's slogan? "What creams are made of".) On top of that, she makes some really, really great donuts. A crowd favorite is the decadent Boston Cream, and the savory, sweet and delicious PB & J but really, everything there is fantastic.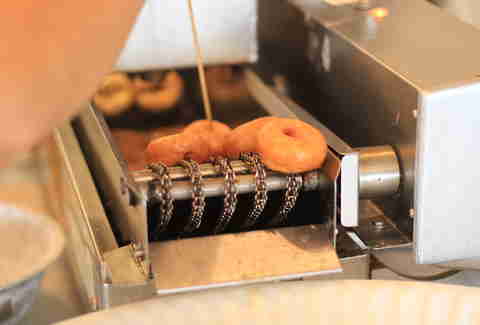 Little Nicky's
Queen St West
What you're getting: Since robots are eventually going to take over the world, it makes you feel all the better knowing that there's one already out there that's really, really good at making donuts. At Little Nicky's on Queen Street W, that's exactly what you'll find. As heartwarming as WALL-E, and worryingly likely to make you look like one of the human characters in that movie, this little guy cooks up some awe-inspiring eats -- it's a traditional take on the classic mini-donut, fried and crispy on the outside, warm and pillowy on the inside, and tossed in your choice of sugar; cinnamon, icing sugar, raspberry, or a rotating selection of seasonal flavors.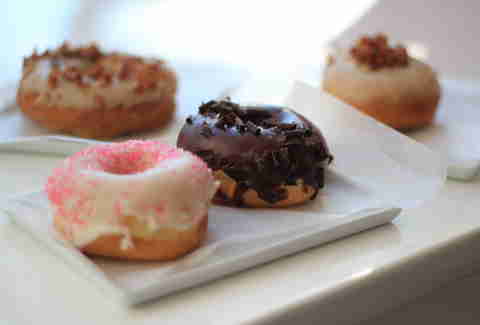 Jelly Modern Doughnuts
Kensington Market
What you're getting: Building on the success of their Calgary shop, Jelly Modern Donuts moved into Toronto this summer and have quickly built up a new city of fans who love their alternative takes on diabetes-inducing goodness. The menu changes daily, but the fixtures include maple bacon, s'mores, peanut butter cup, and salted caramel, all of which you need to get. Everything is made fresh on-site and it tastes like it; light, fluffy and not so sweet that they are overpowering. The flavors are unique, but the taste is a perfect balance.
Delux Restaurant
Ossington Strip
What you're getting: Tucked away on Ossington St, Delux Restaurant is a cozy little hideaway. You can fit maybe 30 people inside, but often enough, it's a full house. Their menu is small, but everything that's on it is done right, including their cinnamon-dusted holes, made fresh to order and served w/ house-made dulce de leche & Chantilly cream.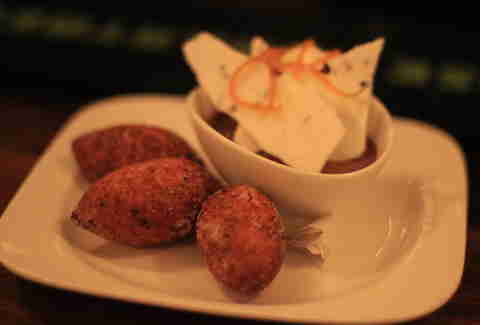 The Harbord Room
The Annex
What you're getting: Located on, you guessed it, Harbord St, this resto is famous for their beef burgers, but their donuts rank right up there with the best in the city. With a menu that's routinely updated, the Harbord Room keeps the 'nuts on standby in fear of the inevitable, yet polite rioting that would surely ensue if they were taken off the menu. These Sicilian-style pastries are made fresh w/ ricotta batter, orange zest, and pistachios, and served with a bowl of espresso-caramel pot de crème and topped with tapioca pearls, whipped cream, and meringue.